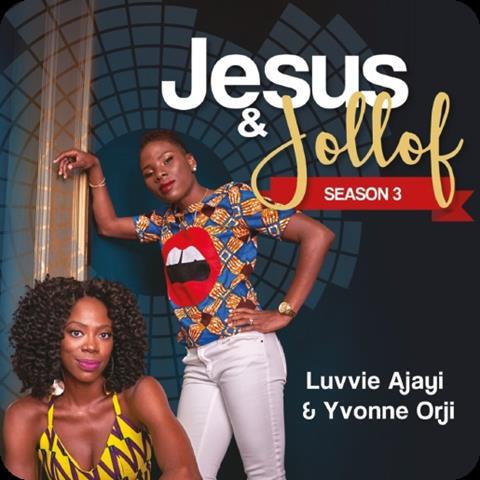 Looking for something different to listen to? 'Jesus and Jollof' may be just what you are looking for. Hosted by stand-up comedian and actress Yvonne Orji, and New York Times bestselling author Luvvie Ajayi Jones, it centres around what they describe as the "most important things in life" – Jesus and Jollof.
But if you're wondering whether this podcast is about different types of Jollof rice and whether Jesus would have liked them, you'd be mistaken. It's all about Nigerian culture and how Jesus has shaped each of the hosts' lives; how they navigate their heritage and faith.
As a non-Nigerian with many Nigerian friends, I found this podcast deeply insightful. It helped me understand my friends more – especially when it comes to their faith, mannerisms and how they tend to navigate friendships and relationships. The authentic chemistry between Yvonne and Luvvie is evident and you'll find yourself laughing along with things you may not even fully understand because of their top-notch ability to bring the comedy out of almost any situation or topic. The Christian aspect of the podcast is edifying but not too 'preachy' and the faith lessons they share are ones we can all put to use in our daily lives. Their passion for God and honesty in how he took them from, in their own words, being "broke" to now living a life they could only have dreamed of is encouraging to anyone setting out to pursue their purpose. It's one of the things that makes this a great new year listen.
If you're looking for a deep biblical study, this podcast will not satisfy you. There are no theological discussions or debates, so if you need to expand your biblical knowledge, look elsewhere. It's also somewhat limited in terms of subjects covered: they mainly stick to pursuing your dreams, dating, navigating relationships as an adult and Nigerian culture. These topics, although very worthy, do wear thin after a while. But if you're looking for some laughs along with a few life lessons and a little Jesus too, this is a great listen.
3 episodes to listen to:
Episode 01 - The Five Nigerian Love Languages
Episode 1 is worth listening to for the laughs, to understand Luvvie and Yvonne, and how the podcast will move forward. After listening to this, I was convinced that I wanted to hear more. It's a helpful introduction to Nigerian culture and, if you're Nigerian, will have you laughing at the familiarity.
Episode 06 - The Fine Print of Success
This is a great episode to listen to if you're working towards making something happen in your world. It's inspiring, encouraging and motivating, with some practical advice too. It's also full of laughter, so you won't find yourself feeling bored.
Episode 08 - Sticks in a Bindle: Our Tribe
If you're thinking of making changes to your circle of friends or relationships, Yvonne and Luvvie have some really helpful advice on who you should have around you and why, along with endless laughs.


Cassandra Maria is the funny girl from Birmingham! Known for her comedy sketches online, love of halloumi cheese and, of course, strong Birmingham accent (although she'd disagree with the last point) Cassandra loves to entertain, whether it be in her presenting or comedy
View full Profile