The one-man monologue of the entire Gospel of Mark is an impressive feat of memory and a truly immersive experience, says Emma Fowle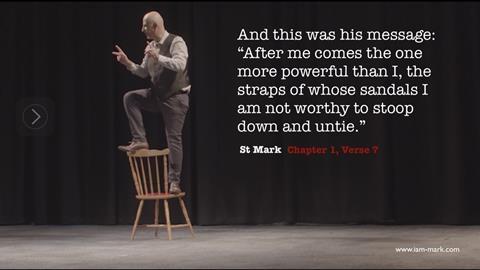 When John Welsey first preached at Gwennap Pit, Cornwall in 1762, he wrote of the occasion: "The wind was so high that I could not stand at the usual place at [the village of] Gwennap; but a small distance was a hollow capable of containing many thousands of people. I stood on one side of this amphitheatre towards the top and with people beneath on all sides, I enlarged on those words in the gospel for the day: Blessed are the eyes which see the things that ye see….hear the things that ye hear."
In total, Wesley preached at Gwennap on 18 occasions over the next 27 years - reputedly to a staggering 32,000 people (his largest congregation ever) in 1773.
There were a few less people present for Stefan Smart's one-man show, I am Mark on Saturday, but the Cornish wind made a reliable appearance. As we sat on the concentric circles of granite, hand cut by Cornish miners over 200 years ago, Smart battled with a sound system that was not quite up to the task to deliver his remarkable take on Mark's gospel.
Hearts and minds
The book of Mark was, according to Smart, written "to be shared live with first century audiences, in one sitting." He believes the show-stopper drama that contains 19 miracles has "the potential to capture 21st century hearts and minds like no other story."
The experience – for it really is an experience more than a performance – begins with a request: "Imagine you are a person living in the first century, hearing this for the very first time…" It is a salient reminder to us modern Christians that there is a very real and present danger in becoming overly-familiar with biblical texts. We read the miracle stories, tales of Jesus' birth, death and resurrection, his interactions with the disciples and arguments with the Jewish leaders, and they become so familiar that they sometimes (often?) lose their power. It is Smart's aim to address this head on. To reimagine the gospel story and re-fire our faith in the process.
Tell a story and don't stop for a breath, he says, and the hecklers can't heckle
The whole show lasts a little under two hours, including a short Q&A with the audience at the end. Smart can deliver a full, unabridged re-telling of Mark's Gospel in two hours and 40 minutes, but most settings request the shorter version. With our digitally-diminished attention spans, most people are unused to such efforts of concentration. The lack of interval maintains the tension, and I am impressed by the fortitude of the younger members of the audience especially.
Show, uninterrupted
For Smart himself, to hold an audience's attention single-handedly for two hours, is no small achievement. His only props include a chair – which, at various points are used to portray a prison, a table, a boat, a tree, a demon-possessed child and a pig – and a rucksack, from which are produced a few small items. There are a couple of short sections of background music (as the Passover meal is set up, for example) but, on the whole, the monologue is uninterrupted.
The in-the-round setting of Gwennap Pit adds colour and movement to the performance, as well as a sense of history and occasion as we sit in the place where the Cornish revival was birthed. Smart strides around the arena, sometimes leaping onto his chair, which teeters precariously on the uneven granite. Occasionally, he goes off-piste, bounding into the audience to offer up a dried locust from a tin, while telling of John the Baptist living in the wilderness. These interludes are the only additions to the otherwise original 1984 NIV version of the text, and offer a momentary respite from the necessary concentration that the performance requires.
Commitment to the cause
As the performance comes to a close, the audience - as instructed - sits in silence for a few moments, reflecting on what they have just seen and heard, before breaking into nervous applause, slightly unsure of when it is appropriate to do so.
The miracle stories become so familiar that they sometimes (often?) lose their power
The former drama teacher returns to the stage for a short Q&A, telling us that he first performed I am Mark at Speaker's Corner in Hyde Park, London. Famous for its often-hostile crowds and relentless heckling, it was there, Smart says, that he learned the power of the play. Tell a story and don't stop for a breath, he says, and the hecklers can't heckle. From there, he has taken it to churches, prisons and schools across the UK. Next month, he returns to the Edinburgh Fringe Festival where, in 2019, he played to sell-out crowds.
Afterwards, he tells me that it took him almost eight years to learn the 14,949 words that make up the book of Mark. Smart delivers these words with fluidity and confidence. He is committed to what he believes is a clear call from God: to breathe new life into the greatest story ever told, and to take it to those outside of the Church walls.
To find out more about I am Mark, including future tour dates and film version, see www.iam-mark.com

Emma Fowle is assistant editor of Premier Christianity and editor of Voice of Hope, Premier's quarterly devotional magazine. Emma is a trustee for Christian festival Creation Fest and lives in Cornwall with her husband and two teenage daughters. She loves to read, swim in the sea, play netball and lift weights with her dad.