Benjamin Hastings is best known for writing popular Hillsong anthems 'So Will I (100 Billion X)' and 'Seasons'. But his latest song approaches faith from a very different angle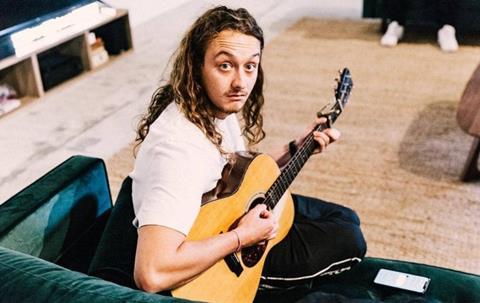 Five years ago, the U2 frontman Bono, who has often spoken of his Christian faith, challenged worship leaders to, "write a song about [your] bad marriage, write a song about how [you're] are p***** off at the government because that's what God wants from you, the truth… and that truthfulness… will blow things apart. Why I'm suspicious of Christians is because of this lack of realism and I'd love to see more of that."
There are a handful of Christian songwriters who have taken up this mantle, and dared to pen songs which cut against the grain (see Jon Foreman's 'Jesus I have my doubts'). But there's still a broad perception that most Christian music is pretty safe, both musically and lyrically.
Despite oft-repeated cries of "Lament is biblical!" (and it is), the majority of worship songs eminating from evangelical churches tend toward the triumphant, the upbeat and the happy clappy. And maybe that's what congregations want? People don't go to church on a Sunday to wallow in how awful everything is, after all. You could sensibly argue that most Christians want to sing songs that lift their spirits and remind them of the goodness and faithfulness of God, rather than focussing on their own flaws.
For decades, Hillsong Church has written, recorded and released faith-filled songs which churches across the world have sung on Sundays. But now, a writer behind some of the church's biggest hits has taken a brave new step. Eschewing the format of the typical worship song, which tends to revel in bold declarations about how God is "never going to let us down" or how we, the Christian singer, will "always love you", Benjamin Hastings has written a song which confesses his doubts.
"I keep asking for miracles I never see"
Some will wonder if this is yet more bad news for the famous megachurch. It's been a pretty terrible year for Hillsong. The church's popular US based pastor Carl Lentz was fired after it emerged he had been unfaithful to his wife. Brian Houston is also facing criminal charges for alledgedly concealing child abuse commited by his father (Houston will plead not guilty). That's to say nothing of other allegations, which were reported in a feature BBC documentary. Some may wonder if this new song is a prelude to yet another high profile deconversion? Two years ago another Hillsong worship leader Marty Sampson announced he was no longer a Christian. Could Hastings be heading in the same direction?
I don't think so. Instead, I think this song - entitled 'Faith is' - is written by a man whose faith is maturing, rather than diminishing.
'Faith is' contains many striking phrases. (See below box for the full lyrics). The Northern Irish writer feels alone in church because his doubts about faith are on the increase. He's been "scared to evolve" but is now confessing his old theological beliefs don't work anymore (exactly what these are we aren't told). "Are you finding these songs hard to believe?" he asks. Given his own background and context as a worship songwriter, that question packs a punch.
This song is challenging, and perhaps unsettling for some. You could even interpret it as a cry for help. But the evidence that this is not the beginning of another deconversion can be found in Hastings' other recent release, 'Homeward', where he sings, "Lord help me believe it / All those days when I feel like I don't / I've learnt faith isn't fearless / It's just trusting when you fear the most."
The possibility that some Christians may jump on this song as evidence that Hastings is "falling away" is a depressing prospect, and would actually prove why songs like this are so desperately needed. A fundamentalist attitude to faith no longer holds water with the younger generations. Instead, writers like Hastings understand God is big enough to deal with our doubts. What's more, he is able answer our prayers - including that famous prayer from the father of a boy posessed by an evil spirit in Mark 9:24, "I do believe. Help my unbelief." (NASB)
I'm not a lost sheep
I just feel alone in the flock
I think we all have our doubts
I just think mine just caught up
And I've been stuck in my ways
I've been scared to evolve
But the thoughts that I thought about You
Just don't work like I thought
Are you finding these songs kinda hard to believe?
Cause I'm at war with myself and I don't like how it feels
I'm out here asking for miracles I don't foresee
Maybe faith is a gift that I'm yet to receive
I'm not a lost hope I'm more like a house on the sand
And if the wind starts to blow I don't know how much longer I'll last
Are you finding these songs kinda hard to believe?
I'm at war with myself and I don't know what I think
I keep asking for miracles I never see
Maybe faith is a gift that you wasted on me
Are you finding these songs kinda hard to believe?
(I believe)
Cause I'm at war with myself and hard to sing while you seek
I gave You my heart now take my unbelief, please!
Cause if faith is a gift, give it to me If faith is a gift, give it to me

Sam Hailes is the editor of Premier Christianity, the UK's leading Christian magazine. He also serves as editorial director for the Premier media group. Sam is husband to Stacey and Dad to Evelyn and Ezra.
View full Profile