Looking for some new year listening inspiration? Worship leader and singer-songwriter Tom Read looks back at some of the best Christian music to come out of the UK in 2021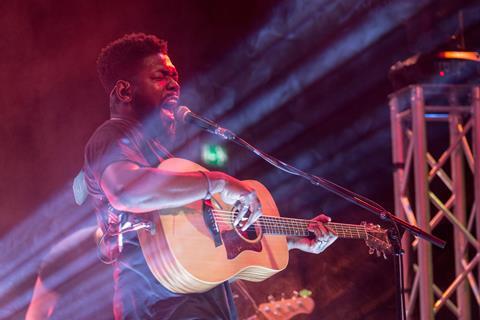 In my role as the founder of The Modern Hymnal, I listen to a lot of Christian music. The exciting thing is that the landscape of Christian music in the UK is changing - not only are we seeing more artists releasing music than ever before but it's also a more varied and diverse landscape than it's ever been. Here are my picks for the ten best releases by UK Christian artists in 2021.
Sun/Moon - Philip Shibata
This album is the perfect soundtrack to a rainy afternoon. Part lo-fi, part indie pop, Philip's guitar playing, along with his catchy vocal melodies, make this one of my favourite albums of the year. As the guitarist from Rivers and Robots, it's nice to see him carry on the torch for UK indie Christian music.
My Hope Has Come - Vineyard Worship
Vineyard is doing something slightly different and refreshing in the worship space right now, both in terms of their sound and also as a truly global worship movement that includes songwriters and worship leaders from various Vineyard churches around the world. 'You speak' by UK worship leader Jodie Alexander-Frye was one of my most listened to worship songs this year.
Honesty - Jake Isaac
Honesty is the third full length album from popular UK singer-songwriter Jake Isaac, and as the title suggests, it's some of his most raw - yet real - work to date. As a bonus, Jake has teamed up with some choice artists, such as India Arie and Samm Henshaw, who feature on the album to give it that something extra.
Closer - Lion of Judah
Back with their second album, and it feels as if Lion of Judah are more comfortable in their own skin this time around. Although the music is still infectiously catchy, there's a growing lyrical and musical maturity, and it's not hard to see why they have gained fans from both inside and outside Church circles.
Rewilding - Gas Street Music
Gas Street Music picks up where Worship Central left off, with some of the same songwriters, as well as a bunch of new faces and voices. While not revolutionary, this EP is a solid collection of songs that should easily find their way into many UK churches - something we desperately need more of right now.
Homegrown Sessions (Live EP) - Wildwood Kin
There's something special about the blend and tone that happens when siblings sing together, and these sisters and their cousin are no exception. If you love harmonies, this live EP will not disappoint you. The way they weave lyrics of substance into gorgeous melodies makes their music instantly accessible. This is live music as it should be.
Come Home - CalledOut Music
It's hard to fit CalledOut Music into just one genre, because the music effortlessly floats between pop, acoustic and gospel without ever feeling forced. Whilst not necessarily the most lyrically challenging, his voice and melodies more than make up for it. This is the perfect EP to chill out to on a Saturday afternoon.
Iridescence Pt. 1 and 2 - Emissary
These two brothers from Bristol established themselves on the UK Christian scene in 2021, releasing two EPs and finding their way into playlists both at home and abroad. Their style of indie rock worship will no doubt become a favourite for many in years to come.
Wayward & Home (Part 1) - Drakeford
I'm a sucker for a good male/female duo, and Drakeford are no exception. This album is full of acoustic Folk-Americana goodness. Once again it's the harmonies between the two that stand out and make it such an easy and enjoyable listen.
Morningtide - Celtic Worship
Celtic Worship is a collective of Scottish folk musicians who blend traditional and contemporary Christian music with the sounds of their native roots. This is an album of mostly traditional hymns, given a Celtic treatment, and it's nothing but glorious. It would be amazing to see more countries embracing their own culture and heritage when it comes to worship music.
If You Knew (Live at St. Peters) – Bianca Rose
Bianca Rose is one of those singers that makes singing feel effortless, as if the words and notes just fall out of her mouth without even trying. For a live album, it's remarkably smooth, and the spoken word pieces throughout the performance help to reinforce Bianca as an artist in the truest sense of the word.
Take a listen now on Tom's spotify playlist

Tom Read is a worship leader, songwriter, and music producer based in Oxford. He is also the founder of The Modern Hymnal (modernhymnal.uk) which is a community of UK worship leaders committed to singing more local and regionally written songs in their churches.
View full Profile