The Queen was never shy about sharing her faith, says former leader of the Liberal Democrats, Tim Farron, and this is why her wise counsel was so vital for Britain's political leaders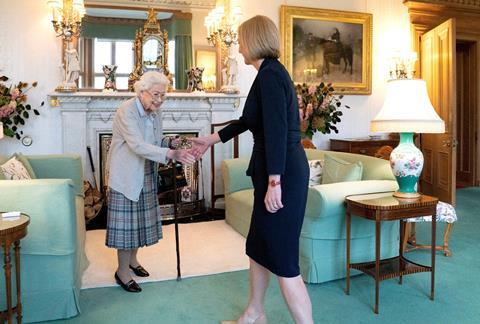 It's no exaggeration to say that we have witnessed a month like no other.
At the start of September, Boris Johnson headed Her Majesty's Government. A few days later, Liz Truss found herself heading His Majesty's Government.
The biggest political stories – a new Prime Minister appointing a new government and setting out proposals to tackle the energy crisis, not to mention astonishing scenes as Ukraine pushed back into territory captured by Russia – were completely overshadowed by the loss of our longest serving monarch.
Of course, she was 96 years old, and so this day ought not to have come as a surprise, but the announcement still came as a profound shock. It certainly winded me.
As I said in my tribute in the House of Commons, the landmarks of the Queen's reign have been the landmarks of each of our lives. Many who are even older than me will remember her acceding to the throne. I remember the Silver Jubilee, dancing around a maypole at the age of seven in 1977, and the Golden Jubilee as the father of a new baby. We shared so much joy earlier this year at the Platinum Jubilee.
Her life was our life and her history has become our history; they are inseparable and indivisible and we will ever be touched by it.
There can be no doubt that her faith gave Her Majesty an external source for the wisdom that she imparted to all fifteen of her prime ministers
We have a constitutional monarchy. Our new King will open new sessions of Parliament as his mother did, he will invite party leaders to form a government, and sign off legislation, but this is all a formality – no monarch has refused Royal Assent to a bill since Queen Anne in 1707.
There are, of course, alternatives to appointing your head of state by heredity! In Ireland, for instance, the President is an elected head of state, but largely above politics and apart from government, it is a ceremonial role. But in the US and France the head of state and the head of government is the same person. That can cause issues if your allegiance to your head of state doesn't fit with your political allegiances! On balance, I tend to think that our system works and that we should stick with it.
But as we come to terms with the sadness of losing our Queen, perhaps we are also feeling a sense of fatigue? The last few years have been full of upheaval and emotion: the horrors of terrorist attacks; the bitterness of Brexit debates; the trauma of a global pandemic; and Russia's invasion of Ukraine.
Maybe more than we ever consciously realised, the Queen acted as a source of security, stability; a reliable constant in our ever-changing world. I've even heard this sentiment expressed by people who are republicans – or at least sceptics – when it comes to the monarchy.
How do we deal with this? Well, while the Queen was a constant to us, we know that it was her faith in Jesus Christ which served as her constant. She was never shy about talking of her faith – possibly to the irritation of some advisors, I don't know. In her 2020 Christmas broadcast she said: "The teachings of Christ have served as my inner light", and in her 2021 message, that his teachings "have been the bedrock of my faith". There can be no doubt that her faith gave Her Majesty an external source for the wisdom that she will have imparted to all 15 of her prime ministers.
Before the local ceremony for the proclamation of King Charles III in Kendal, one of the towns for which I am MP, we had a short rehearsal at the town hall. We hadn't yet received the wording of the proclamation, and so for the run-through, the council chairman used the text from 1952. I found this truly moving, hearing those words that were first read as the young Princess Elizabeth acceded to the throne, praying that she would have a long and successful reign. Those prayers were answered, and yet here we are, 70 years later and it has gone; the flower of youth snuffed out. The Queen is dead, long live the King.
Seventy long years, yet in the history of the universe it's the blinking of an eye. The Queen knew that, and we can be sure now that she is with her Saviour. Let us remember that we can be just as certain of our own futures, if only we will put our trust in Jesus.
When our world is in flux, nothing is secure, with all things merely temporary, we can be confident that God truly is our constant. He will never leave us. There will never ever be a proclamation for his successor, no funeral.
It is right that we mourn, that we give thanks for her life of service, and praise the God who most definitely saved our gracious Queen…
And then as we turn to face the challenges of this changing world, let's meditate on the words of Deuteronomy 33:27: "The eternal God is your refuge, and underneath are the everlasting arms."
Premier gives thanks for Queen Elizabeth II. We invite you to share your prayers of thanksgiving for Her Majesty's life, faith and service here

Tim Farron is MP for Westmorland and Lonsdale, and former Leader of the Liberal Democrats. He is the author of A Mucky Business: Why Christians should get involved in politics. Tim is also the host of Premier's 'A Mucky Business' podcast, which you can listen to on your chosen podcast provider.
View full Profile