The racist killing of Stephen Lawrence 30 years ago led to the mainstream adoption of Racial Justice Sunday. The annual event, which is due to take place next week, serves as a reminder of the importance of respect, dignity, equity and justice in Church and wider society, says Richard Reddie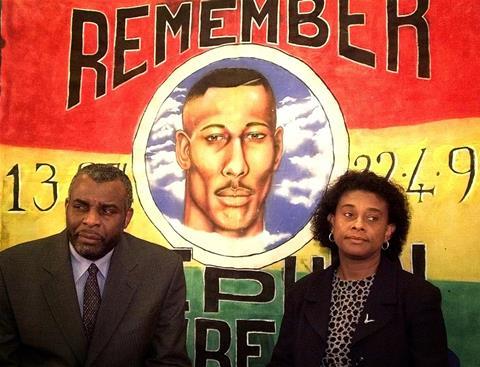 We are all familiar with the saying: "Time flies!" which denotes the swiftness of the passing of time in relation to an event, especially one of note.
This is particularly pertinent to the 30th anniversary of the racist killing of Black teenager, Stephen Lawrence, in Eltham, London on 22 April 1993.
For the few who may be unfamiliar with this tragedy, Stephen was an 18 year-old student who was studying for his A-Levels; he aspired to be an architect. Both he and his close-knit family attended a Methodist church near their home.
On that fateful evening, five white youths attacked Stephen and his friend, Duwayne Brooks, at a bus stop as they were on their way home. Stephen died as a result of this attack.
A watershed moment
That heart-breaking event would become a watershed moment for race-relations in Britain: I tend to call it our 'George Floyd moment' because it shone a light on the racism that existed within our society, but which many had previously failed to acknowledge.
Stephen was not the first Black or Brown person to die in such circumstances, but his death became totemic due to several factors.
Justice is defined in, or through, actions rather than words
The first was the Metropolitan Police's infamous investigation into finding the killers. Although there were several eyewitnesses to Stephen's murder, and anonymous tip-offs that identified the culprits, the police chose not to initially follow-up on any of these.
A later investigation into police conduct revealed that they were focussing their attention on the Lawrence family instead.
The second factor was the intervention of the then-South African President and freedom fighter, Nelson Mandela, who heard about the case while visiting the UK shortly afterwards. As a result, he threw his considerable support behind the Lawrence's campaign for justice.
The third was the Lawrence family themselves, whose courage and determination meant they would not take "no" for an answer. When the Crown Prosecution Service dropped the charges against two youths arrested in July 1993 (citing insufficient evidence) the Lawrence's initiated a private prosecution against the five suspects. As they were not entitled to legal aid, they established a 'fighting fund' to pursue justice.
Doreen Lawrence's tenacious efforts to get justice for her son changed British legal history. It resulted in the law regarding double jeopardy (which prevented a person being tried twice for the same crime) being changed, as well as the ground-breaking 1999 McPherson report into the police's investigation, which introduced the term 'Institutional Racism'. Finally, it ushered in the Race Relations (Amendment) Act in 2000.
Standing tall
The Church also played a pivotal role, especially the Methodist Church. One individual who stands tall is Rev David Haslam, a Methodist minister, head of the Churches Together in Britain and Ireland commission and the Churches Commission for Racial Justice (CCRJ).
The CCRJ threw its weight behind the campaign, providing much-needed funds for the privately financed efforts to catch Stephen's killers.
The CCRJ also worked with the Methodist Church to mainstream Racial Justice Sunday (RJS), which was established after Stephen's death, and now serves as an annual reminder of the importance of respect, dignity, equity and justice in Church and wider society.
Unfortunately, not all churches were this justice driven; many sadly chose to ignore what had taken place out of fear, ignorance or indifference.
Vital reminders
I started this article by talking about time flying. One of the dangers of this is that we tend to forget certain events all too easily. As such, we need anniversaries, sad as some of them can be, to remind us of how past events still inform the present; and how they can shape the future.
Doreen Lawrence's tenacious efforts to get justice for her son changed British legal history
That is especially the case with the anniversary of Stephen Lawrence's murder. While we may no longer hear about those crude forms of racist violence, racism never went away in this country; the phenomenal response to the killing of George Floyd and the rise of the Black Lives Matter movement were indicative of this.
We also saw this in 2016 with Brexit. After voting to leave the EU, Britain experienced a massive spike in reported religious and race-related hate crimes.
Taking our stand
If parts of the Church played an important role in the Lawrence case all those years ago, all of it must do a similar thing today to combat bigotry. Non-Ukrainian refugees and asylum seekers are still demonised on both sides of the Irish Sea; an insidious phenomenon that is not helped by the often-inflammatory remarks of politicians, keen to use the toxic nature of our discourse on immigration to score points.
Christians need to take a leaf out of the Lawrences' book and be courageous and indefatigable on justice issues. We need to stand up for what is right, and against what runs contrary to scripture.
We worship a God who is just and calls on us to 'do' justice that is defined in, or through, actions rather than words. In August this year, we will also mark the 60th anniversary of Rev Dr Martin Luther King Jnr's 'I have a dream' speech, which discusses a "beloved community" that has justice at its heart.
If we have a heart for justice, we need to work together to see it take effect in Church and wider society. Racial Justice Sunday is a great moment to start this.
Racial Justice Sunday will take place on 12 February 2023 and focuses on marking the 30th anniversary of the racist killing of Stephen Lawrence in 1993. For more information, including resources for congregations to use, visit the Churches Together website

Richard Reddie is a writer, researcher, cultural and religious commentator and broadcaster. He is director of justice and inclusion for Churches Together in Britain and Ireland and is the author and editor of several books, including the recently published Race for Justice (Lion/SPCK), Abolition! The struggle to abolish slavery in the British colonies (Lion Hudson) and Black Muslims in Britain (Lion Hudson).
View full Profile