More stories of violence and racism towards people of colour trying to leave Ukraine are emerging. But our silence gives the impression that some refugee lives are worth more than others, warns Mike Royal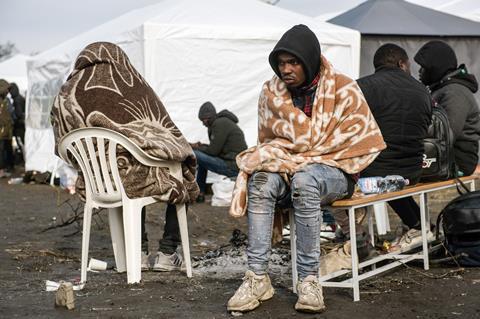 The images emerging from Russia's invasion of Ukraine are deeply disturbing. We lament the worst outbreak of conflict on the European continent since the second world war.
Watching cars queue to escape Ukraine is heartbreaking; our hearts go out to everyone. However, there are confirmed reports of African and South Asian people fleeing the conflict who are experiencing racism at the borders into neighbouring countries. Just days into the Russian invasion, BBC Breakfast ran a story of a black refugee, Gabriel, who testified to having been beaten at the border, having had to walk twelve hours because he was not allowed to board a train.
Through racist eyes
The Independent reported Osarumen's story; the father-of-three was travelling with family members when they and other refugees were told to disembark a bus about to cross the border. They were told: "No blacks". Despite challenging the driver and military officers' orders, they were ejected from the vehicle. "I've been trying to get myself together and focus as normal but it's been difficult," he said. "In all of my years as an activist, I have never seen anything like this. When I look into the eyes of those who are turning us away, I see bloodshot racism; they want to save themselves and they are losing their humanity in the process."
We call for every nation receiving refugees to treat all with equal care and dignity
Add this to numerous videos circulating on social media platforms and it becomes clear that injustice within the context of injustice is taking place.
Hold the tension
Yet despite this, some people will go out of their way to downplay - or deny – this. Perhaps because it cuts across the narrative of unilateral support for Ukraine. I experienced this when, in early March, I took part in a Premier Gospel Twitter Spaces debate entitled: 'Africans in Ukraine: are some lives valued above others in this crisis?' A contributor to the conversation was keen on a "hush, hush" approach to the racism that is taking place on the Ukranian borders.
I agree with Ben Lindsey, a racial justice campaigner with Power the Fight, who retweeted this comment made by Bruce Nadin recently on social media: "It's possible to hold multiple truths simultaneously. It's possible to abhor Putin's aggression, the suffering of Ukraine and the treatment of Africans fleeting the terror."
Thankfully, the governments of African countries have now begun airlifting their citizens in Ukraine out of the war zone. I recently re-shared the moving photo of a Nigerian parent giving his grown up daughter a piggy back on social media. They were both smiling from ear to ear, having been reunited in Nigeria after an airlift. He said: "I'm grateful to God for FGN [the Nigerian government], for all the agencies of government used for this reunion." His prayer for others caught in similar circumstances was simply this: "None of you will mourn or sorrow over any of your children, in Jesus name!" A good news story with a happy ending.
The beginning of change
As the Church begins to respond to Ukraine, the treatment of black and brown refugees caught in the crisis is beginning to be recognised. Churches Together in England recently issued a statement from the floor of the Churches Together Forum, attended by 300 delegates from its 52 national church denominations. It included the paragraph: "While we recognise the huge challenges facing those countries bordering Ukraine in which refugees first arrive, and we call for a fair sharing of this burden throughout Europe, we deplore the discrimination against African, Asian and Muslims students fleeing Ukraine, and call for every nation receiving refugees to treat all with equal care and dignity".
It's possible to abhor Putin's aggression, the suffering of Ukraine and the treatment of Africans fleeting the terror
Many conversations happening between church leaders seeking to work together to make the 'Homes for Ukraine' scheme work, are also recognising the hypocrisy of welcoming white refugees, who look like us and perhaps share our religion, while being less welcoming to black and brown people or those who are Muslim. The issue highlights the need for us to face the nuances and complexities of responding to a refugee crisis - even if what we see from individuals, agencies and governments makes for uncomfortable truth. Perhaps the Ukraine crisis, with all the horror that is sadly unfolding, gives the Church the opportunity to reset the agenda. How do we respond to the biblical mandate of welcoming the widow, the orphan and the stranger? This is an opportunity for us all to do better.
Mike Royal is a Pentecostal Bishop with the Apostolic Pastoral Congress, a social justice advocate and the current general secretary of Churches Together in England. He was previously the co-chief executive of The Cinnamon Network, and is a founding trustee and former national director of Transforming Lives for Good (TLG)
View full Profile