Gary Lineker's tweets criticising the government's Illegal Immigration Bill have been causing a firestorm in the press. Mike Royal reminds Christians that, whatever our view, posture is important when campaigning for justice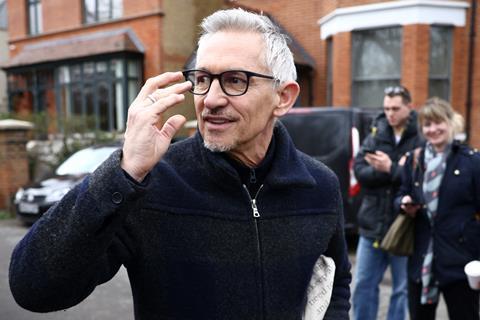 A friend of mine close to the Westminster village once said: "Some people get out of bed in the morning and ask themselves: 'Who am I going to pick a fight with today?'"
On 7th March 2023, the Home Office released a video featuring Home Secretary, Suella Braverman, emblazoned with the strap line: "Enough is enough. We must stop the boats". The moment felt like the launch of the latest culture war crusade, rather than concern about the latest small boat crossing.
TV presenter and football pundit Gary Lineker's reaction on Twitter struck a chord with many: "Good heavens, this is beyond awful." Within 24 hours, after a chorus of complaints from Conservative MPs, Lineker was reprimanded by the BBC, accused of breaching impartiality rules.
Free speech is not only a right; it is also a responsibility
He was suspended from presenting Match of the Day and, within hours, fellow football commentators Ian Wright, Alan Shearer and Alex Scott had signalled that they were standing in solidarity, refusing to present the programme without him. As Scott tweeted a GIF captioned: "Nah, not me", suddenly we were in full culture war territory.
FYI… pic.twitter.com/UboKKdTjxG

— Alex Scott MBE (@AlexScott) March 10, 2023
The so-called out of touch hard left had been pitted against a government, flagging in the polls, apparently trying to deliver for the 'British people'.
Unease and unrest
The housing of asylum seekers in hotels has been causing unease in some of the poorest communities for a while. Last year in November, a migrant centre in Dover was subject to a petrol bomb attack. Last month there were disturbing images of violent disorder outside a hotel housing asylum seekers in Knowsley, Liverpool.
In both cases, there was clear evidence of far right involvement, but also accusations that government rhetoric had stirred the pot. With this in mind, our first response must be one of giving careful thought to our tone.
Evangelical Alliance's Head of Public Policy, Alicia Edmund, helpfully appealed to Christians to consider: "the importance of tone and posture when discussing immigration and asylum policy." She went on to remind us that our pursuit of "good and just legislation should resemble the scriptures we read and the God we serve more than the sound bites of any political party."
Moral posture
This is an issue of justice, social cohesion and harmony in our communities. A number of Christian leaders have voiced their concerns. Most Rev Stephen Cottrell, Archbishop of York, commented in The Observer recently that: "the proposals of the Illegal Migration Bill…are clearly unworkable, but will restrict access to support for many legitimate refugees and victims of modern slavery, without even the dignity of having their cases heard."
Cottrell went to say: "Nobody wants to see people risking their lives in the dangerous crossings, but I urge the government to consider alternatives that do not unfairly penalise some of the world's most vulnerable, and which better reflect the UK's history of compassion and moral leadership."
While Braverman claims to be implementing the policies that the British people want, Cottrell, as a senior Church leader, reminds the nation of its long held moral posture.
The Joint Public Issues Team (JPIT), which represent the Methodist, Baptist and United Reformed Churches on public policy issues, has garnered over a thousand church leader signatures opposing the Illegal Immigration Bill legislation. Their letter, released on 8 March 2023, states: "If ever there was a contemporary example of ignoring our neighbour and walking by on the other side, this is it."
Another view
Their view seems to echo the general consensus from churches across the UK: that this is a poor piece of legislation. Yet there is a vocal fringe who take a different view. At a recent church gathering in Kirkby, I heard someone say: "We know they are, by definition, illegal immigrants - which technically makes them criminals, so they should be treated as such. They shouldn't be put up in five star hotels, they should be in cells, and told they are not leaving until they pay for their ticket back."
As abhorrent as I might find that view, in an age where the right to free speech is sacrosanct, people have a right to air that view. Equally, Gary Lineker feels he also has the right to voice his opinion, as a freelance TV Football presenter.
Our pursuit of good and just legislation should resemble the scriptures we read and the God we serve
The toxic mix of the current cost of living crisis hitting the poorest the hardest, together with concerns about immigration, has the potential to become a tinderbox. Toxic rhetoric justified as free speech only adds fuel to the fire.
Sticks and stones
83-year-old Holocaust survivor, Joan Salter, recently challenged Braverman on her use of language in regards to migration, claiming it was akin to how the Nazis justified murdering her family. Lineker, in his tweets, was simply reasserting that view.
In an ironic twist, Braverman not only refused to apologise for language she used, but later justified her position by stating that her husband was also Jewish.
Free speech is not only a right; it is also a responsibility. The saying goes: "Sticks and stones may break my bones, but names can never hurt me." History reminds us that words can hurt and, sadly, led many to the gas chambers.
If nothing else, as Christians, we should remember that Bible implores us to: "Let your conversation be always full of grace, seasoned with salt, so that you may know how to answer everyone." I guess that includes on social media, too.
Mike Royal is a Pentecostal Bishop with the Apostolic Pastoral Congress, a social justice advocate and the current general secretary of Churches Together in England. He was previously the co-chief executive of The Cinnamon Network, and is a founding trustee and former national director of Transforming Lives for Good (TLG)
View full Profile