30 years on from the murder of Stephen Lawrence, Baroness Casey's scathing review of the Metropolitan police has revealed a failing institution still rife with racism. It's what Black people have been saying for decades, says Ben Lindsay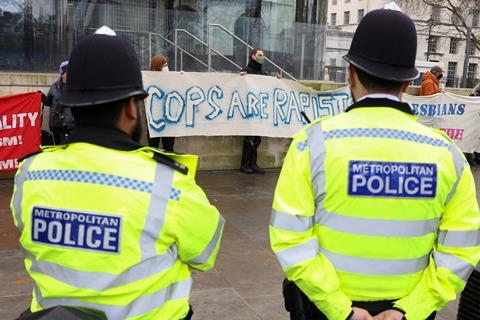 "I make a finding of institutional racism, sexism and homophobia in the Met." This is the conclusion from Baroness Casey's review into the Metropolitan police service. It is with deep sadness that this comes as no surprise.
Earlier independent reviews have come to the same judgement, notably the Scarman report (1981), published in response to the Brixton riots, and the Macpherson inquiry (1999) which addressed police failings after the murder of teenager Stephen Lawrence.
For many, this will feel like déjà vu. The difference this time is that previous high-profile reports have focused primarily on racism in the Met, but the Casey review highlights other forms of discrimination. Now, it's not just Black and Brown people calling out police discrimination. The conversation has gone wider.
It is clear the Met is on a long road to rebuilding trust and that the road will be blocked until there is an acknowledgment of the problems
The murder of Sarah Everard by serving police officer Wayne Couzens; the inappropriate police handling of pictures of murdered sisters Nicole Smallman and Bibaa Henry; the unlawful and degrading strip search of a 15 year old Black girl (Child Q) by police officers; the misogyny, harassment and bullying behaviour - including racist, sexist and homophobic messages - among officers at Charing Cross Police Station; and the ongoing investigation into the death of Chris Kaba, who was not a suspect when he was followed by an unmarked police car, and then shot by a firearms officer.
All these incidents reinforce what most Black and Brown communities have lived with - and protested about - for decades. The Met police abuse their power and authority, and they are not fit for purpose. The Casey review makes it clear that this goes far beyond just a few bad apples.
Institutional failings
Yet for all the evidence presented of their failings, the current Met Commissioner, Sir Mark Rowley - like his predecessor Dame Cressida Dick - refuses to say that the Met is institutionally racist. The evidence is there, but without acknowledgement from those at the top, it is hard to see how there can be reform.
There is something about the term 'institutional racism' that divides opinion. In 2021, Tony Sewell led the government-appointed Commission on Race and Ethnic Disparities that assessed disparities in education, employment, health, crime and policing. He concluded that he found no evidence of "institutional racism" in Britain.
More recently, the Home Secretary, Suella Braverman, rejected the description of the Met as institutionally racist, claiming in the commons: "On the topic of institutional racism, Mr Speaker, I agree with Sir Mark Rowley. It's not a helpful term to use. It's an ambiguous, contested and politically charged term that is much misused and risks making it harder for officers to win back the trust of communities."
Yet the Casey review upholds the term.
Defining racism
Racism is generally thought of in four forms:
Internalised racism: the subtle and overt messages that reinforce negative beliefs and self-hatred in individuals.
Interpersonal racism: racist acts and microaggressions carried out from one person to another.
Structural racism: multiple institutions collectively upholding racist polices and practices.
Institutional racism: policies and practices that reinforce racist standards within a workspace or organisation.
This is important to reflect on. Institutional racism is not about individual racist attitudes. The Casey review is describing a culture within the Met that underpins individual incidents and where "racist, misogynist, homophobic and other discriminatory acts are tolerated, ignored, or dismissed as 'banter'."
Moving forward
There are many opinions on what needs to happen next for the public to regain trust in the police. The truth is, for many Black and Brown communities, the trust was never there in the first place.
When you have been consistently let down by a service - and minoritised communities have felt more of the police force rather than a police service - it's hard to move forward.
The Christian rapper, writer and presenter, Guvna B, expressed this feeling powerfully through his latest single 'Bridgeland Road'. Recounting being victim of an assault he raps: "I gave the police a plate they apparently traced / To a company them guys was working for on the day / But the owner of the place didn't give up their names / Strange, imagine all of my rage / Bro, imagine that / Imagine closing a case with cuts on my face / And nobody pays, it's mad".
Institutional racism is not about individual racist attitudes. The Casey review is describing a culture
The frustration felt when the police do not follow up enquiries and do their job properly is an experience that Black and Brown communities can relate to.
What next? Reform? Abolish? Community ownership and accountability? Training? More reviews? It is clear the Met is on a long road to rebuilding trust and that the road will be blocked until there is first an acknowledgment of the problems.
I'm praying that the Casey review is finally the catalyst to bring structural and institutional change to the Met Police.

Ben Lindsay OBE is author of We Need To Talk About Race: Understanding the Black experience in white majority churches (SPCK) and CEO of Power The Fight
View full Profile