Our first 'majority minority' cities have produced vibrant, multi-ethnic churches, says Mike Royal. Christians have nothing to fear from the latest census results on immigration, and everything to gain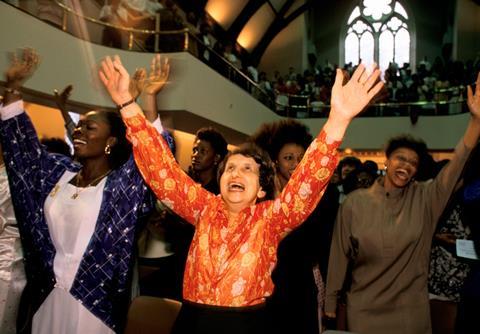 It was long anticipated that the census would show that England and Wales had become minority Christian countries. So the announcement that 46.2 per cent of people now identified as Christian, came as no surprise.
The census also revealed that other major religions had increased. 1.2 million more people now identify as Muslim, a 43 per cent rise on ten years ago. And, in places such as London, Leicester and Birmingham, we now have our first 'minority majority' cities with over 50 per cent of the populations now coming from ethnic minority backgrounds.
But while The Guardian was hailing our "new age of super diversity", right-wing politicians, such as Nigel Farage, were having a social media hissy fit. So what are Christians to think?
A nominal decline
After the census results were revealed, I found myself reflecting that the 17 per cent fall in the number of people describing themselves as Christian is, in part, about people being honest about their faith and spirituality.
I welcome this. Church leaders have always known that only a fraction of those identifying as Christians ever darkened the door of our churches. Nominal Christianity does the Church no favours. It is, in my opinion, part of the reason behind the rise in Christian Nationalism. This harks back to the 'good old days' before so-called mass immigration, when Britain was a 'truly Christian country'.
60 per cent of Christians in London are Black. Ours is already a diverse Church, and we should be proud of it
Britain First followers hunting for refugees and asylum seekers in hotels has nothing to do with Christianity and everything to do with far right extremism. The truth, as Dr Harvey Kwiyani pointed out at the recent Churches Together in England Missionary Discipleship Conference, is that 60 per cent of Christians in London are Black. Ours is already a diverse Church, and we should be proud of - and encouraged by - that fact.
Inter faith dialogue
Having lived in Birmingham and the West Midlands for nearly 20 years, I can witness first hand to the importance of Christian engagement in inter faith dialogue. Birmingham is a multi-ethnic, mutli-faith city.
Interfaith dialogue has not only massively contributed to community cohesion, but also changed the way that Christians understand their faith in relation to other's beliefs.
The call to interfaith dialogue is not a call to compromise our own beliefs but a recognition that you can have a firm faith of your own, as well as a healthy respect for others. You can desire to better understand people from different faith backgrounds while holding fast to your own faith tradition.
Positive relationships between different faiths is also essential in restoring peace when fault-lines appear, as we saw recently in Leicester between the Hindu and Muslim communities.
Opportunity knocks
The advent of our first 'minority majority' cities, like London and Birmingham, have helped to fashion vibrant, multi-ethnic churches that truly reflect Britain today. They have also signalled a call for all Christians to engage more seriously in interfaith dialogue, both formally and informally. Religious literacy is a good thing - contrary to popular opinion, it tends to strengthen your own faith, not weaken it, while also creating a healthy respect for others who believe different things from you.
The religious and ethnic makeup of contemporary Britain is undoubtedly changing. But let's embrace the opportunity that lies before us. There are still many open doors. Of the 22.9 million people now stating they have "no religion", many are not declaring themselves atheists, but rather choosing to be more open about their spirituality.
In three weeks of evangelism, we witnessed 605 decisions for Jesus. God is on the move!
Recently, I was part of a group of evangelists and missional leaders brought together by Hope Together's Dr Rachel Jordan-Wolf. Several spoke anecdotally of seeing many people continuing to respond positively to the gospel.
Jay Smith, a Christ for All Nations trained evangelist, recently stated on my social media timeline: "In our three weeks of evangelism for our gospel campaign, we witnessed 605 decisions for Jesus on the streets". He went on to declare, with evangelical fervour: "God is on the move"!
I believe it. And the latest census results have done nothing to change my belief.
Mike Royal is a Pentecostal Bishop with the Apostolic Pastoral Congress, a social justice advocate and the current general secretary of Churches Together in England. He was previously the co-chief executive of The Cinnamon Network, and is a founding trustee and former national director of Transforming Lives for Good (TLG)
View full Profile