As His Majesty Charles III was proclaimed King, MPs across the parties pledged their allegiance. Several, including the Leader of the Opposition, chose not to swear on the Bible, making a secular 'solemn affirmation' instead, but John Stevens says this isn't necessarily as bad as it sounds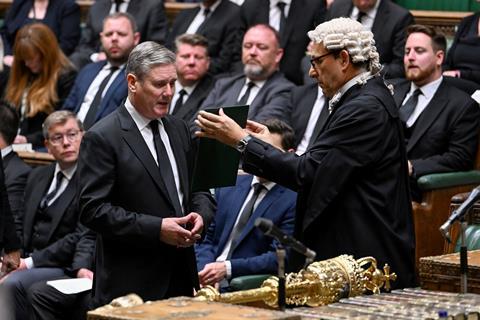 In the past few days we have witnessed, for the first time in seventy years, the passage of the Crown from one monarch to another.
Once King Charles was proclaimed our new King the Members of Parliament pledged their loyalty to him. The majority of MPs did this by making an oath holding a Bible, swearing loyalty to him in the name of God.
Sir Keir Starmer, the Leader of the Opposition, chose to make a 'solemn affirmation' that makes no reference to God. He was not the only one to make this choice. Penny Mordaunt, the newly appointed Leader of the House of Commons in Liz Truss' cabinet, also chose to affirm rather than take an oath.
The reason that Sir Keir chose to affirm rather than swear an oath is because he is an atheist.
As a Christian, I respect him for making this choice and acting with integrity rather than making a promise he does not believe. I do not think it is healthy and beneficial for people to take the name of God lightly, and to make declarations of faith or promises that they do not believe.
Christianity is not a religion of outward form, but of genuine heart faith in the Lord Jesus. Cultural religion that does not reflect true faith is deeply detrimental to the cause of the gospel, and leads to misunderstanding what Christianity really is. I am no happier with unbelievers or agnostics making professions of faith and solemn promises in God's names at christenings, confirmations and marriages. The importance and witness of genuine faith is undermined when such superficial cultural religion is encouraged and celebrated as if it were the real thing.
Accommodating atheists
I also greatly appreciate the religious liberty that we enjoy in our country which means that unbelievers are not required to subscribe to a particular faith or church to serve in public life. It was a long-fought battle to achieve such equality. Until 1828 you could not sit as an MP unless you were an Anglican. Only with the repeal of the Test Acts were non-conformists permitted to enter the House of Commons. It was only in 1858 that Jews were able to become MPs when the Jews Relief Act amended the oath of loyalty permitting them to omit the words "on the true faith of a Christian". Scandalously this reform had been opposed by some leading Christians, including Lord Shaftesbury.
It was inevitable that, with the growth of secularism and unbelief, it would become necessary to further amend the law to accommodate atheists who could not in conscience swear an oath. In 1880 Charles Bradlaugh was elected as the MP for Northampton. He refused to swear an oath and sought to affirm instead. As a result, he was temporarily imprisoned and fined for voting in the Commons illegally. It was not until 1886 that his wishes were acted upon, and in 1888 a new Oaths Act enshrined the rights of MPs, jurors, and witnesses in criminal courts to affirm rather than swear an oath.
It is entirely pointless to expect an atheist to take an oath in the name of a God in whom they do not believe
Britain today is a multi-racial and multi-faith country, and I celebrate the freedom of religion – and from religion – that we enjoy. An increasing number of MPs are drawn from different faith communities, and we may very well have had our first Hindu Prime Minister if Rishi Sunak had won the recent leadership election in the Conservative Party. After the 2019 General Election more than 150 MPs affirmed rather than swore an oath.
Some Christians might regret that our leaders are not required to have a Christian faith, no matter how nominal. However, we need to remember the doctrine of common grace. Good governance is not dependent on Christian faith. God raises up rulers, Christians or not, as his servants (Romans 13) to do justice. Rulers with no faith are just as capable of fulfilling the God-ordained role of government to preserve public order and ensure freedom of religion (2 Timothy 1:1-4).
History shows repeatedly that professing Christian rulers have been appalling tyrants and oppressors of the true Church. We are called to pray for our leaders, whoever they might be, that they will fulfil these basic duties of government. An atheist ruler with a commitment to justice and plurality may be preferable to a religious leader who is not.
The purpose of oaths is to provide a greater certainty that the swearer will tell the truth or keep their word. Negatively, the oath reminds the swearer of their accountability to God as judge, with the threat of cursing if they break their word. Positively, it encourages them that they will enjoy divine help to keep a costly promise. It is entirely pointless to expect an atheist to take an oath in the name of a God in whom they do not believe, since it will have neither of these effects.
Hypocrisy
It is an equally important question whether Christian should take oaths. Jesus' teaching in the Sermon on the Mount would suggests that oaths are not necessary and that our word should be reliable and trustworthy without the need to invoke the name of God (Matthew 5:33-37). The true profession to Christian faith is not found in taking an oath, but in being so like God in our character that our word is trustworthy, and others know that they can rely on what we say. We tell the truth, and we keep our promises. Our "Yes" is yes, and our "No" is no.
For this reason, when I undertook jury service a couple of years ago, I chose to 'affirm' rather than to swear an oath. I am glad that the law allowed me to make this choice, and it opened a couple of interesting conversations with fellow jurors.
I am glad that the same choice was open to Sir Keir Starmer and other MPs. As a Christian I long for him to come to faith. Equally as a Christian, with confidence in the sovereignty of God and common grace, I don't think he, or any other politician, needs to be a Christian to govern us effectively and justly, or to preserve our precious liberties. An honest atheist of integrity is altogether better than someone hypocritically cloaking themselves in a faith they do not truly profess.
Premier gives thanks for Queen Elizabeth II. We invite you to share your prayers of thanksgiving for Her Majesty's life, faith and service here

John Stevens is national director for the Fellowship of Independent Evangelical Churches (FIEC)
View full Profile