Some Christians view Glastonbury as the antithesis of everything holy. On the contrary, this temporary city of half a million people reflects the joy of all God's creation, as well being as a huge opportunity to show Christ's love, says Caroline Gregory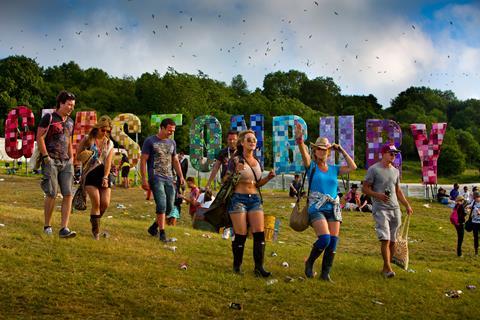 Like many, I fell in love with Glastonbury the first time I came, over 15 years ago. I have been to other music festivals, but it is true what people say - there really is nothing that compares. All ages attend, from infants in prams (special rugged wheels essential) to the elderly, sometimes with mobility scooters (special rugged wheels also essential). Lots of us on crew have 'Glastonbury families' - people we only see here for a week each year. We exclaim over how much everyone has grown as our children run around the crew camping fields with no adult supervision, because everyone knows they will be safe.
You gave me a home when I felt homeless in my soul - Clare
Then there is the fact that you could hate all the music and still be overwhelmed with the choice of things to do. Whether it's listening to a debate, attending a craft workshop, getting a massage or watching a dance performance, boredom is impossible. But perhaps the thing that makes Glastonbury really stand out is its sheer size. Over 200,000 ticket holders join an even greater number of crew members. There are around 3,000 musical acts over five days on 80 different stages. The boundary fence is nearly nine miles long.
A city in a field
This temporary city of half a million people obviously requires vast amounts of infrastructure and services. Glastonbury Festival has its own mini hospital, fire engines and, famously, mostly polices itself too. Ever since my first Glastonbury, as a Christian I've also thought: This city needs a church.
Then I found out it has one! The Church at Glastonbury overlooks the fields and tents in front of the Pyramid Stage. Along with its Sanctuary Marquee, it offers water for the dehydrated, a listening ear and a place to rest; somewhere to share stories and be loved. All of which sounds very much like the things that Jesus offered.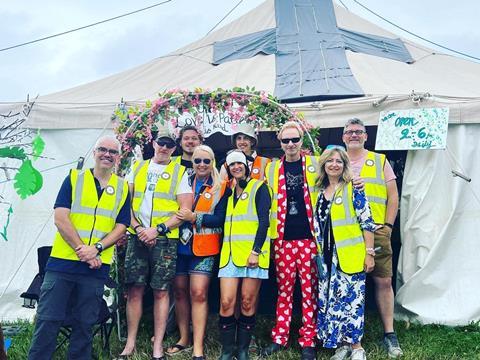 Lee Barnes, warden of readers for the Diocese of Gloucester, has been involved with this glorious spiritual oasis for the past 30 years. He says: "I love festival spirituality, searching for the places of grace where human flourishing can be witnessed and experienced. I believe we are simply trying to follow Jesus in loving others." But surely Glastonbury is a hedonistic, naively-idealistic pretence, some ask? Lee could not disagree more. "Sure, sometimes you witness the antithesis of human flourishing," he says. "Yet it does give an important glimpse into a significant part of our culture – which is phenomenally creative, inspiring, challenging, and transformative." He is there, along with his whole Christian community, he says, to celebrate and share "in myriad reflected stages of life: there can be births, baptisms, wedding blessings and on occasion, sadly, deaths; there is communion shared; there is creativity through music, art, theatre, comedy, conversations."
Never alone
Lee's dedication to this witness and service is clear to see. As temperatures soared yesterday, we sat in a shady spot with a pint of cider as he dealt with admin: arranging services, booking wedding blessings and conducting media interviews. Working at a festival is different to simply attending, but in my years on crew, I have found it offers a bigger experience. You can take part in everything, but also step back to see the wonderful spectacle of this temporary city, how it works, and the great assortment of humans involved. It offers a chance to engage with a greater sphere of diversity than any of us encounter in our daily lives - and therefore, a chance to serve and reach them.
I felt drawn to this person called Jesus. At that moment my life changed – Harry
As the festival kicked off, I popped into a service of reflection. As we sang worship songs and prayed, the love for this place and the people who come here shone through. Lee has many stories of the impact their presence has had, such as Clare K's experience. "I came to the festival with a group of friends and, after about 24 hours, I realised all they wanted to do was get off their heads as much as possible. I suddenly felt very alone as I realised I did not want this for my life. You gave me a home when I felt homeless in my soul," she said.
Finding the hidden gems
Part of the Glastonbury experience is always the hidden gems that you stumble across on your way to somewhere else. For some, that hidden gem is Jesus. Harry S describes how he "had gone for a walk to grab a cup of tea and in the distance, I could hear some music. I felt pulled towards this white marquee, which I thought was a hospital because of the cross on the top. I suddenly realised people were singing to God and, in the prayers, I felt drawn to this person called Jesus. At that moment my life changed."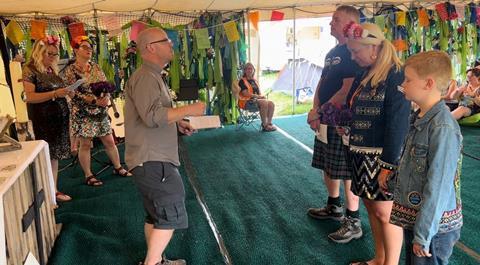 Lee emphasises that "we can embrace the playfulness given as a gift from our Creator, a festival-God whose sanctuary and love is for all. The Church as a whole, I suggest, needs to embrace this often in its mission wherever and whenever it can."
Christians describe being 'in the world but not of the world' (John 15:19) but, in reality, that is often used to justify a separateness that is neither what the Bible actually suggests nor what Jesus did. In 1 Corinthians 9:19-23, Paul describes how he did not simply attempt to relate to different sections of society but actually "became" like those he wanted to reach. And he makes his motives clear: "I have become all things to all people so that by all possible means I might save some. I do all this for the sake of the gospel, that I may share in its blessings." Meeting people where they already are, and becoming part of their experience, is exactly what The Church at Glastonbury is doing. In some fields in Somerset where, for one week in June, there are half a million people.

Caroline Gregory is an editor, writer and charity worker. She worked as a long-term volunteer in the Calais 'Jungle' refugee camp and is chair of Friends of Refugees - Bedfordshire. She helps run Calais Action and works as a consultant for academic projects such as Lande: The Calais 'Jungle' and Beyond (Bristol University Press), a University of Oxford exhibition and book on the refugee crisis.
View full Profile