Ahead of the premiere of his new film, Padre Pio, Shia LeBeouf has claimed playing the saint rekindled his faith. Heather Tomlinson takes a closer look at what the actor told Bishop Robert Barron in the viral YouTube interview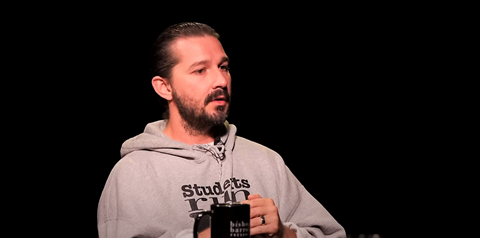 Troubled Transformers actor Shia LaBeouf says he has converted to Catholicism due to a "miraculous" change in perspective while researching the life of Italian saint, Padre Pio, for an upcoming biopic.
LaBeouf discussed his conversion in a YouTube interview with US Bishop Robert Barron, who heads the popular Catholic 'Word on Fire' ministry. The video was viewed over one million times within a week.
LaBeouf has had repeated brushes with the law, many controversial episodes and arguments on set. Two years ago, his ex-girlfriend FKA Twigs accused him of sexual battery and other abusive behaviour, which led to reports of him receiving "inpatient" treatment. It was during this low, when his life was a "complete mess", that he was offered the role of Padre Pio.
For research, he spent time with Franciscan friars, which he says ultimately led to his conversion. LaBeouf said he felt getting the role of Padre Pio had been miraculous, and that the saint - as well as his ex-girlfriend - had "saved my life".
Finding God
The actor has previously said he found God in 2014 while filming the second world war film Fury. "I became a Christian man, and not in a f***ing bulls**t way—in a very real way," LaBeouf told Interview magazine in October 2015. "I could have just said the prayers that were on the page. But it was a real thing that really saved me. And you can't identify unless you're really going through it. It's a full-blown exchange of heart, a surrender of control."
Earlier that year he had sought treatment for alcohol addiction after a public incident in which he pleaded guilty to disorderly conduct.
A spiritual experience is not like talking to a cloud… it's a change in perspective – there's no other way I could have done it on my own
It's not clear what happened to LaBeouf's faith following this experience, but he said he had been attracted to the talks of atheist Sam Harris prior to his Catholic conversion.
An immersive experience
LaBeouf said he could relate to Padre Pio as someone who hadn't gone to school, and was a "misanthrope who ended up in this wild situation where a lot of people put a lot of pressure on him". He also felt that the story of Capuchin friar Jim Townsend, who'd murdered his wife and spent 20 years in prison before joining the Franciscan order for 35 years, was an "invite" for someone who felt "totally depraved".
He described the "immersive experience" of the Catholic Mass and its parallels in Christ's life as important to him, especially the Latin Mass, which actor and director Mel Gibson had introduced him to. The traditionalist ceremony is controversial within the Catholic Church at present, but has a growing following, especially among young believers.
LaBeouf said the Latin Mass "feels like it's not being done to sell me on anything" and "takes me out of the realm of the intellectual and it puts me squarely in the realm of the feeling and the beauty thing… that feels sacred and connected."
Life on fire
LaBeouf is clear however, that it was the difficulties in his life that helped him to be open to faith. He said that "pain made me willing to go about this in a different way" at the time he took on the role of Padre Pio.
"My life was on fire, I was walking out of hell," he told Bishop Barron. "I didn't want to be an actor anymore and my life was a mess - complete mess - and I'd hurt a lot of people. I felt deep shame, and deep guilt… I didn't like to go outside much… I had a yearning not to be here anymore.
"When all of my designs failed, when all of my plans went out the window, when my life had led to serious infliction of pain and damage on other people, I threw up my hands, like my plans are garbage."
It was during an online meeting for a "spiritual program" – likely to be Alcoholics Anonymous - that he started chatting to Buddhist Italian director Abel Ferrara, who first asked him: "Do you know about Padre Pio?" before offering him the role.
He said that Ferrara's contact felt like a chance to get back into the movie industry and, at first, it was his ego that made him research the Italian saint. "At this point I'm nuclear - nobody wants to talk to me, including my mother. The manager's not calling, the agent's not calling."
Complete surrender
LaBeouf went to San Lorenzo seminary in California, which houses Capuchin Franciscan monks, and started "living in the parking lot" and "immersing myself in this world." He was told he needed to read the gospel of Matthew and was struck by the figure of John the Baptist. "It just feels like the right move to let go, complete surrender for real… it stops being this prep of a movie and it starts being something that feels beyond all that."
He met with the monks and nuns regularly to study the faith and also shared life with them "eating their ice cream". LaBeouf started to pray the rosary and heard: "Call your mother, tell her you love her."
When all of my designs failed, when my life had led to serious infliction of pain on other people, I threw up my hands, like my plans are garbage
He admits that his relationship with his mother was strained due to stories about him shooting dogs, giving people STDs and being abusive to women: "It's disgusting, it's depraved, and my mother is embarrassed beyond all imagination - she wants nothing to do with me."
Yet he phoned her and said: "I love you and I'm safe". His mother replied: "Oh, I'm so grateful".
He also told Barron that he now feels differently towards the "woman who accused me" (FKA Twigs). "Now I actually see, like, the woman saved my life… she is for me a saint in my life, she saved my life.
"A spiritual experience for me is not like talking to a cloud… it's a change in perspective - that feels miraculous to me. There's no other way I could have done it on my own."

Heather Tomlinson is a freelance journalist and regular contributor to Premier Christianity magazine. She likes to communicate the Christian faith to anyone who will listen: find more on her blog - heathert.org
View full Profile