As he retires from leading the largest Anglican church in England, the Alpha course pioneer and prolific church planter says he's just getting started
I feel I know Nicky Gumbel before we meet. Each morning as I walk my dog, he speaks into my ear in undulating tones that will be familiar to the millions who have watched an Alpha video, or downloaded his Bible in One Year app.
Just days before our conversation, he expounds Proverbs 10, recalling advice he once received. "The rocking chair test", he says, can be used to evaluate any decision.
Would you look back in old age, while sitting in your rocking chair, and regret that decision? Or would you feel proud, knowing it was right and good?
As we speak, it quickly becomes clear Gumbel does not intend to be sitting in his rocking chair any time soon, although his commitment to the premise of the test – ensuring that he spends his time in pursuit of all God still has for him to do – is undimmed.
Throughout our interview, he talks at lightning pace, quoting scripture readily and returning to gospel truths often.
The son of barristers, by his teenage years Gumbel was "an argumentative atheist". But at the University of Cambridge, his next-door neighbour, Nicky Lee, along with his then girlfriend, Sila (who would later go on to write The Marriage Course together) began "secretly" exploring faith.
Not wanting his friends to be misled, Gumbel decided to read the Bible for himself, ready to challenge their newfound beliefs. "And that's how I encountered Jesus, in my first year at university," he tells me.
Although it was a "life-changing" experience, Gumbel, much like the apologist and author CS Lewis before him, was a reluctant convert. "I didn't want to be a Christian, because I thought that would be the end of all the fun in life," he says. "I thought I could put it off to my deathbed, but then, I didn't think that had much integrity about that. So I basically said: 'Well, OK, yes.' In that moment, I experienced life in all its fullness. It was like I'd had a spiritual hunger that I was unaware of."
But that's not where the similarities with Lewis end. From his wall-to-wall bookcases, it is clear that Gumbel is no intellectual slouch. A keen mind and ten years in law have gifted him an ability to communicate with the masses, cutting across denominations and allowing the expansion of Alpha into a worldwide brand.
While he is keen to reinforce that he started neither Alpha nor the church-planting programme that Holy Trinity Brompton (HTB) is so well known for, it is clear that they have flourished under his watch.
Alpha now runs in 140 countries, has been translated into 170 languages and has had more than 30 million participants, including celebrities such as Robbie Williams and Bear Grylls.
I can't help but think that Lewis would have thoroughly approved of Gumbel's approach which, much like his forerunner, combines an intellectual, rationalist exploration of the Christian faith with a personal passion that is hard to resist.
Gumbel, who has been vicar at HTB for 17 years, steps down from his role this month, handing over the reins of the CofE's largest congregation in England to Archie Coates, minister of St Peter's Brighton and former associate vicar at HTB.
It's a huge change. Gumbel has been at HTB in one form or another since he was a fresh convert back in 1976. But whether he'll have time to miss it is debatable. Far from winding down towards retirement, Gumbel is ramping up, halfway through what is, he tells me, the most productive decade of his life.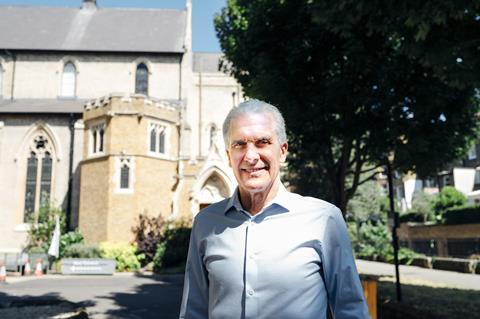 HTB has been your home for your entire Christian life. Does it feel daunting to be stepping away from that?
Well, I will miss the congregation here, but I'm very excited. The reason that we are changing role is because I felt a calling to focus on Alpha, and the 2033 vision.
Tell us more about the 2033 vision.
17 April 2033 – Easter day – will be the 2,000th anniversary of the resurrection of Jesus, and the great commission that followed. Bible translators are working on getting the New Testament into every language in the world. Rick Warren is working on getting a Bible, a believer and a body of Christ into every people group.
Our part is to make Alpha available to everyone on the planet by 2033! I've got the privilege of preaching at the Garden Tomb on Easter Day 2023 so, with ten years to go, we can launch this initiative from Jerusalem.
So there'll be no sitting around in your pipe and slippers, then?
We'll be working for Archie, doing whatever he asks us to do. The big difference is that we won't be attending HTB. Archie and [his wife] Sam need space, they don't need the old vicar around!
The other thing that I'm very excited about is, back in 2004, we started a theological college. We now have two new streams – one for those trapped by racism, intellectualism and elitism, called the Peter stream.
The other for those trapped by sexism and ageism, called the Caleb stream. So part of what I will be doing is raising up the Peters and Calebs.
The Church of England has a terrible history of involvement in the slave trade, and then rejecting the Windrush generation.
If we're not unified, the world won't believe
There were amazing people who were turned away by the Church of England. It's not enough to repent of what has been done, we have to put things right. That's an injustice I feel very passionately about.
Intellectualism and elitism have trapped brilliant people, who are maybe not academic but who have high EQ [Emotional Quotient].
They're brilliant leaders, but they've been trapped by this appalling suggestion that, if you haven't been to university, you haven't got anything to offer. Which would you rather have – a vicar with several degrees but no emotional intelligence, or a vicar with no degree but high emotional intelligence?
I'm longing to see people who have been trapped by ageism ordained. Research shows that the most productive decade of your life is 60 to 70. The second is 70 to 80. And the third is 50 to 60. The Church has not adapted to this. Caleb was still as strong at 85 as he had been in his youth.
Suppose you've been a lawyer and then you retire – you've still got another 25 years in which you can do full-time ministry. There are women who felt called to ordination, but it wasn't allowed when they were young.
There are licensed lay ministers or churchwardens. In a year's time, they could be ordained, running a parish.
We have a vision to find 6,000 Calebs, so every Church of England church has a focal minister. The biggest [multi-parish benefice] has one vicar overseeing 29 parishes.
And commonly, they'll oversee ten to twelve parishes. Evidence shows that multi-benefice churches tend to decline, whereas when they have a focal minister, they tend to grow. The Church – rather than the pub – will go back to being the centre of village life. People will flood back!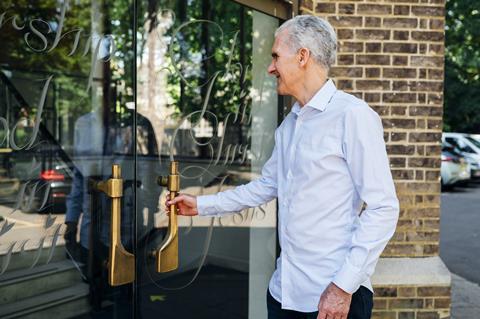 A lot of people associate HTB with planting urban churches, but this sounds like you're talking about tackling the decline in rural churches?
It's both actually, but predominantly it will be for rural churches. There are so many that don't have regular services of Holy Communion, because the priest has got so many churches.
But if it was just that, the leadership of the Church would get older and more middle class, because these people are self-supporting ministers, people who have a pension.
But the Peter stream will be much younger and more diverse. The Calebs pastor the Peters, because they've got years of ministry and life experience, but the Peters inspire the Calebs. We need the strength of the younger and the wisdom of the older – if you bring this together, you've got great leadership.
With the [rejection of the] Windrush generation, we started an exile. The Church of England had been in gradual decline from 1910 to 1950. It grew post-war, then I believe God sent the Windrush generation.
When they went to church, vicars said: "Thank you for coming, please don't come back." That was a horrific, racist sin, but it was also a sin against the Holy Spirit. Since then, there's been 70 years of much sharper decline. I believe that when we work in collaboration with the people who were rejected at the time of Windrush, there will be revival.
If you've got Jesus with you nothing is impossible
At HTB events like the Leadership Conference, you bring a very wide section of the Church together. Is that intentional?
Yes, we've had the Archbishop of Canterbury, the head of the Catholic Church [in England and Wales], the preacher to the Pope, Joyce Meyer, Christine Caine, Mike Todd…it's the beauty of the Church. Jesus prayed that we would be one in order that the world will believe. In other words, if we're not one, the world won't believe.
In Revelation 7:9 it says that before the throne of God is "a great multitude…from every nation, tribe, people and language". In heaven, diversity is not eliminated, it's celebrated. So, on earth, we should be working towards that too.
In Ephesians 3:10, Paul says when the Church comes together, you will see "the manifold wisdom of God". The Greek word polupoikilos only appears once in the New Testament and once in the Septuagint, the Greek translation of the Hebrew Old Testament, where it's the word used to translate Joseph's coat of many colours.
So the wisdom of God is like Joseph's coat; varied, diverse and very beautiful. The Church is meant to be like that. If you lose the Catholic Church, the Pentecostal Church, the Orthodox Church or the Salvation Army, it loses something.
If you lose racial diversity, ethnic diversity, gender diversity – all these things make up "the manifold wisdom of God" that is beautiful for the world to see. That's why we try and bring people together, so they say: "Wow, this is like heaven!"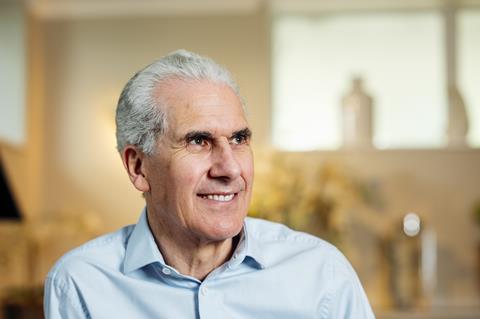 I know you didn't start it, but under your leadership, Alpha has grown significantly. And HTB has helped plant more than 127 congregations…
I didn't start any of these things! Church planting started here in 1985. John Collins was vicar and then Sandy Millar continued it. I've just tried not to mess up what they started. Alpha started in 1977 with a six-week course for new believers, and so many people have been involved in its development.
That's very humble, but I think it's fair to acknowledge that you've overseen a period of phenomenal growth. Are there any secrets to that success?
We've been incredibly blessed by the people who've been involved here. John laid the foundation. Sandy showed us a model of leadership that we all aspire to. I really have a very small role.
Craig Groeschel, who runs Life.Church, spoke at a leadership conference and I said: "How many times do you preach every year?" And he said: "48 times." Then he said: "How many times do you preach?" I said: "Twice a year, but I'm trying to cut down." That is how HTB has always been. It's always been about a team.
That's why I am so excited that Archie is taking over. He planted St Peter's and he was a wonderful associate vicar here. I feel so confident about the future of HTB in his hands.
Was the plan always that he would come back to HTB?
Maybe that was the Lord's plan! But humanly speaking, these things are determined by the bishops and the churchwardens. I am hugely delighted to be handing over to him. We're in the exchange zone now – the baton is being handed over. I'm still running as hard as I can until the end of August, and Archie is running hard as well.

How are you making sure that you navigate the transition well?
It says in 1 Kings 20:11: "One who puts on his armour should not boast like one who takes it off." So don't boast about what you're about to do, only when you've done it! But we have a group praying every week for the transition, because we need God's help and his Spirit. That's the only thing I can definitely say. Whatever happens, it's a good thing to pray.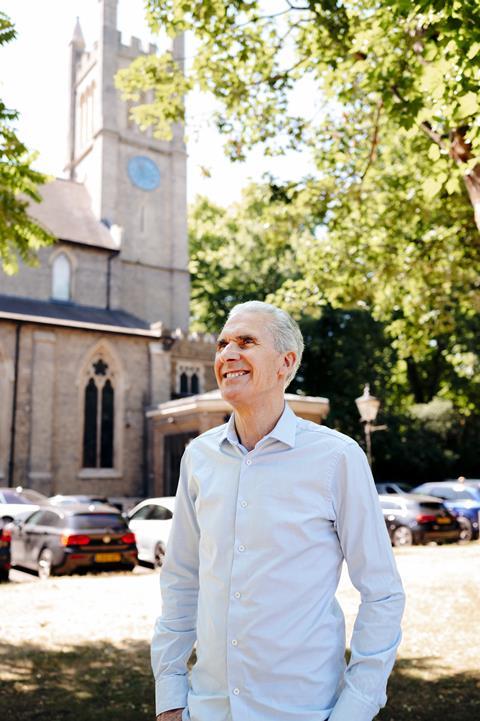 Are there any standout moments from your time leading HTB? What have been the hardest things?
Failure is hard – and I've had several plans that have failed! But at a much deeper level, it's the tragedies of life. The hardest time was when I was playing squash with my friend, Mick Hawkins. I was 41 and he was 42, and he dropped dead of a heart attack, leaving six children. I still don't know why God allowed that to happen.
Those are hard times, but they're also the times you grow most in character. Romans 5:3-5 says: "suffering produces perseverance; perseverance, character; and character, hope." People say: "How do you grow character?" We grow through the Holy Spirit, community, reading the Bible, prayer – but probably the way we grow fastest is through suffering.
There's never a time when there aren't problems. Rick Warren says they run on two tracks; it's not that you have a period of blessing and a period of battles. There are blessings and there are battles. And we've been hugely blessed in so many ways by the things that have happened here.
Just last night was a highlight for me, hearing the testimonies of people on the Alpha weekend. There was a guy who said: "I became a Christian on Saturday. I've been an atheist all my life."
He was so full of the joy of the Lord; his friends cannot believe it. He was offered a cash-in-hand job and he said: "Sorry, mate, I can't do it. I've got church." They said: "Sorry? Did you say church? It's Wednesday!" and he said: "I do this thing called Alpha. I've become a Christian!" It's wonderful to see lives changed.
One of your church values is audacity. Is there something in you that just refuses to take no for an answer when it comes to Church decline, evangelism, barriers to ministry?
It's the Lord. Jesus said: "Go [and] make disciples of all nations…And…I am with you" (Matthew 28:19-20). If you've got Jesus with you, nothing is impossible. It's not that we've got the answers, but the Holy Spirit is with us. The Holy Spirit is with you. So, yes, let's be audacious – because we're not on our own.
So many times in the Bible it says: "Do not be afraid", "Do not be discouraged." David, when he was facing Goliath, didn't say: "The problem's so big, there's nothing I can do." He said: "Goliath's so big, I can't miss."
So let's not look at the problems and say: "They're so big, there's nothing we can do." Let's say: "They're so big, we can't miss – at least we can make some impact!"
Hear the full interview with Nicky Gumbel now on The Profile podcast
Our profile interview with Nicky Gumbel's successor, Rev Canon Archie Coates, will be published next month

Emma Fowle is assistant editor of Premier Christianity and editor of Voice of Hope, Premier's quarterly devotional magazine. Emma is a trustee for Christian festival Creation Fest and lives in Cornwall with her husband and two teenage daughters. She loves to read, swim in the sea, play netball and lift weights with her dad.
View full Profile