Christian musician Wayne Drain says his 'Lullaby for Adults' has helped tens of thousands find untroubled sleep.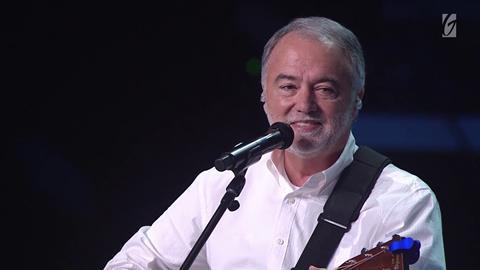 He has a most memorable name, but Wayne Drain's moniker wouldn't bring instant recognition in many churches. Yet, steadfastly avoiding the pitfalls of self-promotion that has blighted the paths of some preachers, prophets and musicians, Wayne has touched the lives of hundreds of thousands around the world.
In 2017 he stepped away from the financial security of a full-time position as a preacher/teacher at City Church in Russellville, Arkansas to minister around the globe. As a prophet he has brought words of life and encouragement to a myriad of individuals and congregations and has co-written a highly regarded book, He Still Speaks: Embracing The Prophetic Today. As a musician he was part of the Jesus Movement of the early 70s that saw tens of thousands of conversions and later led worship at the memorable Champion Of The World event in 1997 at Wembley Stadium.
Yet in all his years as a preacher, prophet and musician nothing quite prepared him for what happened in 2020.
"I was doing a lot of travelling in ministry and it seemed like an unusual amount of people who were coming to pray who were having a hard time sleeping. They wanted me to pray for them, that they could sleep. It kept happening so much that after a while, I started informally taking a poll in the churches I was visiting, asking how many were struggling with sleep. It was as high as 30 per cent or more. It just shocked me how many folks were sleep deprived. So I prayed for people."
But then insomnia struck Wayne himself. "I just could not sleep for a period of time, and I'd pray and try to do everything I could think of to do, from counting sheep to whatever. I was averaging three or four hours a night and I realised that wasn't sustainable.
"One night especially, I was disturbed because I had a lot to do the next day and wanted to be sharp. I was fussing the Lord and said, 'Lord, I need to sleep, please let me sleep.' It progressed from there to, 'You're the one who said you promised your beloved sleep.' I was probably getting in dangerous territory there. And then I heard the Lord say so clear to me, 'Be quiet!' So I was quiet. I didn't know what he was about to do or say, I was lying there in bed and it got real still in my room. Then the Lord just starts singing over me a song."
The Lord said, 'I've given you a lullaby for adults
Wayne continued, "I'm lying in bed listening to the song, the next thing I know it was eight hours later. I'd been asleep for eight hours. The next night, before I even had a chance to ask him anything, the Lord just started singing over me again, same song, same melody, same lyrics, same result."
When the same thing happened for the third night, in the morning Wayne felt an impression to write the song down. The veteran songsmith could remember every line of it and was convinced it wasn't a song he'd ever heard before these momentous nights.
"The first line was 'Go to sleep, my child, I love you.' There was this whole song, complete with two verses and a chorus and a bridge. There were phrases I would never use in a song and had not thought about, lines like 'You're safe in the warmth of my keeping.' I would never see myself coming up with that phrase.
"As I was writing it down I said, 'Lord, what is this for? Is it just for me or for something else?' The Lord said, 'I've given you a lullaby for adults.' He said it'll be for children too but he said, 'My people need some sleep before I can bring an awakening; to wake them up, they need to get some sleep. So I'm giving you a lullaby for adults.'"
Wayne sang it at his church and then at others and testimonies began to abound of how whenever people heard this song it was having a dramatic effect on their sleep patterns.
"I sang 'While You're Sleeping' over people and saw some dramatic things, like one man who had come back from Afghanistan who'd seen some horrible war things he couldn't get out of his mind. He'd have these violent dreams, and he hadn't slept properly for several years. He was a senior leader at the church. As I sang it he lay down on the floor and just went to sleep. He was there the whole time of worship, the message, never woke up. Come the end of the meeting and his son, who was the associate pastor, came to me and said, 'I need to see if dad's alive.' He went to dad, got him up, got him home, and he slept all night that night. The next morning he said, 'I haven't slept like that since I went to war.'"
News of God's extraordinary antidote to insomnia began to spread across the American Church.
A friend of Wayne's, Martin Jobe, the father of worship leader Kari Jobe, heard the song and told the pastor of Texas' huge megachurch Gateway about the song.
"Robert Morris wanted me to come and sing it in his weekend services, so I did and the response there was really, really positive. But the thing that shocked me is, it had 80,000 views in just a few days. People all over the world needing sleep found that song, that live version, it's out there now on YouTube" (See above).
That led to the song being recorded and released, with thousands around the world now using it. "Some of the joy that's come out of 'While You're Sleeping' is hearing about these sleep deprived mums with little children and their kids aren't sleeping They put this 12-minute deluxe song on there and by the time the song gets to the end the kids are asleep. We just keep hearing that over and over. I've heard from other nations I've never been to saying, 'I stumbled across this song, let my husband listen to it, he hadn't slept in two years and now he's sleeping all night.'"
Like many people in the music world, Wayne has in the past been bemused by people coming to him claiming "God has given me this song", only to hear a substandard composition. But Drain asserts, "I can honestly say the Lord gave me this song." And he's also not slow to recognise the irony of a professional songwriter who over 50 odd years has had hundreds of his songs recorded but is now best known for one that literally sends people to sleep!
Wayne describes 'While You're Sleeping' as a "moment song". "It's not on my set list for when I'm leading worship or as part of entertainment. It's a song I'll sing when I get a nudge in my spirit that I should do that song. I was in Michigan last year and I noticed that the worship leader, the chief musician on the keyboard, just seemed to be nodding off in rehearsals. I said, "Are you okay?" and he said, "I haven't slept in three days." I thought okay, I need to sing that song tonight."
"So it's more of a moment to discern song. Hopefully I get out of the way enough where the Lord can sing to people through the song - that's the hope. To me that's kind of a holy moment when that happens and I don't take it lightly. The Bible says he will rejoice over us with singing, and I can say that I've experienced that, and through his grace other people have too."

Tony Cummings' journalistic career started in 1963 when he started a black music fanzine originally called Soul, then Soul Music Monthly and finally Shout. By 1971 he was writing occasionally for Record Mirror and then in 1973 joined Black Music magazine. He later became the editor of Christian music magazine Cross Rhythms.
View full Profile