In this exclusive interview, the British-Nigerian novelist opens up about the unexpected conviction for money laundering which radically changed her theology and how the love and support of her church family helped keep her faith alive while her husband was in prison
Your breakthrough is coming. A miracle is on the way. Just have faith.
This was the theology – the hope – that Jendella Benson clung to as she awaited trial for money laundering, confident that police had made a mistake and that she, along with her husband, Sean, would soon be vindicated.
The newly married 25-year-old had been gobsmacked to discover police kicking down her door, just one month after the couple returned from a luxurious Hawaiian honeymoon.
Back then she was oblivious to what she now describes as her husband's "dodgy" (aka illegal) business dealings, which allegedly financed their trip.
During our conversation, Jendella refers to what happened next as "The Madness".
Two years of police bail as she awaited trial meant regular visits to the local police station, constant monitoring and having to explain why she wasn't allowed a functioning bank account.
When proceedings began at Southwark Crown Court in 2015, Jendella was heavily pregnant and still convinced that deliverance was around the corner.
That belief collapsed as the verdict was handed down. Guilty. Jendella narrowly escaped prison but Sean, who had made £1.3m through black market trading in stolen bank details, was convicted of fraud and sentenced to seven years at Her Majesty's pleasure.
Jendella's Christian faith took a severe beating during the ordeal, but it survived. Her husband's did not.
I THOUGHT BECAUSE I DID GOOD THINGS, GOD OWED ME
Far from being reticent about divulging the details of the case, Jendella is remarkably open during our conversation.
It's the first time she has shared her story in full. "I didn't want to talk about it before. It was too painful, and there was a weight of shame. But it's my story and it has led me to where I am now."
Where Jendella is now is remarkable: a gifted writer, she's head of editorial at blackballad.co.uk, the lifestyle platform for black women. And she has recently achieved her lifelong ambition of becoming a published novelist.
Even before Hope & Glory (Orion Publishing Co) was released, Sunday Times Style magazine listed Jendella as one of the '10 new faces to know for 2022'. The book made the 'most anticipated' lists at Marie Claire and Stylist and Publishers Weekly called the novel "sumptuous and satisfying".
Christians love a straightforward redemption story: I sinned, I repented, I was saved.
Jendella's journey is more complicated. After her conviction, friends that she considered reliable distanced themselves.
Freelance writing opportunities for Christian outlets vanished. "People said: 'You need to repent. And I would always say to them: 'Repent of what?' I didn't do it!'"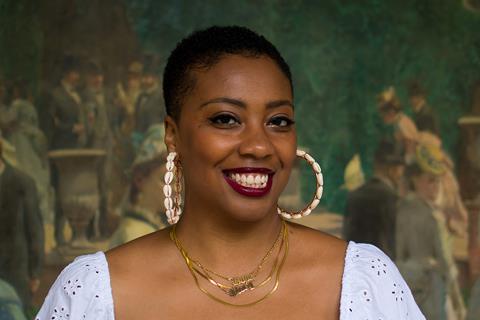 You were born in Nigeria and grew up in a Christian family in Birmingham. What happened after you moved to London for art college?
It was a big change and, looking back, I think it was hard emotionally. I was really lonely. I met my husband shortly after I moved; we were both Christians and dating, and we slept together.
Paul says in Corinthians it's "better to marry than to burn with lust" [1 Corinthians 7:9, NLT], so we thought: OK, we're going to get married, do the Christian thing and not fornicate.
Life was brilliant until a month after we got married, when the police kicked down our door. They arrested us both, and I was so baffled. I had no idea what was going on. I was in shock.
Because of my Pentecostal upbringing, I thought: This is an attack on us, but there's going to be a testimony that's going to come out of this.
My faith was really strong. But that wasn't the case. For almost two years we were on bail, going back and forth to the police station and, every time, I was thinking: They're going to throw this out.
We're going to have this testimony about how they'd tried to arrest us but God came through. That was my idea of Christianity: everything's going to work out, it's all going to be fine. But it wasn't fine.
My husband was convicted for fraud and sentenced to seven years in prison. And I got convicted on money laundering charges, because I'd been accepting money from his bank account in the run-up to our wedding.
How did the trial affect your faith?
It was a massive knock to my faith. On the day of the sentencing I was heavily pregnant with our first child.
Thankfully the judge gave me a suspended sentence so I didn't have to go to prison.
I went back to my grandma's house, and my pastor came. I remember saying to him: "I don't get it.
This Christianity thing must be fake, because I've ticked all the boxes. I have grown up in church.
I've been active, I've served, I got married young. I'm doing all the things we're told we're meant to do. And this happens. What is going on?"

What was the reaction from your Christian friends?
After the trial, people were sending me screenshots of newspaper articles with our faces on them and the police mug shots. There was one Christian personality who posted the article on her Facebook page for people to discuss! There was a lot of shame, so I withdrew. And I became very bitter.
But my church community really stepped up. They were so supportive. They surrounded me, they prayed and said: "Whatever you need, we're there." I can honestly say that the way my local church reacted was the grace of God, because if it wasn't for them, I don't know if I would still be in the Church.
You're still with your husband. How has this affected your marriage?
I can't even imagine what prison is like, and he has gone through that. He was there for four years and came out saying: "I don't believe in Christianity anymore." He has left the faith in that respect.
So we've been on this journey as a married couple. We both started in a very similar place, then this crazy thing happened that split us apart physically, and now we have different viewpoints.
The conversations have been quite hard over the years. We've been through marriage counselling twice. And it has been a journey of faith, trying to make sense of: What do I think marriage means? It's an ongoing thing; we're still in it.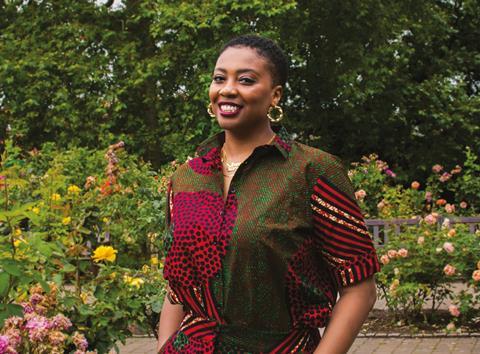 You assumed that because you'd been a 'good Christian' as a young adult that God would work a miracle and deliver you, especially as you say you were innocent. How did your faith survive that disappointment?
After I was convicted, I only carried on going to church because of the people and their support. There was this coldness towards God because I was very much like: Why did this happen?
I never thought I had that prosperity mindset. I never believed if you gave £5 you'd get £20 back. But now I realise I did have that mindset. Not with money, but with works. I thought because I did all these things, God owed me.
I remember when Stormzy's song 'Blinded by your grace' came out – even thinking about it now makes me well up: "Lord, I've been broken, I'm not worthy." I heard it and just started crying in my bedroom.
That was the moment when something clicked. You can ask: "Why you?" but actually: "Why not you?" What is it that makes you so special that you don't need to go through trials? That was a big turning point for me. Emotionally, I was getting back to God; I'd come through that anger and hardness of heart.
Something broke open; I was seeing all the ways that God was present – whether it was through the church, or even in the courtroom when the judge gave my husband the lowest sentence he could possibly give. And I remember the judge saying to me: "You're not going to have your baby in prison, you're going to go home.
I believe that this is just essentially a mistake that you're going to move past." Looking back now, I see that as the grace of God.
How do you find talking about your past conviction now?
It doesn't come up that much day to day. This is the first time that I'm actually telling the whole story. I guess it's something that I've not wanted to talk about before, because it just felt too painful.
I felt a certain weight of shame about it. But I can't allow shame to hold me back because Romans 8:1 says there's "no condemnation for those who are in Christ Jesus". Do I believe that, or not? That's what it comes down to.
Looking back, I can see how God was shaping paths and opportunities. And if it helps someone else, to know that you can go through some absolute madness and God can still use you…It doesn't have to be the thing that defines you.
I CAN'T ALLOW SHAME TO HOLD ME BACK
Your first novel Hope & Glory is out now, and you're writing another one as we speak. How did your first book come about?
An editor approached me and asked if I'd ever thought about writing a book. I didn't really have a career; I just had this feeling of shame that my parents had sacrificed so much yet I was a single mum whose partner was in prison.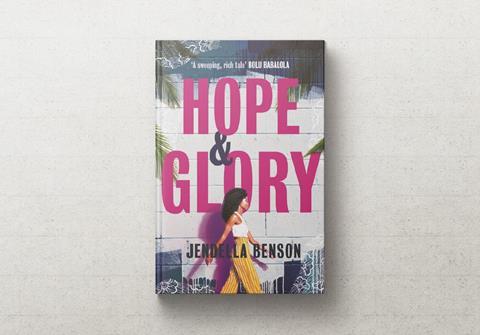 So I started writing this story about Glory, who is in a similar position. She has left the UK to go and make her name in LA, and it's not going the way that she wants. Her dad dies and she comes back to London to find her family in disarray. Her brother is in prison and her mum is on the verge of a mental health breakdown.
As I was writing it, over the course of three years, I went on this journey of unpacking a lot of shame. A lot of that came from what I was going through – just channelling that hope, and also the love that I have been surrounded with by church, family and friends. I poured all that into the novel.
You're very open about your faith, but the book isn't a 'Christian book' and most of your work is in the secular world. Has that been challenging?
Honestly, I would say it has been quite straightforward. People are very gracious and accepting of who I am, just as I'm accepting of who they are. And I've learned a lot of grace, just being in these non-Christian environments and being around people of different beliefs. I think I'm better for it.
The challenges that have come have been from other Christians who think that I shouldn't be doing this or that. "Shouldn't you always be writing about God?", or "Is Hope & Glory a Christian novel?" And it's like, first of all, what does that mean – a "Christian novel"? And second of all, it probably isn't whatever you think it is!
There's not an altar call at the back of the book. I'm not anyone's pastor or preacher or teacher. I'm a big fan of theology, but that is not my calling. I'm just a Christian who has been blessed with this talent. And this is how I feel led to use it. Ultimately, I can only do that prayerfully and faithfully.

Sam Hailes is the editor of Premier Christianity, the UK's leading Christian magazine. He also serves as editorial director for the Premier media group. Sam is husband to Stacey and Dad to Evelyn and Ezra.
View full Profile