As Stormzy speaks about being stabbed and two men die in Brixton, Pastor Lorraine Jones Burrell shares her experience of losing her son to street violence, and encourages the Church to do more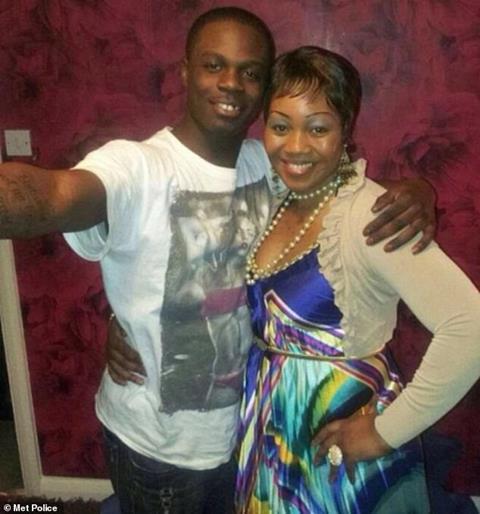 In 2014, I was hit with an unimaginable tragedy.
My son, Dwayne, was stabbed while trying to save another boy from harm, just minutes from our home.
When friends alerted me, I rushed to the scene to see him lying on the floor with his chest open. Paramedics fought to stop the bleeding but he had suffered stab wounds to the heart. Despite the best efforts of medical staff, he died in hospital two days later. He was just 20 years old.
Despite having known and loved the Lord Jesus for many years, I was sucked into a deep pit of darkness; shock, grief and anger threatened to swallow me whole. For over 30 years, I have served as a minister in the Church, but the reoccurring trauma of what I saw that day haunted me. It was a long journey, but my faith in God and the power of the Holy Spirit lifted me out of that pit.
In a week that has seen Stormzy speak of the friends he has lost and his own experience of being stabbed, we have once again seen death on our streets. Just days after a triple shooting in Ilford, East London, a man was fatally shot in Brixton, South London. In the car chase that preceded it, a young Deliveroo driver was knocked off his scooter and killed, innocently caught in the crossfire, much like my own son.
We must sanctify the spots where life has been cut short and continue to spread the gospel of hope
In the midst of such pain, it is easy to feel helpless, but here's four ways I believe the Church can respond:
1. Prayer
Prayer has sustained me, and my family, through our grief. And only prayer can change the cycle of violence that grips our streets and communities.
I appeal to the Church: we need to cover our streets with more prayer. And we need to reach out to the broken families and broken youth that we find there.
2. Love
Young people who are hurting go on to hurt other young people. For the cycle of evil to be broken, Christians need to carry God's love out into the darkness of the world. The Bible tells us that where there is light, darkness disappears.
3. Forgiveness
Hate can only be driven out by love. Healing can only take place where there is forgiveness. It was hard, but I forgave Dwayne's killer in my heart and continue to pray for those in our community who do harm.
4. Action
The Bible says that faith without works is dead (James 2:26). Before my son was killed, he started a boxing club with the aim of helping vulnerable young people on the Angell Town Estate, in Brixton. It's one of the most deprived communities in the country; more than half the estate lives in poverty and it has a long history of gang violence. With nothing to do, young people were being lured into criminality; Dwayne wanted to do something about it.
After he died, those same young people pleaded with me to keep the club running. The vulnerability in their eyes moved me. Dwaynamics Amateur Boxing Club - just one project of Dwayne Simpson Foundation CIC - is my son's legacy, but it is also a source of light and hope so many.
Facing the fear and transforming lives
The most common challenge facing many young people today is overcoming the pain, stress, fear and anxiety caused by the environment they live in. Poverty, deprivation, crime, family breakdowns and a lack of positive role models breeds vulnerable children and broken young people.
But lives can be transformed through clubs like Dwaynamics – I have seen it with my own eyes. As the Church, we can lead the way in providing more safe spaces where young people can come in off the streets and flourish, engaging in activities they love and finding healing and wholeness in the process.
With nothing to do, young people were being lured into criminality; Dwayne wanted to do something about it
Sadly, gun and knife crime are still resulting in innocent blood being spilt on our streets. It needs the Church to respond - through prayer and outreach. We must sanctify the spots where life has been cut short and continue to spread the gospel of hope, peace, love, deliverance and salvation.
How will people know the love of God unless they hear? How can families be saved unless they are healed? The Church needs to be a physical sanctuary and a hub of light, love and resource that demonstrates God's love both in word and deed. Only then will healing come to the broken-hearted.

Aged 20, Lorraine Jones Burrell was ordained as a minister in Ruach Ministries Christian Centre. Since then, she has served the community and the Church, both in London and across Europe. A mother of seven children and a grandmother of four, her son Dwayne was tragically stabbed in 2014. She runs the Dwayne Simpson Foundation, a boxing club and community outreach project in Brixton, in his memory.
View full Profile