The chart topping rapper is hosting Bible studies in his home, rediscovering the power of grace and praying that God will bring him a wife. Sam Hailes reports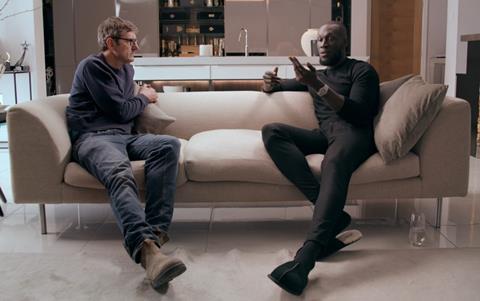 Louis Theroux, that awkward, lanky journalist who invites himself round other people's houses and dials up the naivety to 11 in order to get the most out of his interviewees, has a new series out.
In episode one of the creatively titled Louis Theroux Interviews… he meets the most successful British rapper of all time: 29 year-old Michael Ebenezer Kwadjo Omari Owuo Jr, better known as Stormzy.
For Christians, Stormzy has always been something of a walking contradiction. The same man who sang: "Lord I'm broken / Not worthy / You came and you fixed me / I'm blinded by your grace / You came and saved me" litters this interview, and many of his songs, with "f***ing" this and "f***ing" that.
The tension between believer and man of the streets was evident in the title of his debut studio album Gang Signs and Prayer. Stormzy's idea of "keeping it real" means writing songs that express where he's from, who he is and how he's feeling. That genuine, heartfelt and honest approach to his songwriting has worked wonders - he became the first black British artist to headline Glastonbury. It also explains why worship anthems and livid rants end up on the same record. Because life is complicated, and no one - not even the holiest among us - always feel like praising Jesus.
If you can get past the swearing (and there is a lot), there are some fascinating insights into Stormzy's relationship with Jesus in this interview. For Christians, it's hard not to get excited by the obvious journey that he is on. Bad language aside, almost everything he tells Louis Theroux suggests this is a man who is maturing in his Christian faith.
Here's what we've learned:
1. He hosts a weekly Bible study
Theroux neglected to report any of the details, beyond adding "faith is the bedrock of everything he does", so we've no idea what these meetings consist of. But it is amazing to think the bestselling book of all time is being studied by one of the world's biggest artists and his friends. I've always wondered what the Psalms would sound like if they were rapped…maybe we'll find out one day?
2. He grew up in a Christian home, but his faith only recently became his own
"We grew up in church. I've had faith all my life. I've loved God all my life," he told Theroux. "But I feel like you've got to come to your own realisation, innit?"
Speaking in front of his mother, Stormzy said: "As much as you raised me in church, I've gotta know God for myself. And I think during the pandemic there was a grown man realisation, there was an adult realisation of like: Oh wow! This is what it means to pray. This is what this scripture means.
"I was in my house by myself...I wasn't touring or even recording at the time. I was just sat down. I was still. And the Bible talks about stillness a lot. And I was around people that didn't care about whatever the world thinks I am. The man who I want to be is this man."
3. He goes to church. A lot
The cameras follow Stormzy and his mum to a small gathering in Camberwell where we're treated to a beautiful rendition of the Elevation Worship and Maverick City song 'Jireh'. Dominoes pizzas are passed around as the group share testimonies and sing: "I will be content in every circumstance / Jireh you are enough." We're told Stormzy attends these monthly Christian meetings as well as visiting a church in Brixton every week.
4. His birth was a 'miracle'
While standing in the church, Theroux talks to Stormzy's mum. "He was a miracle," Abigail tells us. "I got pregnant with him when I was on the pill!" The rapper looks suprised. "I didn't even know that" he says, before the group joke about Louis having bagged a "world exclusive".
Theroux's eyebrows moved upwards at a rate of knots when Stormzy said this. But it makes sense. Allowing your phone to be a constant portal to the opinions of millions can't be good for anyone's spiritual welbeing.
He isn't the first person of faith to reap the benefits of a digital detox. It's all part of Stormzy's maturing - a theme which crops up a lot in the 44 minute programme. He spoke often of "becoming a man" and not acting like "a boy" anymore, especially when it comes to relationships.
6. He's waiting for God to bring him a wife
Stormzy appeared reluctant to divulge the details, but spoke of having made "mistakes" when it came to his long-term relationship with TV presenter Maya Jama. The split was clearly painful and has led to a lot of reflection.
He might be single and living in a "bachelor pad", but Stormzy is dreaming about a future filled with family. Revealing he's purchased a large house in nearby south London, which is in the middle of being rennovated, Stormzy is at his most relaxed when sharing his dream of a picturesque Christmas filled with his future wife, kids and extended family. "I believe God will bless me with a family," he says, explaining that this aspiration to settle down is new.
There's a problem with all this of course. How exactly do you date when you're Stormzy? It's not fair to take a prospective partner to a restaurant, where they have to sneak through the back door, and risk being hounded by people pulling their smartphones out and snapping photos of their intimate moment, he explains. Relationships advisor Louis Theroux suggests having a quiet night in with a Deliveroo and "Netflix…or iPlayer" he says, quickly correcting himself. But Stormzy bats this away, saying he won't go on any of the dating apps - not even the ones reserved for celebrities.
So what will he do? "I always say I'll just wait for God, innit. To present me with…my woman, my family," he replies. "That's a bit passive isn't it?" Theroux counters. "Yeah it is, but I swear I'm out of ideas Louis!" he replies.
7. He's still learning about grace
Stormzy's father walked out when he was a child. The story goes that he ran off with another woman. On 'Lay me bare', Stormzy says: "F*** you I'm not over it…And f*** letting go I'll keep the pain / 23 years I'm still the same / When you hear this I hope you feel ashamed / Cause we were broke like what the f*** / Mum did well to hold us up / But yet she still forgave your arse / But mumsy's cool / I'm cold as f*** / F*** that! I'm still not over this."
What's remarkable is that, in the five years since recording this song, his anger appears to have now been replaced with Christian forgiveness. The deep hurt which motivated that song is being healed, he tells Louis. He hasn't quite reconciled with his father, but he wants to. He wants to forgive him.
Revealing the lyrics to a song on his upcoming album, This is What I Mean, Stormzy says: "Please Lord give me the strength to forgive my dad because he is flawed and so am I / So who am I to not forgive a man who tries? / I see his soul I know it cries but with this pain I'll... / Rather paint and try and turn this broken picture into something that it aint / This pain I'd rather hold because it made me who I am / It's probably time I let it go."
Summing it up, the rapper simply says: "I've gotta give him the same grace that I want from the world." He didn't intend that line as a reply to his critics, but it packs a punch when read like that. Especially if you're still bothered by his language…
Louis Theroux Interviews...Stormzy is available now on BBC iPlayer

Sam Hailes is the editor of Premier Christianity, the UK's leading Christian magazine. He also serves as editorial director for Premier. Sam is married to Stacey, lives in London and is a keen traveller, reader and tweeter.
View full Profile