Although she grew up in a Christian home, it took a tragedy to drive Rita Vincent back into the arms of God. Through her early life in Ghana, via Nigeria to London, she's learned that God has always been there, and his timing is perfect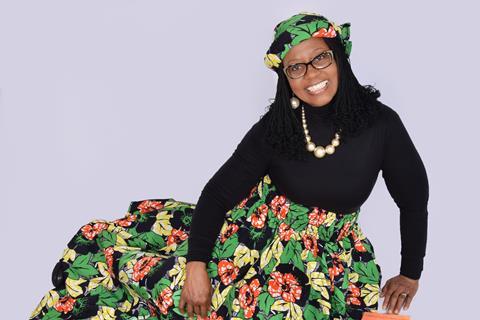 I grew up in Apam, a small town in Ghana. When I was around eight years old, I had a dream that our school bus had been involved in an accident, but no one was hurt. In the morning, I told some of my classmates. Not long afterwards, we heard that this had, indeed, happened. A pupil told the head teacher about my vision. After a meeting with my mother, I was advised not to say such things again, or people would call me a witch; I was silenced.
I later became a beautician and relocated to Nigeria, as I had heard there were opportunities there to earn good money. Working in a salon in Lagos, my clients included the wife of the vice president of Nigeria. I loved my work and hardly gave a thought to God, although I was from a Christian background.
He said I was called to be a prophet. I was afraid, but he said God would always be with me
But things changed suddenly when I was picked up by the immigration authorities. At that time, Ghanaians without official residence permits were ordered to leave the country, which was a shock to many of us who did not have the required papers.
On my way to the detention centre, the glamour of life at the salon seemed far away. Fortunately, a Ghanaian politician had seen me being taken away and contacted the Ghanaian High Commissioner, who intervened and rescued me, concerned about the treatment I might receive.
A wrong turn
As it was no longer safe for me to remain in Lagos due to the risk of being detained again, I moved to a rural area in the north of the country to stay with my brother. It was a mainly Muslim area and, after a few weeks, I met a Muslim man. I was only 23 and had no experience of relationships.
The man, who was a politician, was rich and handsome. He offered me a job as his receptionist, helped me find a home, and gave me money to purchase equipment for a new salon. However, three months later, he was arrested following a coup d'état. Had he not been imprisoned, I could have ended up becoming the fourth of his wives.
I waited for him to be released from prison for almost a year. I considered leaving him, but he had been so generous to me, and I had no savings.
Eventually, I returned to Lagos to live with friends. One evening, I was watching the news and heard that he had been released from prison. He was so pleased that I had waited faithfully for him and, as a reward, told me to look for a place of my own. He gave me half the money needed to rent a flat for five years, which I could use as a deposit, and told me to come back for the balance in a week's time.
When I returned, everything changed. He called me a mad woman and told me to get out of his house. I was devastated. As I left his house, I thought to myself: I am finished! But that moment proved to be a turning point.
Finding my way
I decided to travel back to Ghana as soon as I could. When I told my landlord what had happened, he said he had wondered why I was getting involved with such a man. He then asked me if I would like to go with him to church. A prophet would be there and could help me understand what had gone wrong in my life. I felt so hurt and disappointed, I felt I had no choice but to go.
As we got closer to the church, my landlord said that I should go in alone. He told me to buy a candle as I entered and speak quietly to God. He urged me not to be afraid, but to pray and ask God whatever I wanted to know. As I sat quietly, I became curious about the answers I would receive.
I had felt silenced as a child, but God was preparing me
I was seventh in line to see the prophet, but he called me forward first. He told me to kneel and shout "Alleluia!" seven times, as a sign of victory, because Almighty God had ordered my steps to bring me to the church.
Then, he revealed what had happened when I was in school, with the school bus which I had known was going to crash. He said I was called to be a prophet. I was afraid, but he said the God who called me would always be with me. He said I had felt silenced as a child, but that God was preparing me, and cautioned that I still had a long way to go.
Finally, he told me that my current intention was to go back to Ghana, but God said I should not go until he opened the door for me to travel in his time. Rather, from then on, I should start sleeping in the church for God's protection, and attend church services.
Trusting him
After six months of living at the church, a friend of mine gave me a room in her house. I learned more about the Christian faith, was baptised and started to preach the gospel on the streets.
When I came to London to care for my two bereaved nieces, God made a way through immigration problems. He provided accommodation for me for years and fulfilled a promise given to me 28 years before: at the age of 54, I got married. He was the only white man in my church! So many people attended the wedding that some couldn't even enter the building!
My husband and I will soon celebrate our tenth wedding anniversary. I lead the evangelism team at my church and the Lord has given me a wonderful job. I went through immense challenges in Ghana, Nigeria and here in the UK. But God taught me to trust him at all times.
The full story is told in Rita C. Joy Vincent's book God Makes All Things Beuatiful in His Time (Faithbuilders Publishing)


Rita C. Joy Vincent is the author of God Makes All Things Beautiful in His Time (Faithbuilders Publishing). She attends Catford Assemblies of God Pentecostal Church, where she leads the evangelism team.