Sir Jeffrey Donaldson's Christian faith has sustained him throughout his political career. But with an impending appointment to the nation's highest political office, Northern Ireland's longest-serving MP may still have his biggest challenge ahead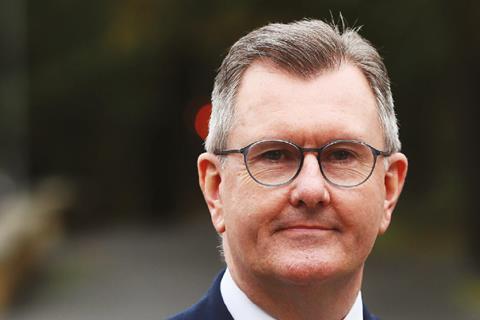 Before entering politics, Sir Jeffrey Donaldson served in the Ulster Defence Regiment. A quick glance at his family history explains why: in 1970, his cousin was murdered by an IRA bomb. Fifteen years later, another cousin died the same way. The 58-year-old rarely speaks about the experience but has said that the Troubles "shattered" his childhood. No wonder he has opposed the IRA, both militarily and politically. But Donaldson was also heavily involved in the peace process and his knighthood, awarded in 2016 for political service, is evidence of the way he has built bridges across the sectarian divide.
Donaldson was elected leader of the Democratic Unionist Party (DUP) last summer. It followed the ousting of Arlene Foster and her successor, Edwin Poots, who lasted just weeks in the role. Usually, assuming the leadership of Northern Ireland's biggest political party would also have seen Donaldson appointed first minister. But, as he sits as an MP in Westminster, he will need to take up a seat in the Northern Irish Assembly first. Such a move is thought to be just a few months away, and, if it comes, he will be working closely with old rivals, Sinn Fein, in a power sharing government that will be tasked with managing the many challenges brought about by Brexit and the Covid pandemic.
While not naive to the seriousness of the issues facing Northern Ireland, Donaldson looks at them with confidence, buoyed by his strong Christian faith, which he says is a constant in all areas of his life, motivating him daily and pushing him towards peacemaking. Tolerance and understanding is a two-way street, though, and Donaldson is concerned about the lack of respect offered to socially conservative Christians like him. But far from letting this get him down, Donaldson seems more motivated than ever to campaign for change – even if it means going against the grain.
How do you reflect on the past year?
This time last year, I didn't anticipate that I would be the leader of the Democratic Unionist Party, but here I am. It is a challenging position to hold, not least at the moment, with all the political issues we have to grapple with as we recover from the pandemic, but my approach to politics and leadership is grounded in my Christian faith. Each day, I'm reminded of the strength of that faith, and how it helps to sustain me in the challenges and decisions that I face. When I was in the Boys' Brigade, growing up as a child in Northern Ireland, there was a hymn that we used to sing: 'Will your anchor hold [in the storms of life]?' The words of that hymn have often been brought back to me in the last few months as I've undertaken the challenges of leadership.
What would young Jeffrey, in Boys' Brigade, have made of the suggestion that he would one day become leader of the DUP and quite possibly first minister?
I think disbelief probably would have been the answer there. I [come from] a very humble background. I'm the oldest of eight children; we grew up in the Mourne area of Northern Ireland, almost as far removed from Stormont and Westminster as you can be.
I regard my role in politics and leadership as my calling; to serve. It so happens that, as a Christian, I serve in the world of politics. I remember, in my early days as a Christian, reading the remarkable story of Joseph. He, through a very circuitous journey, eventually became the prime minister of Egypt. God had a plan for his people and he was able to use Joseph in that position to help his people. I hope – if my journey takes me to be the first minister of Northern Ireland – that I can do things that help the people of Northern Ireland.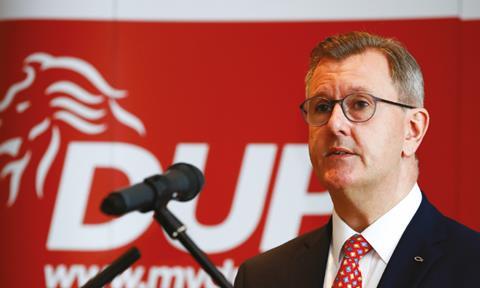 How does your faith influence your day to-day life?
Well, I hope, in living out my Christian faith, that I treat people with respect; that I listen to and respect the opinions and views of others; that I have a motivation and a desire to help people, to meet them at their point of need. That is very much at the heart of my politics; being able to do things that can transform the lives of others.
It's also about giving people a second chance. It's about recognising that sometimes in life, we have to forgive others for what they do to us. Also, promoting a spirit of reconciliation – as Jesus taught us, we are to be a people of peace. Jesus said, "Blessed are the peacemakers" (Matthew 5:9).
I OFTEN HEAR OTHERS SHOWING LITTLE RESPECT FOR THE VIEWS OF CHRISTIANS. BUT IF WE WANT A TOLERANT SOCIETY, THERE HAS TO BE ROOM FOR US
Recent changes to the law on abortion and gay marriage in Northern Ireland have gone against your Christian beliefs. How do you feel about that?
Well, there's no doubt that the changes in society in recent years have been very challenging for people of faith. I think what we want is a society where the views of people who hold a faith-based perspective are respected, and sometimes that doesn't happen. I often hear others showing little respect for the views of the Church and the views of believers. If we want to talk about a tolerant and inclusive society, there has to be room for people of faith. Freedom of religion or belief is a fundamental building block of our nation, and it concerns me that, at times, the Church feels under pressure to comply. It feels under pressure not to be salt and light in our society.
On an issue like abortion, it grieves me that, increasingly, the norm is not respecting the life of an unborn child. I happen to believe passionately in the right to life and I think there has to be space for that view in society, and that those of us who are of a pro-life perspective should have our voice heard.
The Church in Northern Ireland has had significant influence over the years – do you get the sense that's being eroded?
I think there are two things at play. First of all, when I speak to church leaders, there is a reticence about speaking out in the public square because very often they are subject to harsh criticism, including by elements of the liberal establishment and media. Increasingly, church leaders do find it difficult to speak out in public and to give a faith-based perspective on social issues. Secondly, I do feel that the influence of the Church has diminished as a result. I think that, in many parts of the United Kingdom, we're seeing the Church in retreat from the public square, perhaps reticent about engaging in public debate on these issues. That makes it even more important for people of a faith-based perspective, including Christians, to become involved in politics and to support those of us who are engaged in politics.
WHEN I LOOK AT THE HISTORY OF NORTHERN IRELAND, I THINK THE MOUNTAINS WE'VE ALREADY CLIMBED ARE HIGHER THAN THE ONES IN FRONT OF US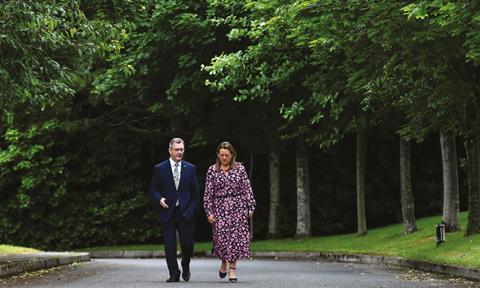 You have a challenging year ahead. What are your hopes for the future of Northern Ireland?
Sometimes I describe the political challenges in front of us as being like mountains to climb. But when I look at the history of Northern Ireland, the thing that encourages me greatly is that the mountains we've already climbed are higher than the ones in front of us. The peace process in particular has transformed this place for the better. So my approach is one of hope. I'm hopeful for the future of Northern Ireland and I think we have a duty to build a Northern Ireland that is better for the next generation. I want that to be my legacy.
To hear the full interview listen to Premier Christian Radio at 8pm on Saturday 22 January, or download 'The Profile' podcast

Marcus is Group Head of News at Premier. He can be found playing a variety of sports, whether it be Olympic distance triathlons or turning out for his church football team.