Protests over his past comments on Islam and homosexuality led to the postponement of Franklin Graham's last UK tour. But two years later, the US evangelist is back, preaching to a near-capacity crowd at London's Excel centre. Marcus Jones was there, and witnessed hundreds responding to the Gospel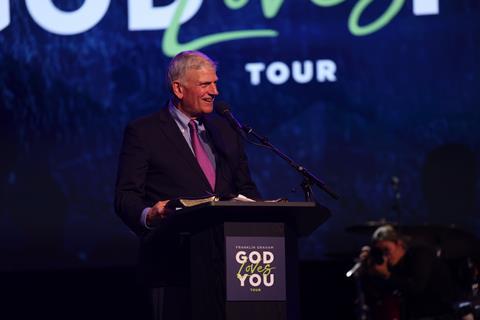 A few days ago, TV presenter Piers Morgan described Franklin Graham as one of America's "most controversial" preachers. Morgan, not immune to the odd bit of controversy himself, perhaps had good reason. When Franklin Graham last tried to hold an evangelistic tour on these shores, eight venues cancelled his bookings after widespread protests against his past comments on homosexuality and Islam.
The tour was only rearranged after legal proceedings were brought by the Billy Graham Evangelistic Association (BGEA) of which Franklin Graham is president and CEO. In one case, the BGEA successfully argued Blackpool Council discriminated against Graham by banning adverts for his last tour. The council apologised and awarded Graham's organisation £100,000 in damages.
But the distaste hasn't just come from campaigners outside of the Church. Some Christians have voiced concerns, with the Bishop of Sheffield previously slamming Graham's presence in the UK as "divisive".
"Controversial" may be a term often applied to Graham, but this latest tour, which wrapped up on Saturday, has proved that "popular" is an equally appropriate word. Few other preachers could draw a crowd of 7,600 to one of London's biggest venues. Graham has attracted similarly impressive numbers over the other three dates this summer in Liverpool, Newport and Sheffield. Overall, more than 1,900 people have responded to the gospel, according to BGEA.
Is that thanks to the afterglow of his father Billy's reputation, Franklin's own media profile or simply his own talent as a preacher? Arguments could be made for all. But what can't be disputed was the love given to him by the thousands in attendance at London's Excel Centre on Saturday.
There was a carnival-like atmosphere as popular worship songs 'Goodness of God' and 'Waymaker' were sung by gospel singer Cece Winans and worship singer Michael W Smith.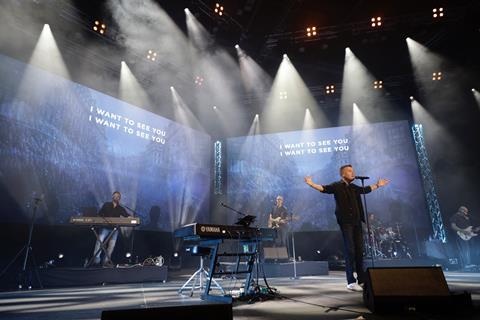 Greeted with a huge cheer, Graham entered to deliver a traditional gospel sermon from a pulpit not so dissimilar to that preached from by his father at those historic events at Wembley, Hillsborough and Haringey.
During his short address, Graham spoke about how time is running out for everyone. He acknowledged the war in Ukraine, the pandemic and the food and fuel crisis being seen in various parts of the world. He also spoke about his own time running out. He turned 70 just this week.
His message was simple: "Are you sure your soul is safe and secure in the hands of God?"
With the tour labelled 'God Loves You', it was perhaps unsurprising to hear him talk about how much God loves everyone. You'd also expect the evangelist to talk about sin, but his examples were notable: "We have a problem called sin. It's a barrier. It's a wall. It separates you from God…It only takes one sin to keep you out of heaven," he said. "Idolatry…lying…pride…"
OK so far. But then: "Sexual immorality, sex outside of a marriage between one man and one woman." That last statement was greeted with a huge applause within the arena. He then moved onto abortion, describing the sin of "killing" babies. Another huge applause.
For his critics, this may have been the 'I told you so' moment, revealing how, to many ears, Franklin Graham's message is offensive. His supporters won't blink at such a criticism, arguing that the Gospel itself is offensive. This is also Graham's defence. In his interview with Piers Morgan he continually used phrases such as: "It's not what I think, it's what the Bible teaches."
There were plenty of phrases you'd come to expect: "There are no multiple ways to God, only Jesus…You can be filled, you can be forgiven, you can be set free…If you're not sure - get ready to come."
And then came the altar call. Graham invited anyone who wanted to make a commitment to Jesus to come to the front. Hundreds responded. At first a trickle, then a flood. Ages ranged from children to the elderly. It was an emtional moment, with some weeping as they made their way forward.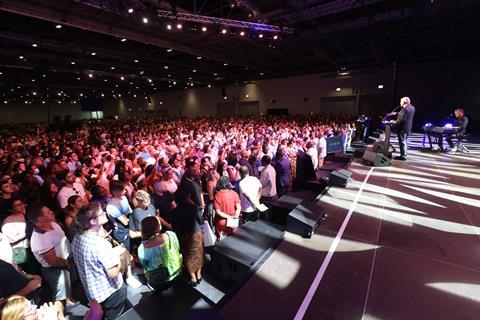 Plenty of Christians have their misgivings about Franklin Graham, but when it comes to hundreds of people making first time commitments or re-commitments to God, it's very hard to object.
As Graham walked off the stage, I asked him how it felt to witness those people coming forward. "It's the work of the Holy Spirit of God, it's not Franklin Graham," he replied. He also told me he's planning to return to the UK next year with three more events in London.
So where does that leave his critics? For those who label him a hate preacher, I'm not sure he'll ever win them over. But Graham's legal victories over the cancelled venue bookings have been hailed as victories for freedom of religious expression and belief.
A return to the UK next year will probably see more of the same. Despite the legal victories, the Mayor of Liverpool was still calling for bus adverts for this tour to be banned, while the Welsh Government were also vocal in their displeasure about his visit. We're back to that word again - "controversial".
For those within the UK Church, Graham's visit provokes important questions. Everywhere Graham goes, headlines follow him. The media attention isn't always positive, but does it matter? Would those who made commitments on this tour have made them without such events taking place? Is God using Franklin Graham in way which can't be replicated elsewhere? And why aren't there any British preachers who can draw a crowd like Graham?

Marcus is Group Head of News at Premier. He can be found playing a variety of sports, whether it be Olympic distance triathlons or turning out for his church football team.
View full Profile