Hours after Andy Flannagan led parliamentarians in singing about integrity, truth and justice, a spate of government ministerial resignations took place, with Sajid Javid referencing the prayer breakfast in his speech. As Boris Johnson confirms he will stand down this autumn, Sam Hailes speaks to Flannagan, who also heads Christians in Politics, to ask what we should make of claims that a prayer meeting led to the highest number of ministerial resignations in history.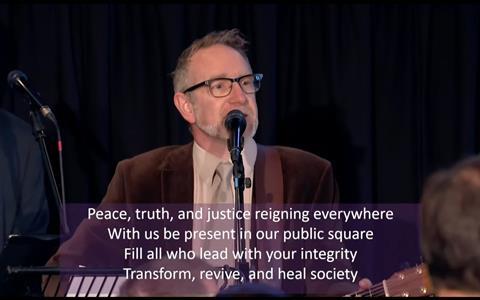 Sajid Javid began his resignation speech in Parliament by referencing that day's parliamentary prayer breakfast. What was your reaction to that news?
Well, if I can be brutally honest, and it's a bizarre thing to admit, but I honestly feel like I had a bit of a premonition about it.
There were a couple of moments as people sang the hymns, but then also there was an amazing time after Les Isaac preached - we had the privilege of leading a time of response - and you could hear a pin drop in the room. It was just electric; one of those moments where you're fully aware of the presence of Almighty God, really aware of that ultimate authority.
I knew something profound had happened; I'd experienced it. As I was travelling home, I could still feel it.
When the news came through of the resignation, I was tempted to share something on social media because I'd obviously seen Sajid Javid at the breakfast and I was tempted to join the dots. But then I thought, You know what, that's not my story. That's his story to tell. So I held my silence. It's not my job to say how the processing occurred with Sajid, or with anybody else who was present. All we can say is things do happen when we put God in the place he deserves.
Do you think the prayer breakfast awakened the consciences of MPs, Christians or not, to think on a deeper moral and ethical level about their leader?
Yeah, we sang the hymn, 'Lord for the years' which says, "Lord for our land, in this our generation, spirits oppressed by pleasure, wealth and care, Lord for our world, when we disowned and doubt him, loveless in strength, and comfortless in pain. Lord for ourselves, in living power, remake us."
These are powerful words! But also, we mustn't forget the invisible aspect of what's going on. There were holy moments when God's presence in the room felt irresistible.
God is God of all creation, not just the God of Christians. And I really believe that other people were experiencing that. In fact, some reported it.
I spoke to MPs who said, "that was honestly the first time I've had in years to pause, where nobody was contacting me, where my phone was off, and where I had time to stop and reflect in a place of beauty."
Three separate MPs said practically the same thing. Sajid Javid's words need to be his own, but I don't think you can underestimate the significance of somebody from a Muslim background standing up in Parliament, knowing that his speech is going to be the most repeated words in the news that day, choosing to quote a black Pentecostal pastor and speak about the parliamentary prayer breakfast. When you stick your neck out to do that, obviously something had happened to you. I think there must have been some impact there.
About 30 seconds before we began this interview, Boris Johnson said that he will resign today. What happens now?
The Prime Minister will be staying until the autumn, even though he's resigning his leadership of the Conservative Party to enable a slightly smoother transition. But I think one of the things that I've been asking people to pray about in this last 36 hours is that, at this time of many crises in our nation, we need our government to be operating effectively.
On a day where you have over 50 ministers resigning - it's very, very difficult for that government to function effectively. We need to pray that the government can act effectively and all the focus on the personality misses that point. We talk about these resignations just as a kind of a scorecard. But every one of those people has a real job.
In the midst of a tabloid whirlwind, it's so easy to make someone the pantomime villain. It's very easy to make a scapegoat of the prime minister in this situation, but I have huge sympathy for anybody with that level of leadership; it's an incredibly difficult job. We need to focus on the wider pervading culture that facilitated the situation. If you really care about the people you lead, you don't expose them to people of questionable character in leadership positions. So there's a broader question here to be asked about our collective ethical failure.
How should Christians be praying right now?
During the prayer breakfast, Lucy Clasper played this prophetic cello piece and we slid into singing something we hadn't planned, which was "bind our wounds, tend to us, steep our hearts in your love...All of these punches land, bruises from broken hands". I could feel the division and pain in the room. It felt as if we needed to sing and speak healing, and cry out for unity. And I really believe that some of that healing took place. Unity is possible when you're on your knees before the one who knows it all; you realise that you don't know it all, which renders you more able to listen to the other perspective. It felt very profound. I think it's an encouragement for Christians to pray for more unity. Reconciliation is possible, but only if we're humble enough to admit our mistakes.
And we have to be involved. I've no time for the many Christians who will just be critiquing on social media, but are not actually involved. We have the leadership we deserve in many ways. And if we are not prepared to step forward , then I think we should think twice before we critique those who have stepped forward to serve. We have to think seriously about our culpability in allowing a situation like this to come to pass.
We're awaiting Boris Johnson's resignation speech. Might he reference the prayer breakfast too? I understand he was there.
It was great that the Prime Minister attended the prayer breakfast. As a human being, my heart goes out to him at the moment. We all know how it feels when even one or two of our colleagues or friends turn against us, withdraw their support or relationally cut themselves off from us. I can't imagine what it feels like when over 50 of your colleagues publicly admonish you.
I know that he is somebody who has turned to people of faith in the past. Maybe being at the prayer breakfast, and knowing the bigger picture of ultimate authority not laying with him, and knowing that there is there is a bigger story than just his his life - I hope that's of some comfort in what will be a really tough time.
At moments like this, it's important to point out that the Church doesn't have a monopoly on good ethics in leadership. In fact, we have a fairly chequered past and present on that front. What we can offer is some humility in confessing that we don't know it all.
Does this mark a turning point, where people are more likely to say integrity matters in public life?
It's never been easier for me to convince Christians that actually, integrity in leadership is really important. People have realised that actually, when you're in crisis moments - and we've seen this on both sides of the Atlantic - whether or not you have a track record of telling the truth really matters.
As I go around the country, people are realising that some of the stuff that we may have imbibed from across the pond, where you hear lines like: "We're electing a president, not a pastor" exposes a secular-sacred divide in our theology that's desperately unhealthy and, I would say, desperately unbiblical. Jesus cared about how things were done, as well as what was done. We want our leaders to have strong ethics, including our business leaders, sporting leaders, educational leaders etc. And to say: "Well, as long as they get the job done, we don't care" - I think we've seen very clearly now that, actually, there is not a separation between private and public ethics. Our character is our character. So we can be more unashamed in calling for good ethics and leadership, and the importance of that.
The national prayer breakfast was sponsored by Premier. Hear Les Isaac's sermon in full at 5:30pm this Sunday on Premier Christian Radio

Sam Hailes is the editor of Premier Christianity, the UK's leading Christian magazine. He also serves as editorial director for Premier. Sam is married to Stacey, lives in London and is a keen traveller, reader and tweeter.
View full Profile