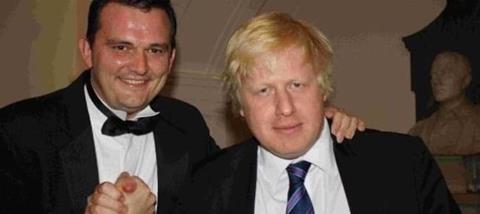 Yesterday the country was sent into shock as Boris Johnson was taken into intensive care. Suddenly the #prayforboris hashtag was everywhere. People from different political parties wished him well and said they were praying for him. The BBC's political editor Laura Kuenssberg commented: "Power is not protection from harm".
The realisation quickly dawned on us: this is bigger than politics, it is about being human.
We have all been guilty of dehumanising our leaders and people in positions of power. I believe this crisis is challenging our values as a nation, the importance of our behaviour, and the way we treat each other.
Boris is not only our PM, he is a son, brother, dad and husband. As our thoughts turned towards the Prime Minister, suffering with coronavirus in hospital, we also remembered the many others who are going through the same pain, or desperately waiting to hear news about their loved ones.
I first met Boris Johnson in 2007. He wanted to come to a school assembly I was doing in east London called "Gunz Down". Having hosted many MPs in the past I wrongly presumed Boris would bring lots of press with him. I figured it would be a great photo opportunity as he was running for Mayor of London, but it seems I was wrong. Boris came with just one other person and sat out of the way - at the side of the hall where he couldn't be seen. The next day I was in Sainsburys with my daughter when my mobile phone rang. "Boris here, tell me why do you think all these young people seem angry?" As I pushed my shopping trolley around, I had a fairly robust conversation with him regarding the reasons why a young person might pick up a knife or a gun. We also talked about how important faith was in the work we did. He was writing an article in The Telegraph and though we probably didn't agree on everything, he did quote me.
A couple of months passed, and Boris' PR team got in touch explaining he would like to visit our bus project (a mobile youth centre we took onto estates). Again, I wrongly presumed "oh here come the press", but to my surprise he again turned up on his own. He turned to a young person called David and asked "what do you want to be when you're older"? David replied, "I want to be a politician like that annoying geezer off TV", Boris nearly fell off his seat laughing. David went on to tell Boris the challenges he was facing with his family, his education and how that led to him making some really bad decisions. After that, every time I saw Boris, his first question was, "How's David"?
Since those early encounters I have seen Boris Johnson a number of times, as I've spoken at events, done the odd TV programme and had disagreements with him in various meetings. I remember in one meeting he pointed at me and said, "you're wrong". I replied, "you're wrong" and then we both laughed. Over the years I have had people ask me how can I bring myself to speak at political party conferences or be friends with people from various parties. Comments like this usually come from people who believe a particular party has caused them, or others, deep pain and suffering. I understand this, but I've always believed that our voice can be heard louder through building relationships with people who we don't see eye to eye with. Wouldn't it be amazing if our love for each other and our communities spoke so loudly that people outside the Church couldn't help asking why? I have chosen to speak to anyone from any political party on issues of injustice, just as I have chosen to pray for our leaders, regardless of whether or not I agree with them.
Behind every public platform or leader there is a real person, with real flaws and real feelings. As a leader myself I have found it a lonely place to be. I have struggled with anxiety, worrying about my health and what others think of me. Just writing these words fills me with a certain amount of anxiety as any mention of politics can create an aggressive reaction in people. But this article is not about politics, it is about recognising our common humanity, that what unites us is bigger than what divides us.
The Queen in her message to the nation challenged us all: "I hope in the years to come everyone will be able to take pride in how they responded to this challenge".
As Romans 12:15 says, "we mourn with those who mourn". Sitting with people in their grief may be uncomfortable but it can offer comfort and strength, even without saying a word. When we are willing to enter the pain of a suffering friend, we follow the example of Jesus who came to bear our pain and suffer with us.
I am not sure where Boris is faith-wise, but he sent me a text I really appreciated just before I had a big operation. It read: "Poor you Patrick, I will pray for you indeed". Last night I did the same for him.
Patrick Regan OBE is the founder of Kintsugi Hope, a charity which supports people with positive mental health and tackles social isolation. Due to coronavirus their 12 step Well-Being programme has moved online. For more information visit kintsugihope.com