When Sajid Javid quit the government, it started an avalanche which looks set to result in Boris Johnson's resignation. Speaking in the House of Commons, Javid suggested his actions had been prompted by Rev Les Isaacs' sermon at that morning's Parliamentary Prayer Breakfast. Here is that speech in full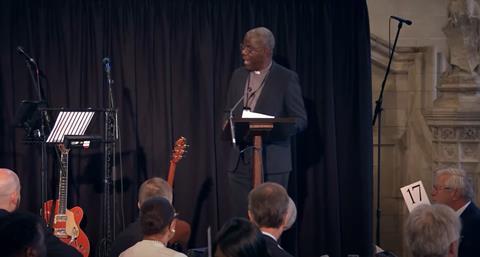 In the last two years, it has felt as if we have hit a rock bottom in terms of grief, bereavement, discouragement and uncertainty.
All of us have been in it together in terms of the challenges we are facing during this global pandemic.
A mother whom I know lost her son on one given day. On the next day, she lost her daughter. After five weeks of waiting before she could bury them, only five people could be present at that grave site.
And yet, for the Church and for the Christian, the psalmist helps and encourages us. It says this: "Even though I walk through the darkest valley, I will fear no evil, for you are with me; your rod and your staff, they comfort me." (Psalm 23:4). For Christians, God is with us. But also, we are encouraged to have the mind of Jesus; seeing things as he sees things, recognising that, through our griefs, through our challenges, there is hope. We are called not only to have this mind of Jesus, but we are called to be servants of others daily. And especially during difficult times - these dark valley experiences when it most matters. Over the past two years, there have been thousands of men and women who have rolled up their sleeves and asked the question: "What can I do to help?"
It has been most encouraging as a church leader just to listen to people from all over the country, from the Church, who said: "What can I do to help?" I received an email from a Street Pastor management committee who said they had a 70-year-old man who was fit and well and was keen to get out and serve his community as a local street pastor. Christ has called us to follow him, but he's also called us to walk in humility as we seek to serve him and to live for him. And that's a challenge, as the Church and as Christians seek to serve in humility.
Humility is the absence of pride and the ability to be down-to-earth and modest under all circumstances. This is Jesus in his life. Jesus came into this world to serve; to serve us, to serve humanity. But Jesus also expects us, as the Church, to serve in humility. "And being found in appearance as a man, he humbled himself by becoming obedient to death— even death on a cross!" (Philippians 2:8).
We are called to work together for the common good - not just for the party, not just for the denomination, but for humanity
Right across the United Kingdom, men and women who are serving their community without prejudice demonstrate their concern and their passion for the common good of society. But there is a story behind every Christian person. And that story is the story of love; of how God loved them and how they desire to pour out and to show their gratitude for that love to others. A story of forgiveness; how Jesus forgave them of their sins and how they want to have compassion and reach out to people and demonstrate that they appreciate and value the forgiveness of God for their sins. The story of servitude and humility; the story of the Son of God who came into this world and died on the cross, and yet it's a story of Christ in every believer; the hope of glory. It's a story of compassion; the fact that God gives his people the capacity to be compassionate, not living for themselves but living for others and seeking to demonstrate that compassion for the weak and the poor, the marginalised and those who are in distress.
At the center of our lives is Jesus, and a desire to be like him and to fulfill his purpose here on earth. Many men and women are quietly demonstrating service, humbly and compassionately, for the common good of the community, of society, of their city and their nation.
But there's a challenge for us, whether we're politicians, whether we are church leaders, there's a challenge for us to work in a collaborative way. To work where we can work for the common good with everyone within our community, to bring hope. We recognise that as we work together, we are bringing hope but, equally, we recognise that we cannot do it on our own. I'm so glad to see so many parliamentarians here, coming with their local church leader, sitting together, eating together. And I pray that they are asking the question: "What can we do together in our constituency?" It's important that we understand that the God who loves us, he's willing to give us hope and to use us to bring hope.
The 2022 international conference on freedom of religion and belief begins today, with over 60 countries represented and hundreds of delegates. It reminds us that there are Christians, and others, across the world who are working with zeal and hope for the common good of their society. And there are those who have become victims of kidnapping.
Four months ago, I had someone in my home and we had lunch together. She was talking about her experience in her country - she was kidnapped twice - and the trauma and the pain it caused her and her family. She works with AIDS victims. I visited her country four years ago and saw the work she did with hundreds of women in terms of supporting them and educating them and giving them skills and gifts. Yet she became a victim of kidnapping, and because of the trauma, she has had to move home. Sometimes, she says, I feel like I'm living in fear. But yet the perfect love of Jesus casts out all fear, and gives her the strength and the ability to go on.
It's important that we understand that the God who loved us, he's willing to give us hope and to use us to bring hope
Why do we do what we do? We do it because God has empowered us to do it. Sometimes people find it very strange in terms of what Christians do. I was out one night in Brixton, at three o'clock in the morning, and a man spent half an hour telling me how much he disagreed with my religion; telling me that my religion was useless, telling me all the bad things that my religion had done. But after half an hour, it was raining, it was cold. After half an hour he says: "I don't like your religion. But I like what you're doing." He said: "All of you, come to my flat, come and have a cup of tea and a spliff." I said to him: "We'll come for the tea, but I'll take the spliff home to my wife!" (laughs). Sometimes people find it difficult to get their heads around the Church. But that's OK. Let them see our good works.
A woman of 79 years of age - a grandmother - trained as a street pastor. At the age of 79! I met her a few years later, in her 80s, and she'd just graduated as a street pastor school's pastor. This is because of the good news of Jesus and the fact that she seeks to have the mind of Jesus. She seeks to humble herself and be a servant of Jesus.
I want to encourage all of us today. I want to remind the Church: it's been difficult, but Christ has called us to be faithful. I want to remind all of us here today that Jesus, being found in the appearance of a man, humbled himself and became obedient to the point of death, even death on the cross. I want to remind us today that all of us have influence. All of us have the ability to influence and to make a difference. And we are called to serve. We are called to work together for the common good - not just for the party, not just for the denomination, but for humanity. My words of encouragement to us this morning: Give hope a chance. Let hope flourish as you seek to lead and as you seek to have influence and as you seek to exert your influence across the world, across the city, across our community. Let us recognise it's together we will make a difference. It's together the common good of our community would be realised. May the Lord help us as we continue to serve.
The national prayer breakfast was sponsored by Premier. Hear Les Isaac's sermon in full at 5:30pm this Sunday on Premier Christian Radio

Les Isaac is the founder and president of Ascension Trust. He pioneered Street Pastors in the UK in 2003. In recognition of the contribution that Les has made to society, he was awarded an OBE by her Majesty the Queen and has recently been appointed as an honorary Ecumenical Canon at Southwark Cathedral.He is the author of Faith on the Streets (Hodder Faith).
View full Profile