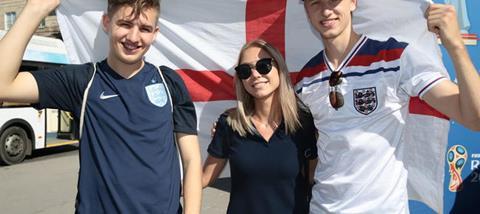 I can remember the feeling of deflation. The effervescent Ronaldinho of Brazil lifts a free kick into the England box during the summer of 2002. It evades everyone including our goalkeeper David Seaman and nestles in the back of the net. The nation's hopes of a first title since 1966 again in tatters.
Four years later it was Portugal. Wayne Rooney was sent off for a silly kick and Cristiano Ronaldo winked. The game finished 0-0 after extra time and England lost on penalties. Same old story.
As for the 2010 World Cup, the Germans stuffed us. We can't even hold onto the fact that we had a perfectly good goal disallowed. The Germans still stuffed us.
"The Golden Generation"
It was all meant to be so different. 2002-2010 was the time of the so-called 'Golden Generation', a term first coined by chief executive of the FA Adam Crozier to highlight the sense that England had a group of players (David Beckham, Wayne Rooney, Rio Ferdinand, Steven Gerrard et al) that could do pretty well in a major tournament, even win one. Of course the media played on this and fans latched on.
England entered these and other tournaments under high expectations. And they failed. But were those expectations realistic in the first place?
Gary Neville, one of the golden boys, offered some perspective in an article for The Telegraph. He looked at the three World Cup winners during this time (Brazil, Italy, Spain) and said: "I don't think, when you measure us against those illustrious teams, we were a golden generation, internationally. We were living in their shadows." He concluded: "Maybe bronze would have been more accurate."
Arguably the expectations traditionally associated with England have been more a curse than a blessing, causing players to be paralysed by fear of failure. This has been increasingly evident in more recent tournaments, where England have performed poorly even without the golden tag.
Which brings us to this summer's World Cup, where the build-up towards England's opening game against Tunisia tonight has taken on a refreshingly different tone. I like how one football writer put it, saying that England headed to Russia "fuelled by a mixture of cautious optimism and measured expectation". Manager Gareth Southgate has reportedly been told he'll keep his job even if England lose every game in Russia. Clearly the past has taught people not to raise expectations too high!
Expectations of each other
This talk of refined expectations perhaps offers opportunity to reconsider expectations of our own. It's said that it's not the world that most hurts Christians, it's other Christians. There is a standard that we expect from Christians that we don't from the world. When those expectations are not met we can end up feeling very hurt.
Of course, it's right to have certain expectations of one another. Christ calls us all to a high standard of behavior; to become like him and give him our lives, and as Christians we must encourage and challenge each other.
But we must breathe into this a healthy dose of realism. None of us has mastered the Christian life. We all slip up, have off days and wander through difficult seasons, and some are further along the journey than others. We mustn't expect Christians to be perfect because, after all, we are not. "Bear with one another," as Paul often said (Ephesians 4:2, Colossians 3:13).
While leaders have a duty to set a high example (1 Timothy 3), expectations of them can border on unrealistic. They can be expected to be available at all hours of the day, even on days off, and have an answer to every crisis and question. And if they do something that doesn't meet expectations, criticism is not always far away. All Christian leaders have their limitations too and they are as prone to sin as the rest of us. We must avoid putting them on a pedestal.
Perhaps the problem for us is that we set expectations of ourselves too high. We can be our harshest critic. As well as having grace for others we need to have grace for ourselves.
Unrealistic expectations can creep in elsewhere in our lives, like our marriages and friendships, or the expectation that people share our strengths and opinions.
Exceeding expectations
There seems to be renewed freedom in the England players. It's like a burden has been lifted. There is, quite rightly, a pressure to give their all and play to their potential. But interspersed with this is recognition that the team is young and growing — and human. Under these refined expectations the players look to be flourishing.
Having measured expectations not only reduces the potential for disappointment, but leaves us more open to being surprised when expectations are exceeded. It could happen at any time. Perhaps even tonight...
Click here to request a free copy of Premier Christianity magazine