The new world champion's unashamed declaration of his love for God is an inspiration, says Arthur White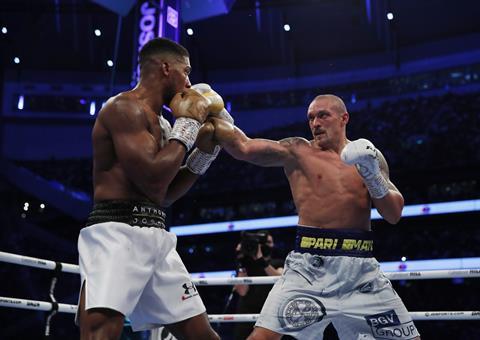 "Ladies and gentlemen, the judges' score cards are in. We have a unanimous decision. The new heavyweight champion of the world…Alexander Usyk!"
I'm pretty sure there weren't many Englishmen at the Tottenham Hotspur football stadium who expected to hear that announcement, but we now have a new world heavyweight boxing champion in Alexander Usyk. It was a unanimous decision; all the judges' score cards were decisively in Usyk's favour: 117-112, 116-112, 115-113. No doubt at all.
I'm also pretty sure there weren't many that were watching the fight last Saturday night who were prepared to hear the words spoken by the new champ. Did he give thanks to his wife and children? His coach and his trainer? Did he praise the promoter or thank the crowds for their support? No, his praise was for someone else entirely.
I will probably read a book, likely the Bible, before I fight
As the new champion lifted his belt aloft and journalists clamoured for a quote, this is what he said: "The only thing I wanted to do with this fight is to give praise to Jesus Christ."
Wow! That is some statement to be broadcast live and unedited, beamed around the world, watched by an estimated record audience of one billion people. In his moment of glory, as he became world champion, Usyk chose to lift up the name of Jesus.
From death to life
But where did Usyk's faith journey begin? As a young child in Ukraine, Usyk was very sick. While in hospital, his ward was visited by an Orthodox Christian priest. The young Alexander was curious about this man, and the God that he spoke of, and asked the priests many questions. Usyk recalls the priest asking him: "Why are you so interested in God?"
"I replied that I would see him soon," says Usyk. "I heard my mom's conversation with the doctor, who told me that I was very ill." The priest said: "It is God who decides who will live and die, not the doctors."
From that time on, he began following Jesus. "He does not follow me," said Usyk, "but I go after him. Every day I say thanks to him for a day lived."
For Usyk, watching boxing was "an escape" from the harshness of his early years. He learned his trade by having street fights with drug dealers, he told The Telegraph prior to the showdown with Joshua. "Life was tough growing up, and boxing was a way out of that."
Speaking about his preparations for the biggest fight of his professional life, he said: "I will be calm and confident and probably read a book, likely the Bible, before I fight."
What would Jesus say?
I don't know how many Christians follow the pugilistic art of boxing, although I do – and so do some of the men I know. But there are many who look down on the sport, and indeed other combat sports like it, seeing it as barbaric and idolatrous. They ask: "What would Jesus do or say if he lived today and witnessed this?"
Well, when Jesus does return - and I pray he does soon, as it's evident to me that this world needs him now more than ever – I wonder what he will say about a great many issues. Who am I to dare to even try and speak for God? But in Mathew 10:32 Jesus says: "Therefore whoever confesses me before men, him I will also confess before my Father in heaven." (NKJV).
A question that I often ask myself is this: am I a Christian who is known for what I stand against or for what I stand for?
It's obvious what Alexander Usyk stands for: its Jesus and Jesus alone. Let us follow his example and proclaim the name of Jesus above all names, and leave the judgment to the ultimate judge when he returns.

Arthur White is a four times world champion powerlifter who nearly lost everything to a cocaine and steroid addiction which threatened to end his life. Working as an illegal debt collector and fighting on the streets of east London, he had a radical encounter with Jesus that turned his life around. He is a founder member of Tough Talk, a group of men that lift weights and share the love of Jesus in prisons, churches and on the streets, all over the world. He is the co-author of The Power and the Glory and Tough Talk: True Stories of East London Hard Men (Authentic Media).
View full Profile