The son of boxing champ, Nigel, was sent to a 'cult-like' Christian school that led him to rebel against the faith that saved his dad. But as his fight with Chris Eubank Jr is postponed over a failed drugs test, where does he stand with God now?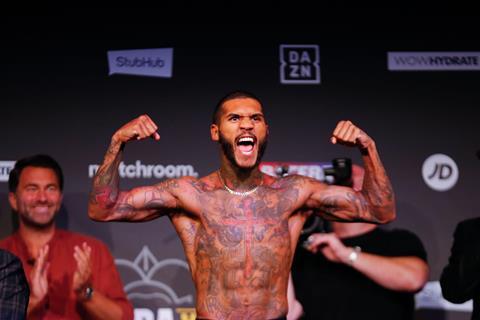 Connor Benn and Chris Eubank Jr were born rivals.
30 years after their fathers' epic clash, the two fighters were due to meet each other last weekend at a sold-out O2 Arena for a showdown that was billed 'the Bloodline fight'. But amid a storm of controversy, the fight was called off at the last minute after Benn failed a drugs test.
So far, so boxing, you might think. But Benn, like his father Nigel (and numerous other members of the Boxing elite, including Tyson Fury and Alexander Usyk) holds a deep Christian faith. And despite the test result, Connor has insisted that he is a "clean fighter" – a claim that even Chris Eubank Sr supports, calling him "a pure young man" in a recent newspaper interview.
Fight, suspended
So what exactly has happened so far? And what of the faith of Benn Jr?
Four days before their scheduled fight, it was revealed that Benn had tested positive for a banned female hormone, Clomifene, which can be used to boost testosterone levels in men. It was picked up by the Voluntary Anti-Doping Agency (VADA), hired by Benn and Eubank to provide extra optional testing on top of that required by the British Boxing Board of Control (BBBofC)'s official anti-doping partner, UK Anti-Doping (UKAD). Benn's UKAD samples were clear, so he has not been banned by the boxing board, but they withdrew the licence for Saturday's fight while Benn's second VADA sample is tested and a full investigation is carried out. If that sample also returns a positive result, the fighter could face a ban of several years.
Following the announcement, Benn took to Instagram saying: "I am still completely shocked and surprised by this and it has been a tough couple of days…my immediate focus is on clearing my name because I am a clean athlete!"
I pray that my opponent and I come out unharmed. If God's will for me is to lose or win, it's his decision
Of course, athletes rarely hold their hands up when caught with their fingers in the drugs jar, and many a protestation of innocence is followed by further evidence of guilt. But Benn has long proclaimed his commitment to clean living, telling a Vice reporter in 2017 that the tattoo of a huge cross in outline on his sternum is the "only part of me I want to keep free, because that's what I've been raised on: Christ, church and clean living at the centre of my core." With the fighter later described in the same piece as "earnest and sincere" and his protestations of innocence backed even by his rival's father, Christians have perhaps some basis for praying Benn is being straight-up with this one.
But first, let's take a look at the faith of the fighter who grew up to inherit more than just his dad's prowess in the ring.
In the DNA
When Connor Benn turned professional in 2016, aged just 19 years old, he had his dad, Nigel, in his corner. But father and son have not always had an easy relationship. His dad's success may have bought Connor a life of wealth and luxury, but the Dark Destroyer's fame also led to mental ill health, drug addiction and infidelity, all of which nearly ended his marriage to Connor's mum, Caroline. After Benn's dramatic conversion to Christianity, the family moved to Mallorca for a fresh start and Connor was enrolled in a fundamentalist Christian school that he has since described as "like a cult". He told journalists that the nightmares he endured as a result of being told that he was demon possessed and needed deliverance led to years of therapy. But surprisingly, it has not led him to desert his Christian faith – although he does admit to rebelling against it for a few years.
In his teens, Connor fell in with a bad crowd: "My dad told me to stay away from them, but I didn't listen. I wanted to be a man," he said in an interview with Shortlist in 2018. Eventually, he ended up in court. "I sat down in my solicitor's office and thought, 'How did I get here? What am I doing with my life?'" The experience prompted another move for the Benn family – this time, to Sydney, Australia. There, they began to attend the famed evangelical megachurch, Hillsong, and Connor began to pursue boxing in earnest.
Despite his conflicted experiences of childhood faith, Connor is clear that he "wouldn't be where I am today without [my Christian] foundation," and would send his own children to a faith school – albeit probably a less fundamentalist one than he attended. "Religion instils morals that used to exist but the world now tends to forget," he continued. "Kindness, goodness, patience, self-control, respecting your elders and thinking about the future, which many people don't seem to do. Things like that, which are quite basic, really, but are forsaken."
Contrasting values
In interviews, this slightly old-fashioned fondness for "old school morals – manners and respect" comes as something of a contrast to the swagger that seems to accompany all boxers. Known as 'The Destroyer' and describing himself as a "ferocious little animal" in the ring, he also speaks about stopping to pray on the way to the gym each morning and talking to his pastor if he is feeling anxious; about being a "role model to young men who ain't got one" and his desire to be a good dad.
That's what I've been raised on: Christ, church and clean living at the centre of my core
Among the verbal sparring that accompanies the build up to any fight, Connor has also been disarmingly vulnerable, telling the Evening Standard that he appreciated "I can't do this on my own, but I'm going with prayers and angels into the ring and I pray that my opponent and I come out unharmed. If God's will for me is to lose or win, it's his decision."
His Instagram feed is full of the usual trappings of elite sports stars – flash cars and designer clothes, beautiful holidays and a perfectly groomed life – but it is also wholesome, in an expensive kind-of way. Connor is happily married to model and radio broadcaster, Victoria, who recently wished the boxer happy birthday on Instagram by saying she was "thankful that God" had brought him into her life. They have a son, Eli, who Connor has told reporters has been dedicated into the Christian faith.
Described in an interview as a "sensitive young man" who "quotes the Bible and never swears," Connor has said he considers himself "a Godly man who makes wise decisions and thinks about the consequences before he makes choices." Among the many tattoos that cover much of his body, he has "Fear God" written across his stomach. Nonetheless, he wouldn't be the first elite sportsperson to allow ambition to cloud good judgement. Let's pray that on this occasion, he hasn't been led astray.

Emma Fowle is assistant editor of Premier Christianity and editor of Voice of Hope, Premier's quarterly devotional magazine. Emma is a trustee for Christian festival Creation Fest and lives in Cornwall with her husband and two teenage daughters. She loves to read, swim in the sea, play netball and lift weights with her dad.
View full Profile