Tyson Fury is a world champion boxer and an outspoken - if often controversial - Christian. So Tim Bechervaise was keen to see how his faith would be portrayed in the new Netflix docuseries that follows the family in the aftermath of Fury's retirement from professional sport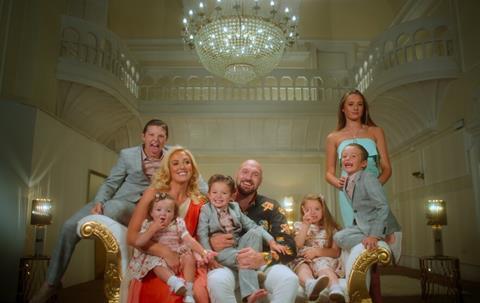 When Tyson Fury comes out on top, he's a very happy man – both in the ring and, now, on Netflix.
The undefeated heavyweight boxing champion was thrilled to tell his six million Instagram followers that At Home With The Furys was number one on the streaming service, just 48 hours after being released.
I was intrigued to watch the show because I find Fury fascinating. He comes from a traveller background (hence his stage name 'the Gypsy King') and has never lost a professional boxing match. The larger than life character has overcome addiction, is open about his mental health problems and fans adore him. Oh, and he's a Christian - with the odd, controversial outspoken view.
Tuning in to watch the nine-part series, I was keen to see how faith was portrayed as part of the everyday lives of Fury, his wife, Paris, and their six children.
Sadly, the references are few and far between. In a segment on marriage, Fury quotes the scripture about becoming one flesh (Genesis 2:24), and his pre-fight routine (spoiler alert: he returns to the ring) involves gathering his team together for prayer, even if the prayer spoken by one person ("Lord, we thank you for Tyson. We look at him in amazement") played to a key theme of the series – Fury's inflated sense of ego!
In the last episode, there is a sweet scene when Fury is fighting Dereck Chisora. Metres away are his two eldest children, including Prince, who is caught on camera earnestly praying: "Please God let him win. Please, please." It's a small reference, but perhaps suggests that prayer is a feature of the children's upbringing.
Perhaps Netflix wanted to avoid problems for themselves. Plus, faith doesn't appeal to the masses
This is fleshed out more in the first episode, where we see the strongest hint towards faith with the christening of their youngest child, Athena. "Religion is good for the household," says Paris. The cameras follow the family to the church, but are not allowed to film the ceremony itself. They return to capture the lavish celebration, which you'd be forgiven for thinking was the main reason behind the event in the first place. "It's a great excuse to get dressed up and have a good time," says Paris.
It added to the impression that, while faith is important to family's upbringing, it's not front and centre in their lives – but is this accurate?
When he won the British heavyweight championship in 2011, Fury entered the ring at Wembley Arena wearing a T-shirt that read: "I found Jesus." After beating Deontay Wilder in 2021, he took to Twitter to thank "my Lord and saviour Jesus Christ". He also credits faith in helping lift him out of the depression that engulfed him (leading to drug and alcohol addiction) after he first retired. "I went down as a 400-pound fat guy but when I got up off the floor after praying for like 20 minutes…I felt like the weight of the world was lifted off me shoulders." His Instagram bio says: "All praise be to God" and, in one post in April, he listed what Jesus means to him.
A missed opportunity
But despite the occasional reference, the role faith plays in the family's life was never fully explored. Whenever Fury talks candidly about his struggles with bipolar, ADHD and mental health, whenever he wrestles with life and meaning in retirement without boxing, and even when he talks about death, there's no mention of faith and the consolation this has given him.
Is this, in part, down to careful editing by Netflix? In the past, the boxer has courted controversy with his views on women and homosexuality. Perhaps the streaming service wanted to avoid problems for themselves? Producers might have assumed faith doesn't appeal to the masses. Alternatively, the lack of religious references could have been intentional on the part of the Furys. They may have been keen to keep this side of their lives private - although given Fury's outspoken references in the past, this seems unlikely.
"Religion is good for the household," says Paris
Either way, from a purely Christian perspective, it felt like a missed opportunity. Many people will be aware of Fury's faith, simply because of his controversial views, and this series offered a chance to show how deep and authentic it is (irrespective of whether or not you agree with him). I'd like to think his faith is genuine, but the series never satisfactorily uncovers this.
Admittedly, this isn't always helped by the behaviour on show in places. Fury's attitude towards Paris sometimes held sexist undertones. Swearing is commonplace and Fury's boxing bravado isn't what you'd call "full of grace and seasoned with salt" (Colossians 4:6). There was also a concerning mention of the role a fortune teller has had on the wider family.
Faith and Fury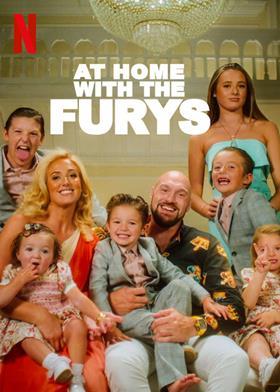 Overall, At Home With The Furys is an enjoyable and, at times, poignant watch. I often laughed out loud – Fury is a winsome character with some cracking one liners - if you're a fan of The Office, you'll quickly spot the odd Brentism!
It was wonderful to see issues such as bipolar, ADHD and alcohol addiction discussed openly and given good airtime, including the impact these can have on loved ones. And the cinematography of Morecombe, Fury's hometown, will surely help draw a few more tourists!
But if, like me, you're wanting to discover more about Fury's own faith, you'll ultimately be left disappointed.
At Home With The Furys is streaming now on Netflix