Launched in 2019 following the birth of her third child (who was given the moniker 'Equality' as a middle name), Becs Dhillon's 'Conversations on Faith and Equality' podcast does what it says on the tin. Teaming up with her dad, Rev Nicky Gumbel, leader of Holy Trinity Brompton (HTB), the father and daughter duo interview interesting Christians from all walks of life.
The 22 episodes range from 40 minutes to an hour long and feature a wide range of (refreshingly UK based) guests. Given her stellar Christian connections, it's no surprise to find an A-list cast of interviewees on Dhillon's roster – from the COO of Coutts discussing diversity and inclusion within one of the world's most exclusive private banks, to Anna Smith, wife of musician Martin, chatting about motherhood. That said, some of the most interesting conversations are with people whose names you may not know, but whose lives, jobs or passions make for fascinating listening. These include, for example, Neenu Thomas, an aid worker in India who speaks about the disproportionate impact of Covid-19 on the poorest parts of the world, and Alex Hopkinson and Louise Detain, who share vulnerably on living with a learning disability, and how the revelations of sexual abuse committed by Jean Vanier impacted L'Arche, the community Vanier founded.
While Dhillon is clear her own particular interest is gender equality, a range of topics are tackled – from fashion to feminism to food waste. The result is compelling range of conversations on the many ways in which inequality affects different parts of our society.
Each interview is different, but most take a conversational tone, led by Dhillon, that involves the interviewee sharing some of their personal story, faith background, work and life experience. Some episodes have more Christian content than others; in places you may be left wanting to know more about an individual's journey to faith, or the deeper theological reasoning behind a particular viewpoint, but on the whole, this is a podcast that is more of a discussion-over-a-coffee than a rigorous intellectual debate.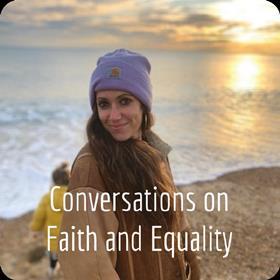 All of the guests hold an active Christian faith, but it is clear that they have been selected not only by this criterion, but also for their range of life experiences and the stories they have to tell. This results in a conversation that is as appealing to a non-Christian audience as a Christian one. And while her dad, a veteran speaker, interviewer and preacher, undoubtedly brings a certain polish to proceedings, Dhillon's laid-back style makes most episodes feel like a casual chat with some super interesting friends.

Listen to Conversations on Faith and Equality here
3 episodes to listen to:
Episode 07 - Karl Lokko
Former gang leader Karl Lokko talks about growing up on a south London housing estate, getting involved in crime and how he became a Christian. Now a business leader, activist and spoken word poet, he discusses racial equality and equity of opportunity for young black people.
Episode 10 - Charlie Webster
TV and sports presenter Charlie Webster made TV history by becoming the first female boxing presenter in 2014. In this absorbing episode, she speaks candidly about growing up in a working-class family, surviving domestic violence and about gender equality in the male dominated world of sports presenting.
Episode 21 - Emma Waring
As a nurse and psychosexual therapist with more than 20 years' experience, Emma worked on the first Viagra trials (it was originally developed as a heart drug). Her insights into sexual inequality, even within Christian marriages, make for enthralling listening.

Emma Fowle is assistant editor of Premier Christianity and editor of Voice of Hope, Premier's quarterly devotional magazine. Emma is a trustee for Christian festival Creation Fest and lives in Cornwall with her husband and two teenage daughters. She loves to read, swim in the sea, play netball and lift weights with her dad.
View full Profile