Adam Kay's hit BBC drama deals with serious themes that are all too common for NHS staff, says Rosalind Revans. But a supportive church community and the help of God can make all the difference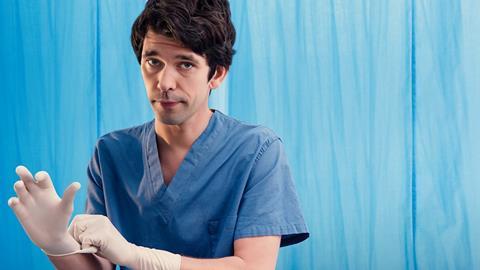 Blood, sweat and tears are just some of the bodily fluids that make a (regular, often explosive) appearance in Adam Kay's new hit BBC drama This is Going to Hurt.
The seven-part series, based on Kay's best-selling memoir of the same name, sees actor Ben Whishaw play the title role of Adam and is based on Kay's own experiences as a junior doctor in the NHS. It tackles tough topics - such as post-traumatic stress and even suicide - with the dark humour that many doctors will instantly recognise: it is the method that many of us regularly deploy to cope with the things that we see and experience every day in our jobs.
As a junior doctor, many of themes that appear in Kay's storyline are all too familiar to me. I, too, have had flashbacks to the traumatic births and deaths that I have witnessed. Fatigue and trauma are commonplace. But when Adam faces the thing that all doctors fear the most - making a mistake that leads to patient harm – the series really hit home.
Mitigating factors
In the storyline that dominates the series, there are significant environmental factors which contribute to the mistake that continues to haunt Adam. He has been working overly long shifts for as long as he can remember, he experiences a lack of senior support and his work environment often verges on bullying. I am glad to say that my experience of the NHS has been much better.
Loving and serving others is made much more possible when you have a support system loving and serving you
The new junior doctors' contract has placed limitations on rotas and introduced safeguards designed to protect us. I am immensely grateful for the doctors who have come before me, who campaigned and went on strike to give us safer working conditions. Although the pressures of Covid-19 and catching up with waiting list backlogs is putting this progress under threat.
How faith helps
But even with these improvements, no one is immune to making mistakes. Doctors are human, and that means that we are fallible. As a Christian, I believe in a God who forgives us for our inadequacies. When I have been kept up at night thinking about a diagnosis I have missed, or a harsh word spoken to a colleague or patient, I have needed to lean on the truth of scripture to calm my mind. Psalm 103:12 puts it beautifully: "As far as the east is from the west, so far has he removed our transgressions from us."
In these moments, I am reminded that God's grace covers me, and I am led to a place of self-forgiveness. This doesn't mean that I don't use my regrets to learn how to be a better doctor but, instead, I am forgiven from a position of repentance for what I have done.
My faith also changes my motivation. Work is more than just my job; it is my worship. As I see Jesus in my patients, I can come to my work with greater compassion and empathy. More importantly, I know I walk in these places with God by my side. When I feel overwhelmed, I can offer up a quick prayer. When I have a rough day, I can come to God and be comforted. When I feel I have no more left to give, God gives me strength.
How to help
For me, the most heart-breaking storyline in This is Going to Hurt is when the isolation and mental strain experienced by one of the main characters leads to them taking their own life. I hate to think how many of my colleagues have been in a similar situation. Being blessed with a loving church family has gotten me through my own dark days of mental illness.
I, too, have had flashbacks to the traumatic births and deaths that I have witnessed
If you've watched this show and wondered how you can help, you could start by being a support to the doctors (and nurses!) that you know. Burnout rates are at an all-time high. I would encourage you to notice the junior doctors in your church (and the paramedics, nurses, carers and other emergency services staff that have been working so hard during this pandemic). Ask how they are really doing and how you can be praying for them. Loving and serving others is made much more possible when you have a support system loving and serving you.
My final message, to any Christian doctors or medical students that are reading this is, yes, this is going to hurt. But we have a God who "heals the broken-hearted and binds up their wounds" (Psalm 147), and that means that it hurts a whole lot less.

Rosalind Revans attended medical school in Leeds prior to moving to Hull, where she worked as a junior doctor. She is currently a GP trainee, having worked in multiple specialties in the hospital as part of her training. She is a member of the Christian Medical Fellowship and has completed their deeper volunteer programme.
View full Profile