The popular Hillsong worship track has won awards and been sung by thousands across the world. Derek Walker explains how the song was born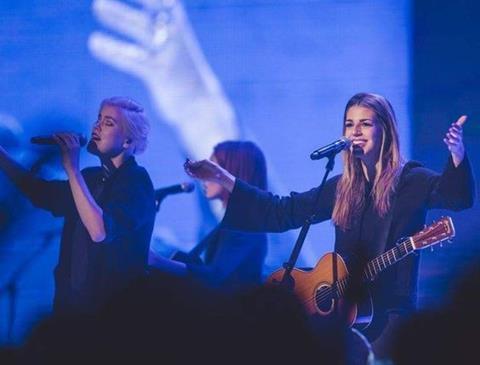 If you've visited an evangelical church recently, the chances are you've heard Hillsong's immensely popular song, 'What a beautiful name'.
The track is written by Brooke Fraser, who came to faith aged 15. She had been musical for as long as she could remember: at 7 she was taking piano lessons and, five years later, she was writing songs.
Ambitious and driven, she told NZ Musician in 2003 how impatient she was to record: "When I was 14, I started hating my birthdays because I was like, 'I've got to get an album out before I'm 16'."
As a teenager she performed solo at Rockquest, the only nationwide, live, original youth music event in her native New Zealand. Her manager spoke of the impression that she made on audiences, recalling how she "went on stage with an acoustic guitar in between two pretty hard out rock bands, and I thought, it'd be a hard one for her. She started playing, and a couple of lines into her first song the crowd just went dead silent - they were transfixed by her."
Shortly afterwards, she signed a multi-album deal with major record label Sony. All five singles from her first album What To Do With Daylight made it into the New Zealand top 20, with one also charting in Australia. The album eventually went seven times platinum. With faith continuing to play an important role in her musical development, her second album Albertine was named after a Rwandan girl she met on a World Vision trip to Tanzania. By then, she had moved to Sydney and joined Hillsong Worship, becoming something of a rarity in the worship scene – a 'proper' songwriter with mainstream music experience.
The inspiration behind the song was biblical, based on Christ's supremacy over everything
A beautiful song
Fraser (now Ligertwood, since marrying fellow Hillsong composer Scott) wrote songs with the Hillsong team initially between 2005 and 2010. These included 'Desert Song', 'Hosanna' and 'None but Jesus'. In 2015 she returned to the fold and wrote 'What a beautiful name' with co-writer Ben Fielding. Ligertwood later said the Grammy-award winning worship song, which also scooped Billboard's top Christian song of 2017, was "penned in a glorified cubicle in the suburbs of Sydney over a few days".
The inspiration for the lyrics came from the first four verses of the book of Hebrews: "In the past God spoke to our ancestors through the prophets at many times and in various ways, but in these last days he has spoken to us by his Son, whom he appointed heir of all things, and through whom also he made the universe. The Son is the radiance of God's glory and the exact representation of his being, sustaining all things by his powerful word. After he had provided purification for sins, he sat down at the right hand of the Majesty in heaven. So he became as much superior to the angels as the name he has inherited is superior to theirs."
The song also draws inspiration from Colossians (1:15-20, 26-27) which speaks of Christ's supremacy over everything, along with his roles in creating, sustaining and redeeming the cosmos.
Ligertwood told The Christian Post that the song has a "balance of sound theology about God revealing himself to humanity in and through Christ, personal lyrics about what that means for the individual, and then strong corporate confession about what that means for us today."
Courting controversy
Despite that assertation, and it's obvious popularity in Christian circles, the song has also courted some controversy. In particular, the line: "You didn't want heaven without us / So Jesus you brought heaven down" casued John Piper to comment on desiringgod.org: "It fits too easily into a theology of a God who created because he was lonely, and then saved people for the same reason. He just can't be happy without us."
Co-writer Ben Fielding defended the lyric in a Hillsong blog, writing: "There is nothing in the scriptures to indicate that God has ever been lonely, but the scriptures do demonstrate a loving God who actively desires reconciliation with humanity. It is certainly not that God needed us, but… God didn't want to leave us out of his eternal plan for salvation."
And for those in the know, who might be surprised that I haven't mentioned, err, droppings: yes, Ligertwood did say at a 2018 conference: "Songs are like poo. Whatever you feed yourself is what's going to come out," adding, in a way that slightly confuses the simile, "Songs are not only like poo, but songs are almost like the ground that's fertilised by the manure of life."
We should maybe leave that there…

Derek Walker is an Oxford-based kitchen designer, Anglican Lay Minister and music lover, who blogs at walkerwords.wordpress.com