As the BBC's Songs of Praise marks its 60th birthday, the programme's longest serving living conductor shares his experiences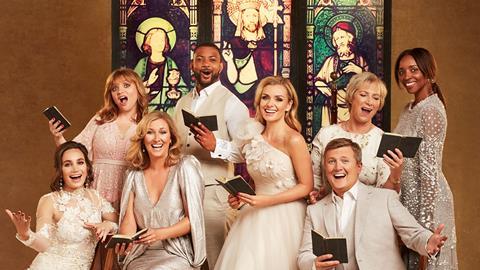 Over these past 60 years, Songs of Praise (SOP) has moved around a lot, not only in the UK, but around the world.
Originally conceived as a programme for shut-ins early on Sunday evenings, the transmission times have also moved around. When it first hit our screens back in October 1961, you had to catch it live. Later in a tea time slot, these days the programme has found a berth at lunchtime.
Songs of Praise is still a favoured calendar mark for a mainly older, and faithful, audience of around one million viewers. And Premier Christian Radio's own Pam Rhodes, who owes a lot of her popularity to the programme, still pops up as a featured and much-loved presenter.
The initial transmission date was less than ten years after our present Queen Elizabeth's Coronation Service. Pioneering black and white television was slowly, then in 1953, creeping into people's homes. With the advent of TV, the population became 'viewers' rather than just listeners to radio sound. For the first time, in the Coronation ceremony, TV cameras were actually permitted to enter ecclesiastical space, to penetrate inside hallowed, holy buildings and, wonder of wonders, relay an actual religious ceremony, live as it happened in real time.
Thousands huddled with their neighbours around scare and primitive TV sets to be awe-inspired by the crowning rituals of the monarch of the realm - and witness, like never before, the magnificence of the music and ceremony. This was an opportunity previously only afforded to the elite, good and famous, privileged to witness the drama happening within the walls of Westminster Abbey.
Hence the instant popularity of Songs of Praise, a few years later, as soon as it hit the screens of middle, God-fearing, Britain.
Although in the early days there seemed little concern for Christian outreach, this new TV programme had a number of other aims and attractions: to "shut-ins", unable to get out to church, it was a lifeline. The transmission of lusty hymn singing gave the lonely a needed spiritual fix, and was clearly a popular and well watched window onto what was happening in church, certainly boosting the image of popular hymnody, musical treatments and congregational singing in the early, post Billy Graham crusades, era of the early 60s. Those attending evening services in church soon heard about this rival opportunity, and stayed home, fascinated by an inspiring window on the worshipping world of church music - their priorities were challenged.
All denominations of the church, large and small, from cathedrals to chapels, were featured. Whether intended or not the programme became an influential partner and actually served as an impressive publicity and marketing tool to sell church to those who'd never stepped inside a building. New hymns as well as old were on the playlist right from the very first programme transmitted from the Cardiff Tabernacle in October 1962.
the programme has always been a travelogue, touring a variety of fascinating and spiritually-alive locations
Essentially the programme has always been a travelogue, touring a variety of fascinating and spiritually-alive locations. Television had at last come, not only to the people but, among the people. For the first time, here was a programme made by amateurs for amateurs, supported by BBC technical wizardry. Many of the UK's most beautiful and popular parish churches and non-conformist chapels, up and down their country, were the chosen locations. The viewer gazed down the throats of worthy songsters who had inevitably dressed up to the nines and showed, for all their might, fervency and jaw dropping animation as they sang, even exaggerated, the worthiness of hymn singing. You eavesdropped, watching others worship. Very soon there spread a movement of enlightenment that was growing in influence and popularity. God was at work, speaking through television.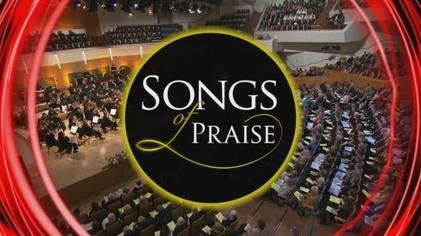 At first it was just a hymn-sing, all filmed in one church location, Michael Barrett or Geoffrey Wheeler giving brief links that usually told the story of the writing of the item. Colour TV hit the country in 1969 and SOP soon broadened the scope of the stylised link by introducing filmed interviews and testimonies, where contributors were actively encouraged to share the good things that God was doing in their lives. BBC One allowed such statements of faith to be aired, which many found uplifting and a few, no doubt, confusing and bewildering. But the testimonies continue to this day, with many viewers reportedly remarking that what is said and shared is more significant these days than the sometimes staged-managed music output.
Personally, as a Conductor of the singing and Musical Arranger, I came onto the SOP radar in September 1973. One of the earliest pioneers, Ray Short, was both the director and series producer of most programmes during the 1970s. My very first filming was in All Souls Church, Langham Place, having the added caché of Cliff Richard taking part in a programme about the new Psalm arrangements that had recently appeared in the publication Psalm Praise.
Considering records, I'm regarded as the longest serving living conductor on the technical team. Many happy memories for me match SOP's own history of 'firsts' and novelties, and through to 2010 or so, I was privileged to be at the cutting edge of many new, innovative programmes, and we have the snap-shots by which to remember them. Homely programmes are there on the list from Lambeth Palace and the Royal Naval College in Greenwich matched by the more exotic from the Palm Beaches in Florida and the City Hall in New York City.
A rosta of adventurous and trusting producers were guaranteed to keep artists, singers, production staff and audiences on their toes. There were noble Series Producers, from Stephen Whittle, Roger Hutchings, Helen Alexander, Ernie Rae and more recently Michael Wakelin and David Taviner. Under them, programme producers roamed far and wide with innovators such as Chris Mann who was always pulling off technical feats and impossibilities for that time, such as celebrating on live television the opening of the Channel Tunnel in Folkestone and Calais simultaneously with a live transmission, and one frosty Christmas linking up directly, live and magically, with singers in Tonga, all filmed out of doors in Trafalgar Square, Central London.
Songs of Praise from the Moon has still to happen, but who knows? One day?
Similarly, notable names and adventurous locations stand out, with John Forrest filming a SOP programme from the Atlanta Olympic Games 1996, together with the Millennium Celebrations being staged in the Cardiff Millennium Stadium in 2000. Medwyn Hughes went even further in the same year to Sydney Australia for the Olympic Games there that year. I know Pam Rhodes and I both have never to be forgotten memories of both of us together filming on that occasion in the glorious Sydney Opera House with 3,000 merrily singing Australians impressing us with their singing and even some Diggery-Doo playing. Simon Hammond and Roy Francis both kept the programme culturally diverse with Gospel Music and West End Theatre sounds thrilling audiences with their powerful singing and testimonies.
Themed programmes and competitions have also long been part of the output of SOP, like the finals of Chorister of the Year, Gospel and School Choirs of the Year proving ever popular. Holiday Specials where hymn singing was filmed on attractively enticing beaches from Blackpool to Cape Town, the Côte D'Azure to Barbados have struck a note of novelty. The creative possibilities have gone through the roof as to just where hymn singing might be imagined. Songs of Praise from the Moon has still to happen, but who knows? One day? Presenters Kate Bottley, Gemma Hunt, Sean Fletcher and Aled Jones, along with our Pam Rhodes, will be queueing up for that one!
We wish the notion of shop-windowing Christian worship, testimony and singing on the world's TV frequencies, as epitomised and encapsuled in the 60 year old Songs of Praise programme a very happy birthday - and a number of more years to come of happy transmitting.

Prof Dr Noël Tredinnick is conductor emeritus and founder of the All Souls Orchestra and the professor of music at the Guildhall School of Music and Drama. He is also a broadcaster, writer and composer
View full Profile