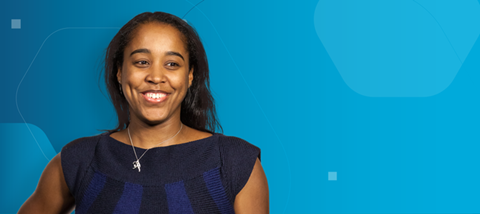 I grew up in a hugely musical family and am a massive fan of R&B. I have many favourite artists but I also make a conscious effort to listen to both Christian and 'inspirational' music. It's important to watch what you're feeding your spirit. Whether or not you're paying attention, music affects us in more ways than we realise!

'Monsters' by Clinton Jordan
A young boy, maybe five years old, was having nightmares. He would frequently run into his parents' bedroom crying until, one day, the father had enough and wrote a song with his son. You can even hear them praying the Lord's Prayer together, declaring his might and power over the situation. That boy is my nephew, and the father is my eldest brother, Clinton. Fifteen years on, 'Monsters' remains a family favourite!

'Help me' by Clareta Haddon-Jackson
I love this song, not only because of its edginess, but because of the desperation and the sincerity of the singer – two emotions that I am sure we can all empathise with!

'Everything changed' by Still Shadey
I was in a musical a few years ago, and, as I was walking to my car after the show, I met this kid and his mates. They were just hanging out, having a chat and I got talking to them.
This young man started telling me about his music and asked me to watch a YouTube video he had made. I fell in love with the song, the video and his spirit, and asked him if I could interview him on my Sunday morning show on Premier Gospel. He continues to go from strength to strength. Everyone should know about Still Shadey!

'Revelation song' by Gateway Worship
This song is just awesome! You know those songs that just stop you in your tracks? 'Revelation song' is one of those! Last year, I remember driving across the country to see a client in another city, and I spent three quarters of the journey just worshiping.
I had to really try hard not to close my eyes as I sang along to this track. It makes my soul sing every time!

When she's not hosting shows on Premier Praise and Premier Gospel, Selene runs the will-writing business Omega Wills. She is also a singer, bass guitarist and former Metropolitan police officer
View full Profile