Jai Bhim might have missed out on an Oscar nomination, but it's still the highest ranked film on the Internet Movie Database (IMDb). And it's not hard to spot the parallels with the persecution of Christians in India today, or the saving grace of Christ, says our reviewer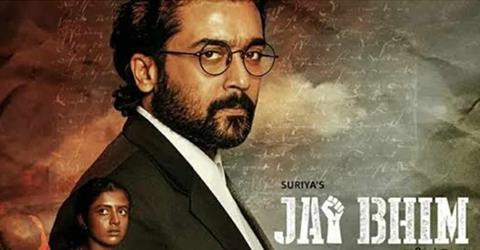 Rajakannu is a member of the low-caste Irula ethnic group in India. Many work as agricultural labourers in the fields of the upper-caste. After jewellery goes missing from a house, the blame soon falls on his community. Rajakannu and his family, including his pregnant wife, Sengeni, are unlawfully detained by the local police and endure unspeakable abuse and torture. Finally, the three men escape from their cell, leaving Sengeni to search for justice.
Jai Bhim reminds us that real judgement offers us hope
Within the Indian caste system shown in Jai Bhim, the Irula people have no identity; the state denies their acquisition of ration cards and other legal documents, and their illiteracy only perpetuates their mistreatment by the powers-that-be. As one police official remarks in the film's opening: "Why has nobody come to receive them? Are they orphans?"
Drama and spiritual yearning
Jai Bhim is high on melodrama: Sengeni hardly goes a second without weeping as she pleads before indifferent lawyers and morally blind police officials. She is helplessly subjected to their perverse attempts to displace her loyalty to her husband and his cause.
The film's evocation of pity is symptomatic of a deeper spiritual yearning. One song in the soundtrack could even be mistaken for a biblical Psalm: "Why create me in this cruel world, Lord? […] You, who is everywhere at once, why are you nowhere near now?"
A call for justice
Jai Bhim's first act invites us to ask: Who will answer this call for justice? Who will wipe away the tears of the oppressed? The answer arrives in the form of Justice K. Chandru, a noble lawyer who volunteers to defend those unable to stand for themselves. In multiple scenes, Chandru enters the court with a triumphant fanfare that wouldn't feel out of place in the latest Marvel movie.
In contrast to the police, who use their power to defend the interests of India's upper caste, Chandru resolves to use his education, experience and influence to offer salvation to the powerless Irulas. The individual case quickly becomes a universal appeal to justice, as Chandru heralds the continuing reformation of a corrupt legal system.
Chandru is not driven by a hatred for the police or his legal rivals, but "love and care towards society." When Sengeni declares that she cannot afford to pay him, Chandru humbly remarks: "I wasn't born a lawyer. I was born just a human."
No surprises
As a video editor for Open Doors, my day-to-day work involves receiving and processing stories of abuse and injustice directed towards Christians around the world. While the events of Jai Bhim are undeniably shocking, they did not surprise me. However, they did offer another perspective on the reality that many religious and ethnic minorities experience around the world.
This year, India entered Open Door's World Watch List top ten, as one of the countries with the highest levels of persecution towards Christians. Christians face daily threats of violence and censorship from extremist groups. The Hindutva ideology, championed by the ruling Bharatiya Janata Party (BJP), proclaims that religious minorities are not true Indians, and that the country should therefore be purified of their corrupting presence.
Unlike Jai Bhim, however, the hostility experienced by Christian minorities is not exclusively enacted by the police or government, but also other villagers and citizens.
True hope
While the notion of judgement is almost blasphemous in much of secular culture, Jai Bhim reminds us that real judgement offers us hope; the film places this hope in the emergence of compassionate and sacrificial lawyers, ready to rectify a discriminatory and violent legal structure. Near the film's conclusion, Chandru boldly declares: "What the court will give is no mere judgement. It is hope."
While there is no explicit mention Christ or Christianity in Jai Bhim, it is not difficult to spot parallels: the public vindication of an innocent victim galvanises the reforming of a corrupt society, all inspired by the intervention of a pure and just leader. A leader who, crucially, is never driven by personal power, gain or acclaim. The fact that Jai Bhim is currently the highest ranked film on the Internet Movie Database (IMDb) just shows us how powerful this role model can be.