It took playwright Ryan Calais Cameron over a decade to write his play about six young Black men dealing with issues of faith, education, fatherhood, sex, racism and abuse. Kayode Adeniran found it gritty, compelling and surprisingly uplifting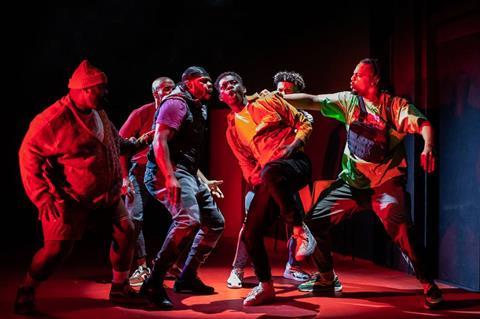 It would be fair to assume that a play entitled For Black Boys Who Have Considered Suicide When the Hue Gets Too Heavy might provide an uncomfortable, sorrowful watch. It would give an additional perspective to the relentless stream of media commentary surrounding the plight of black men, blown into focus by the Black Lives Matter movement a couple of years ago. The negative narratives around black masculinity have stirred conversations around racism, poverty and our society as a whole.
As a black man, I mentally prepared myself for a potentially tough night ahead when I arrived at the Royal Court Theatre to watch Ryan Calais Cameron's production. But to my surprise, what I found was a play containing an overriding sense of joy, laughter and brotherhood while still dealing with the very real and gritty issues facing black men in the UK.
Inspired by Ntozake Shange's 1976 work For Coloured Girls Who Have Considered Suicide / When the Rainbow Is Enuf, the play follows six young black British men: Jet (Nnabiko Ejimofor), Onyx (Mark Akintimehin), Pitch (Emmanuel Akwafo), Sable (Darragh Hand), Obsidian (Aruna Jalloh) and Midnight (Kaine Lawrence) as they explore their own upbringing and personal experiences through a mesmerising mix of poetry, music, dance and hard hitting dialogue. The boys press each other on a range of topics that include religion, education, fatherhood, sex, and even the n-word, with a nuance often missed in our public discourse.
Against the monolith
Perhaps the key achievement of the play is to challenge the idea of the monolith Black Man. The fact there is no homogenous black identity is best demonstrated by the characters themselves. Despite the similarities in their experiences which bind them together as black men - namely, having to deal with society's pressures and prejudices - there are also key differences marking them out as free-thinking individuals in their own right.
In Onyx, we see the self-declared tough guy, perhaps the character which most resembles the mainstream media's portrayal of a black man. He's abrasive and consistently (and humorously) insults the other characters - and anything pertaining to 'whiteness' - throughout the show. But he's also a boy who grew up with an abusive father, perhaps explaining his lack of empathy for others.
Cameron doesn't shy away from showing the influence and presence of faith in the British black community
In contrast, we have Pitch, a black boy whose interests and hobbies meant that, growing up, he always had a gnawing feeling that he was not black 'enough'. Sable, the stereotypical light skinned hunk, helps us explore themes of colourism, and gives us a glimpse into the struggles of someone whose sexual adventures mean that he has defined himself by his ability to attract and have sex with others, but still ends up feeling hollow, tired and empty inside.
Through Jet we see a man who is battling to navigate his homosexual desires, specifically in the context of losing his black friends, family and community. Midnight is a man marked with a particular swagger and overconfidence, particularly in relation to women, but when we dig deeper we find insecurities and confusion stemming from his molestation as a nine-year-old child.
And in Obsidian's character, we see the proverbial 'good black boy', refusing to use the n-word (unlike the other characters) and seeking to persuade his peers that the pursuit of an education and career aren't 'white' values, but good values. Toward the end of the play, Cameron uses Obsidian in a funny-turned-heart wrenching knife scene, reminding the audience that those who do not value their own life will find it easier to take another.
A permeating faith
Though not explicitly a Christian piece of theatre, undertones of Cameron's strong faith permeate the play. From a hilarious scene portraying an African Pentecostal church service (drawing large amounts of laughter from black members of the audience), to the collective rally cry against suicide (including a reference to how we are all created in the image of God) Cameron doesn't shy away from showing the influence and presence of faith in the British black community.
Each performance is filled with relentless energy and commitment. Each traumatic story is handled with grace and affection. But, at the same time, Cameron regularly weaves in moments of comedy and elation, with the boys wittily mocking cheap chat-up lines or breaking out into catchy, exuberant song.
The play took the best part of a decade to develop, and encapsulates Cameron's journey as a young black man. Between the play's inception to its showcase at the Royal Court, Cameron got married, became a Christian, moved out of his mother's home, started his own business and became a father to four black children (all of whom are boys, by the way). Through all of these prisms Cameron has produced a stunning piece of art. I would heartily recommend this play to all.
For Black Boys is now showing at the Royal Court Theatre. For more information see: royalcourttheatre.com/whats-on

Kayode Adeniran is a lawyer based in London and, until recently, a local councillor. He is a member of Grace London in Waterloo
View full Profile