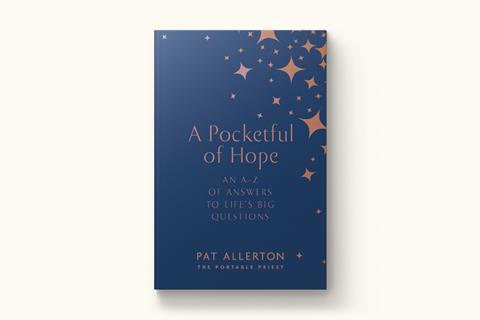 While the dark days of Covid-19 lockdowns are becoming an increasingly distant memory, the image of a lone vicar cycling the empty streets of his London patch, stopping to pray and play a hymn to his unsuspecting parishioners is an event that many of us still recall with a great deal of warmth and affection.
Fast forward two years, and Fr Pat Allerton – the Portable Priest who led those eight-minute services on 64 doorsteps in his parish – has authored his first book: a pithy A-Z anthology of short stories intended for those looking for answers to life's big questions.
From the outset, Allerton explains that he isn't writing primarily for "religious people", but for those who describe themselves as being "spiritual but (definitely) not religious". Having defined his audience, the Roving Rev then introduces himself as someone who came to faith and was filled with an inexplicable hope during a school camp he attended, aged 18.
Now writing as a vicar in the Church of England, the theme of hope – and the importance of sharing the good news of the gospel – is no less important to Allerton than it was when he was an enthusiastic teenager.
In bite-sized, easy-to-digest chunks, issues of anxiety, brokenness, courage, destiny and eternity are addressed with scripture-laced stories. Some may find Allerton's answers a little simplistic and naive, but there will be a great many more who will find his A-Z the encouragement and source of hope that it's intended to be.


Roger Cooke is a rector in the Church of Ireland. He is married with three children and lives on the Causeway Coast in Northern Ireland
View full Profile