Everyone should watch this film, says Krish Kandiah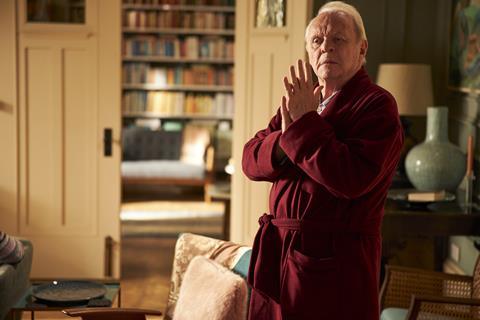 Anthony Hopkins has haunted my life. His portrayal of the terrifying serial killer Hannibal Lector in Silence of the Lambs was the most disturbing performance of my childhood.
As a young adult I remember feeling unnerved in the wake of the film Remains of The Day where Hopkins plays the part of a man whose over-commitment to work resulted in his failure to find love in his life.
His most recent performance in the ground-breaking film The Father is likely to be the most disturbing of my midlife. Nevertheless it is an important film I believe everyone needs to watch.
1. Confronting our mortality
The Father is based on an award-winning French play where the lead character's name is Andre. But Hopkins plays it as a man in his 80s called Anthony. There is a deliberate poignancy to this as Hopkins himself is a man in his 80s and this immediately sets up the audience to question what is and what is not real.
Making the lead character eponymous is a bold move when the subject matter of the film is around growing old, facing senility and even death itself. Very few of us are ready to face our own mortality as brutally and powerfully as this film does and for me it is the performance of a life time for Hopkins who won both a BAFTA and an academy award for best actor.
Apple founder Steve Jobs once said that the reason he didn't put an off switch on his devices was because he didn't like the idea of life ending. Many of us can relate to this drive for immortality: whether it is through a fitness obsession, the pursuit of wealth and possessions or a desire for a legacy of impact in the world, the unspoken fear of death can enslave us.
A key part of Jesus' mission was liberating us from our fear of death. The letter to the Hebrews includes this analysis: "Since the children have flesh and blood, he too shared in their humanity so that by his death he might break the power of him who holds the power of death – that is, the devil – and free those who all their lives were held in slavery by their fear of death." (Hebrews 2:14-15)
The Father will help us hold a mirror up to our fears. Like Hopkins' earlier films, it could open up serious conversations around life, death and purpose and challenge us to face one of life's ultimate questions: How do we face death?
2. Challenging our responsibilities
Anthony's daughter Anne is played by Olivia Colman who, of course, turns in another stunning performance. The film begins with her quest to find a new carer for her father who, having chased his previous carer away, is becoming increasingly unpredictable and difficult. Anne, about to set up a new life in Paris, needs to find a permanent solution to her father's care needs. Many of us can empathise with Anne's dilemma; to honour her father's wishes to be independent or to provide assistance so he can be safe? Meanwhile she also has to face her own sadness at his decline and guilt at not being able to be there for him.
This film raises important questions about one of the clear markers but not often discussed indicators of genuine faith – how we care for our parents.
Paul writes to his beloved son in the faith: "Give the people these instructions, so that no one may be open to blame. Anyone who does not provide for their relatives, and especially for their own household, has denied the faith and is worse than an unbeliever." (1 Timothy 5:7-8)
I am struggling to think of a sermon that I have heard on the whys and hows of caring for elderly or vulnerable parents, even though Paul clearly argues that this is a fundamental marker for anyone claiming to be a Christian. Colman's performance draws us into a deep sympathy with someone struggling to be the loyal daughter to her aging father and will offer rich material for the church's support of those that are caring for relatives and challenge to those who aren't.
3. Calling to care for the suffering
I hadn't read any reviews or plot synopses before I watched the film and I found myself trying to figure out what genre it was. Was it a family drama? Was it a murder mystery? Was is it a horror movie? It certainly has elements of all three. The most horrific aspect was the way the director portrayed the world from the perspective of someone wrestling with dementia, paranoia or Alzheimer's. The film is powerful in the way it helps you feel something of the disorientation and panic that comes with losing your mind - and it is incredibly disturbing.
Watching the film helped me empathise both with those that care for those who are suffering with dementia and with those who are experiencing it for themselves. It is a very difficult film to watch in this regard, but as Christians we are called to follow in the footsteps of our compassionate Christ. Jesus deliberately chose the way of suffering so he could relate to us, advocate for us and ultimately rescue us. I challenge anyone to watch this film and not feel motivated to empathise with and advocate for all those who are suffering the debilitating horrors of anxiety, panic and confusion.
The Father is in cinemas from June 11 (thefatherfilm.co.uk). For a free downloadable guide visit the CPO website
Dr Krish Kandiah is the director of Sanctuary Foundation and author of Paradoxology - why Christianity was never meant to be simple. Together with his wife Miriam they are adoptive parents, birth parents and foster parents. They have recently published two books for children - check out their Whistlestop Tales series (Hodder Faith Young Explorers).
View full Profile