Last week, Apple removed the Bible and Quran from their Chinese app store in response to government pressure. Many have seen this as yet another restriction of religious freedom in China, but Dr Alexander Chow says such a concept never existed in the first place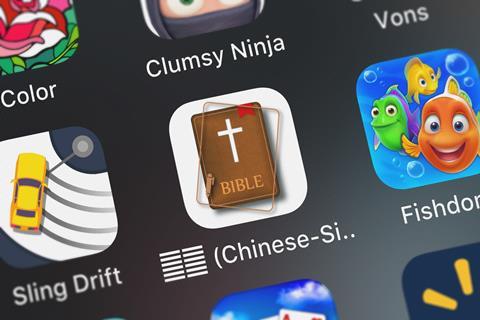 "China bans online sale of Bibles." "China increases surveillance of pastors." "Apple Takes Down Quran and Bible Apps at Request of China."
In recent years, headlines like these have dominated media coverage of Christianity in China. These articles underscore how Chinese authorities have restricted the freedom of religion.
However, they miss a key point: the People's Republic of China has never extended freedom of religion to its people. Instead, the Chinese constitution speaks about how all citizens "enjoy freedom of religious belief." How's this different? According to Document 19, a policy document produced by the Communist Party, religious belief is "a private matter, one of individual free choice for citizens." (my emphasis) Because religious belief is private, the Party has been able to impose restrictions on the extent of public religious expression. Religious activities are also limited to sanctioned locations and led by persons approved by the state.
This is at odds with Western democratic values, which insist that the state should not restrict Christian activities in any form - sometimes even in the face of a pandemic. It's also at odds with Western individualism, which underscores freedom of speech and religious practice as being acceptable as long as they do not harm or impinge upon the freedom of others.
Individual vs Collective
Westerners are concerned that China is an Orwellian state that can take away all individual liberties. However, in China, it is less about individualism and more about promoting the collective good. For Christians, both positions place a tremendous amount of trust in humans and human institutions, and the power they hold.
China's approach today is modelled after imperial-era administration of religion. Imperial bureaucracy managed how religions could either work with the empire, or be labelled as an "evil cult" (a legal term still used today)—and therefore be deemed illegal and punishable by law. Freedoms in China have always emphasised how citizens play an important role in the state's aspirations for stability and harmony in the society.
Document 19 recognises that religion is a part of human history, but claims that it will eventually die out. In the meantime, the Communist Party should support all citizens to have the freedom to believe and to not believe in religion. Even more, the Constitution insists that the state should protect "normal religious activities," however that may be defined.
Tech for good
Since the 1990s, this has been complicated by the internet. To manage this, the Chinese government created one of the most sophisticated censorship systems in the world: the Great Firewall of China. It's known for blocking access to major foreign websites such as Google, Facebook, Twitter and Wikipedia. It also censors domestic online activity, swiftly removing content and taking down social media accounts of dissenting voices.
In the past four decades, Chinese citizens have enjoyed flexibility in religious expression. At one point, internal government documents even spoke of a "Christianity fever" occurring in China. Beginning in rural villages, Christianity has spread to all sectors of Chinese society. Since the 2000s, large urban churches in China have increasingly exercised a public voice, engaging in the civil society and speaking against social ills.
The rise of the internet has coincided with the rapid growth of Chinese Christian online periodicals and discussion forums. Many focus on Christian theology and spiritual practice. Some include legal commentary written by Christian legal scholars. To avoid censors, these websites are sometimes hosted on servers outside of mainland China. They can be blocked by the Great Firewall, but Chinese netizens "climb over the wall" using a VPN to gain access.
Furthermore, Chinese Christians have often engaged in public discussion on Chinese social media such as Weibo or WeChat. This allows for a more rapid response to recent events and garners a much larger readership. However, Chinese censors can also quickly take down problematic content.
Dissenting voices
There is the case of the pastor Wang Yi, a former law professor and human rights lawyer who converted to Christianity and started a house church in 2005. He became well known on Chinese social media for his theological and political commentary. In December 2018, his outspokenness came to an end when he was arrested on the charge of "incitement to subvert state power" and his social media accounts were closed. 48 hours after his arrest, members of his church used Facebook and GitHub to circulate a letter penned by Wang in anticipation of his arrest entitled "My Declaration of Faithful Disobedience."
High profile cases like Wang Yi are more the exception than the norm. Christian websites continue to exist, hosted on servers within China, and Christianity continues to be discussed on Chinese social media. Government authorities have even encouraged churches to broadcast services online in an attempt to curtail the spread of Covid-19. Rather, restrictions come about largely in response to perceived excessiveness.
The People's Republic of China has never extended freedom of religion to its people
Last week, the religious freedom charity Open Doors called on Apple to speak out against "blatant religious discrimination" after a Bible app was taken down from its app store. But when considering the "ban" on online sale and distribution of print and digital Bibles, it is important to remember that, strictly speaking, it has never been legal to sell and distribute Bibles openly in China, except through sanctioned outlets such as state-registered churches. Authorities only took action on these online activities after a tightening of "Cyberspace Sovereignty" was put into Chinese law, alongside revisions to the "Religious Affairs Regulation."
A matter of perspective
Westerners are often concerned about a power-hungry authoritarian state that limits religious freedom. But the Chinese state has a responsibility to bring unity and stability to a diverse society. In contrast, many Westerners are in countries where they freely give up information to multinational corporations like Google, Facebook and Amazon, for the convenience of catered search results and advertisements, and in the name of consumerism. In practice, there are benefits and risks in every state we live in.
Christians should be concerned about abuses in power. But it is perhaps less about a state's sovereignty or even an individual's sovereignty. Both are a pale imitation of divine sovereignty, the ultimate source of authority within and beyond this world.

Dr Alexander Chow is Senior Lecturer in Theology and World Christianity in the School of Divinity, University of Edinburgh, and Co-Director of the Centre for the Study of World Christianity. He teaches and researches in theology, the world church (especially in China), and digital theology. He is the author or editor of several books, including Chinese Public Theology (Oxford University Press) and Ecclesial Diversity in Chinese Christianity (with Easten Law; Palgrave Macmillan). He maintains an academic blog (http://alexanderchow.wordpress.com) and can be found on Twitter at @caorongjin.
View full Profile