Since the leak of the ruling that would eventually overturn Roe v Wade, over 70 pro-life organisations across the US have been attacked - the most severe of which was the firebombing of CompassCare Pregnancy Services in Buffalo, New York. As yet, no arrests have been made. Rev Jim Harden, CompassCare's CEO says enough is enough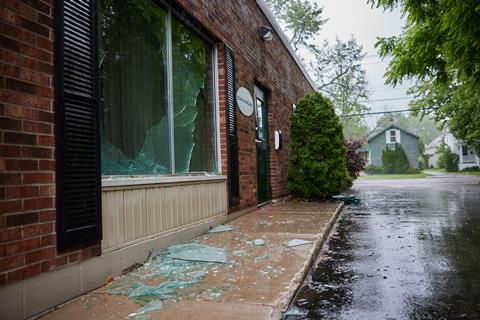 When Ruby* learned that she was pregnant again, she felt overwhelmed. A single mother in her mid-20s, she just couldn't imagine bringing another child into the the world. Earlier that week, she had called Planned Parenthood and started the chemical abortion process, taking the first pill. But after a fitful night's sleep, she realised she had made a mistake. Frantically searching for information on reversing a chemical abortion (which according to research is 400 per cent more dangerous than a surgical abortion) she found CompassCare.
But while Ruby restlessly slept, CompassCare's Buffalo office was burning. Targeted in an attack by a pro-abortion group known as Jane's Revenge, it was one of over 70 pro-life organisations that has been attacked since the overturning of Roe v Wade. The motto of Jane's Revenge is: "If abortion isn't safe, then neither are you." After their first firebombing in Madison, Wisconsin, the group demanded that pro-life organisations disband within 30 days. CompassCare did not and, as a result, was firebombed.
Six days after the firebombing, the New York Governor signed a bill investigating not the arsonists, but pro-life pregnancy centers
So, when Ruby called for an appointment the next morning, she had to be referred to our clinic in Rochester (over 70 miles away) for her baby's life-saving care. When she arrived, a nurse ushered her into an examination room and performed an ultrasound. The image revealed that her baby was still alive, with a strong heartbeat. Ruby received pregnancy-sustaining progesterone therapy and, upon hearing the good news of the gospel and Jesus' love for her, gratefully gave her life to Christ as well.
Under attack
Despite being threatened with more severe violence if we do not stop serving women, CompassCare continues. As Christians, we are called to fear God alone and serve people sacrificially. So, while our building was severely damaged, we continued serving patients and were back up and running in an alternate location the very next day. Beyond that, the rebuilding of our facility began immediately with a Nehemiah-like goal to reopen services at the firebombed location just 52 days later, on July 29.
Despite over 70 pro-life organisations across the country being targeted in this way, unbelievably, at the time of this writing, no arrests have been made. Adding insult to injury, six days after the Buffalo firebombing, New York Governor, Kathy Hochul, signed a bill investigating not the arsonists, but pro-life pregnancy centers, referring to pro-life people as "Neanderthals." Meanwhile, New York Attorney General, Letitia James, wrote a letter to Google demanding that the company remove pregnancy centers from their maps so that women facing unplanned pregnancy could not find us.
CompassCare, and other pregnancy centres like us, are under physical attack, but there has been no public outcry in the mainstream media. Pro-life people, and organisations like CompassCare, are being treated like second-class citizens because we believe in what the Bible says: that all people are made in the image of God and must be protected - especially preborn babies, society's weakest and most vulnerable.
Serve women. Save lives. Never stop.
And while pro-abortion terrorists and politicians mean to instill fear and shut us down, CompassCare refuses to stop. Like Peter and John, CompassCare has been commanded "not to speak or teach at all in the name of Jesus." But by the grace of God, like Peter and John, we will continue to say: "Whether it is right in the sight of God to give heed to you rather than to God, you be the judge, for we cannot stop speaking about what we have seen and heard" (Acts 4:18-20).
After their first firebombing, Jane's Revenge demanded that pro-life organisations disband within 30 days
In the Supreme Court's majority opinion on Roe v Wade in 1973, it stated: "The word 'person' does not apply to the unborn." Therefore, preborn boys and girls were robbed of the Constitutional protection of their right to life, paving the way for abortion. On June 24 2022, the Supreme Court overturned this saying: "The Roe decision was egregiously wrong." Weeks ahead of the official release of this historic majority ruling, the illegally leaked draft sparked a nationwide, domestic wave of terror against pro-life organisations such as ours.
Now, more than ever
Despite this, the need is greater than ever. Thankfully, the reversal of Roe caused thousands of abortion appointments to be canceled in states which chose to immediately outlaw the practice. But make no mistake, abortion tourism has begun with women travelling to states like New York, where it remains legal, or going online to get abortions.
This is why CompassCare has been developing a presence in all of New York's abortion hub cities. It is why we are rebuilding bigger in Buffalo, to increase our capacity to serve an influx of patients from out of state. It is why we are purchasing a building in Albany to serve the 25 per cent of all women in the Capital region who are seriously considering abortion. It is why we are providing 650 pro-life pregnancy centers across the United States with the 21st-century telehealth tools they need to serve women before they travel or go online to get an abortion.
But what should we to do about the current attacks against pro-life people and organisations? Scripture tells us: "But even if you should suffer for the sake of righteousness, you are blessed. And do not fear their intimidation, and do not be troubled, but sanctify Christ as Lord in your hearts, always being ready to make a defense to everyone who asks you to give an account for the hope that is in you." (1 Peter 3:13-15, NASB).
*Names and details have been changed to protect patient confidentiality.

Rev Jim Harden is president and CEO of CompassCare Pregnancy Services. Jim has led CompassCare to become the first repeatable medical model of operation in New York State, thereby opening the door for other Pregnancy Resource Centers to do the same. Jim has worked as an adjunct professor of theology and worldview and as a senior pastor, as well as being involved at various levels of leadership in a number of other non-profits.
View full Profile