In a room full of the great and the good - those commonly viewed as the most important people on the planet - the Archbishop of Canterbury made a pointed statement that celebrated our equity of access to God's grace, and challenged the watching millions to put their faith in Jesus Christ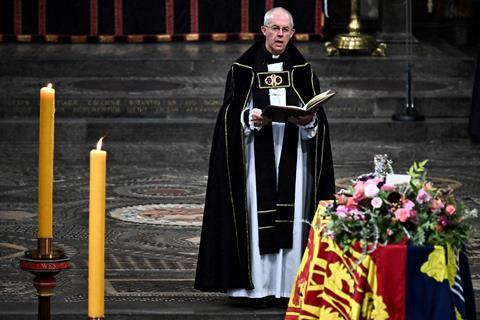 His full sermon was just shy of 500 words long and took less than sx minutes to deliver. I know, because I just transcribed it. I also know - because I have the privilege of writing opinion pieces fairly regularly and preaching occasionally in my home church – how hard it is to say anything of consequence, substance and coherence in such a short time.
On top of the media scrutiny, and the nerves that must surely impact even the Archbishop of Canterbury on such an occasion, there's also the pressure of knowing that this sermon would be watched by half the world's population. Anglican or Baptist, free church or Pentecostal, there cannot be a Christian in the land unaware of the enormous opportunity that such an occasion presents. Phil Knox, head of mission for the Evangelical Alliance, called it "arguably the greatest evangelistic opportunity in history". No pressure then.
At the heart of the Christian message is an outrageous claim to equity of opportunity and equality of responsibility
Justin Welby himself called it "the honour of a lifetime" to preach at the Queen's funeral. But by any measure, it must also be an overwhelming task: pay tribute to Britain's longest reigning monarch, comfort a grieving family in their loss, and communicate the hope of the gospel she held so dear…in six minutes.
In the days since her death, even our secular press has acknowledged the Queen's deep personal faith and her gracious, but clear, communication of it over the years. Through her Christmas speeches in particular, the Queen regularly reflected on world events - and those closer to home - through the lens of her Christian faith, testifying to the strength it gave her and encouraging others to follow Jesus' example. Many have commented on the unique evangelistic opportunity she was presented with, and how well she made use of it. In her funeral, much has already been said of her careful curating of the content broadcast into four billion homes and what it said of the God she served. In short, Archbishop Welby, how to follow an act like Her Majesty?
One thing remains
Beginning with reference to the Queen's promise of service, made at the tender age of 21 and fulfilled over 70 long years, Welby dwelt not on her perfection, position or authority, but on the God she faithfully served. I'd think she'd have wanted nothing less. He reminded the watching millions, as well as all those present in Westminster Abbey, that the Queen's life and example were such because she, as St Paul put it, "follow[ed] the example of Christ." (I Corinthians 11:1).
It was, perhaps, a pointed message, to those within the walls who were "famous" and "respected" in this life that, in death, only one thing matters.
At the heart of the Christian message is an outrageous claim to equity of opportunity and equality of responsibility that few can truly fathom. Whether a Christian lives in anonymity or dies in a palace, we "are all one in Christ Jesus." (Galatians 3:28). Whether we are born into royalty or are raised in obscurity, we all have the opportunity to accept his free gift of grace. Equally, whatever privileges are conferred upon us or however untouchable we may feel, we will, the Archbishop reminded us, one day "all face the merciful judgement of God."
It's not a popular message in today's pluralistic society, but it remains the truth at the heart of the Christian message. The Queen may have picked the reading, but it was reassuring to hear Welby echo those particular words from the pulpit on the grandest of occasions: "Jesus…said: 'I am the Way, the Truth and the Life.' (John 14:6).
Service and silence
Reminding those present that the Queen began her reign in silent communion with God, he declared that "people of loving service are rare in any walk of life. Leaders of loving service are still rarer."
In a room full of the most powerful of leaders from across the globe, he went on to drive the message home: "In all cases, those who serve will be loved and remembered when those who cling to power and privileges are long forgotten."
Turning to her family, he also managed to do what all those charged with priestly calling must: minister pastorally; while also reminding a watching world to cut them some slack. They were, he reminded us, not unusual in their grief. "Many families around the world…have themselves lost someone recently," said Welby. But not many did so "in the brightest spotlight." With Twitter feeds and column inches full of analysis of body language and comment on strained family relations, the archbishop did what any good priest would, asking that "God heal their sorrow" and that "the gap left in their lives be marked with memories of joy and life." It was a poignant, personal moment in the midst of an intensely public occasion.
Hope in death
Finally, he preached it home. "Service in life, hope in death. All who follow the Queen's example and inspiration, of trust and faith in God, can with her say: 'We will meet again.'" Concluding his short speech, Welby took aim and fired (as all who shared his faith prayed he would). In life, the Queen did what she felt called by God to do – serve, lead by example and, when given an opportunity, "always be prepared to give an answer to everyone who asks you to give the reason for the hope that you have." (1 Peter 3:15). That hope was Christ, and it is a hope available to all. Good on you Justin, for making it so crystal clear.
In the nine years he has served as Archbishop of Canterbury, I wonder how many conversations Justin Welby has had with the Queen? I wonder if they discussed today's sermon, the tone it might take, or the opportunity it presented? From what I have read of her, as I have edited so many first-hand accounts of her life this past month, I reckon there is a high chance that they did.
So, how did he do? Pretty good, in my humble opinion. I think the Queen would have approved.

Emma Fowle is assistant editor of Premier Christianity and editor of Voice of Hope, Premier's quarterly devotional magazine. Emma is a trustee for Christian festival Creation Fest and lives in Cornwall with her husband and two teenage daughters. She loves to read, swim in the sea, play netball and lift weights with her dad.
View full Profile