The MP who was infamously caught on camera while being unfaithful to his wife and breaking Covid regulations has entered I'm A Celebrity Get Me Out of Here. He says he wants forgiveness. But Rev Jules Middleton wonders whether eating animal genitalia is a legitimate act of penance, or just TV gold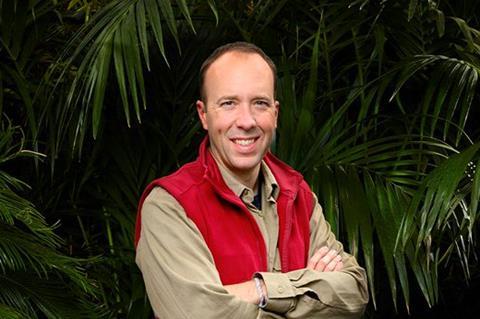 "What I'm really looking for is a bit of forgiveness," Matt Hancock appealed to his fellow I'm a Celeb contestants last week.
In doing so he drew hugs from camp mates and the ire of many back home in the UK.
Hancock has spent the last few years surrounded by criticism and controversy. As former Health Secretary during the pandemic, he oversaw much of the UK's response to Covid-19, including rules around social distancing. He then broke those rules rather spectacularly, being caught on CCTV in Whitehall in a passionate embrace with a woman who was not his wife. There have also been questions raised about the government's handling of the pandemic and money that was spent, with an inquiry ongoing. His decision to enter the jungle therefore has drawn condemnation from many. The whip was removed and Rishi Sunak said Hancock's decision was "disappointing".
In recent days, however, Hancock has come across as a likeable chap, up for a laugh. He has undertaken hideous trials willingly, winning meal stars with a cheeky smile. It's hard not to like him and want to cheer him on. So, is he the big villain we love to hate, or a repentant sinner, intent on redemption?
To put another way, is eating animal genitalia an act of penance, or just TV gold?
Hancock did offer something of an apology. While starting off by saying he hadn't done anything wrong, he then conceded he had broken the 'guidance' (which we might note, he set). For some viewers this was enough: he has said sorry, let's draw a line under it and move on. The reason he gave for the rule breaking was because he "fell in love" - not much consolation to the many loved up couples who stayed away from each other for months on end, or for that matter, his wife.
His plea for forgiveness came after some tough questions about the pandemic from his campmates, with news reader Charlene White saying: "sorry, for a lot of families like mine doesn't really cut it." Twitter was awash with heartfelt stories of those who had lost loved ones in the pandemic, unable to see them, say goodbye or even have a proper funeral. Many said they could never forgive him. Others were giving him the benefit of the doubt, won over by his charm and chat.
Of course the viewer only sees what programme editors want us to see and perhaps there is some serious PR work going on here from the Hancock camp, but DJ Chris Moyles (another camp mate) hit the nail on the head, when he asked: "what is he sorry for?"
As Christians we are all about forgiveness. It's drilled into us. Jesus told us to forgive, so we should do the same.
However, one can't help but wonder if Hancock is after 'cheap forgiveness'? Is he just hoping for a quick re-acceptance from the public, while building a foundation for the next stage of his career, all the while not really acknowledging the depth of pain that has been caused by his actions?
Jesus' message on forgiveness is clear. He implores those listening in Luke 6, not to judge or condemn; to forgive and likewise it will be given to you. Sat alongside a bereaved family, stuck in their grief and anger, these words set an almost impossible target. It is not right that people died alone in hospital beds unable even to see their nurses faces, obscured by PPE; it is not right that some sat at a loved one's funeral alone in a pew because that was what we were told to do; it is not right that Hancock broke his own 'guidance' while many suffered; and is it right that he can be swanning about on a trivial (sorry Ant & Dec) TV show, trying to rebuild his career while many find it hard not to be angry and unforgiving?
Ultimately, it is God's forgiveness that matters. 1 John 1 reminds us that if we confess our sins, we will be forgiven by the faithful one. If not, we are deceiving ourselves.
Only Matt Hancock will know whether his plea was delivered with integrity or not. Is he really seeking the freedom to be able to walk free of all that he has done wrong, knowing that utter sense of relief, of love and redemption? And if he is, would we really begrudge him that?
I wonder though, if actually we might be forgiven for not being able to allow him that just yet.

Rev Jules Middleton is a vicar in the Church of England, author, wife, mum, lover of Jesus and the sea - not necessarily in that order. She writes at pickingapplesofgold.com and tweets @redjules
View full Profile