Bullying occurs in the boardroom, the classroom and even in government, says Ross Hendry. As Christians, we should be thankful that the standards and values in public life, rooted so much in the Bible, have been upheld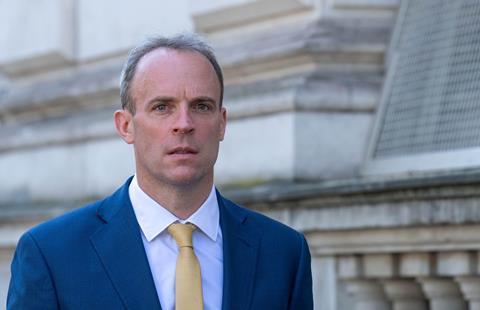 Dominic Raab has resigned as deputy prime minister after an enquiry, commissioned by the Prime Minister into complaints made against him by 24 civil servants across three different departments, upheld two of the complaints. The allegations focused on claims of bullying and similar inappropriate behaviour, and were deemed significant enough to require his resignation.
It's a decision challenged by Raab himself. His resignation letter places "professionalism" at the centre of questions surrounding his conduct; one of the three values that Rishi Sunak said would be at the heart of his administration (alongside honesty and integrity). Raab clearly disagrees with the decision to uphold two of the complaints against him; he believes that his behaviour was about driving through change and challenging poor performance in his department. He articulates this in a column for The Telegraph, in which he claims the "Kafkaesque saga" sets "a dangerous precedent".
Lowering the bar
His resignation letter states that the report's findings have the potential to lower the bar of professionalism in government, by creating an environment where ministers are unable to challenge poor quality work. But as others have quite rightly pointed out, excellence is achieved in workplaces across the country – including in government departments – without managers and bosses being accused of toxic behaviour. Workplace dynamics can be complex, but it does appear that the right conclusion has been reached in this case.
The Seven Principles of Public Life are deeply rooted in biblical values
It is right for Raab to resign. It is right for the prime minster to uphold the values he has committed to and, as Christians, we can acknowledge the integrity shown in reaching this outcome. But it is regrettable that it has not led to self-reflective honesty and humility from Raab.
In my career, I have worked as a civil servant, and as chair of the Anti-Bullying Alliance, a coalition of children's charities and public authorities that campaign to protect children from bullying. Through both roles, I have accrued an understanding of the power dynamics within government departments, and what bullying looks like in the board room as well as in the classroom. The Anti-Bullying Alliance defines bullying as "harmful or hurtful repetitive actions or behaviour between two parties where there is a power imbalance".
A dangerous relationship
In the office of a government minister, there is a large power imbalance, which makes the potential for damage even more significant. If you have no experience of working within a government department, it is difficult to comprehend how strange the dynamic can be between minsters and civil servants. Ministers often come to their role with little or no experience of managing large organisations or teams, especially in the public sector. Most are acutely aware that their role can be taken away in an instant. There is little time for relational capital to be built and it is easy for the working relationship between politicians and officials to lack trust and empathy.
Excellence is achieved in workplaces across the country without managers being accused of toxic behaviour
When things go wrong for a minister, the temptation can often be to blame others – it is a normal human trait. Using power wisely in that situation is much more challenging than many of us can imagine. This does not excuse Dominic Raab's (or any other minister's) bad behaviour, but it may explain why we often see politicians accused of bullying.
Biblical principles
In 1995, the Seven Principles of Public Life (also known as the Nolan Principles) were published. They are deeply rooted in biblical values: selflessness, integrity, objectivity, accountability, openness, honesty and leadership. They apply to everyone in public life, both elected and non-elected officials. The Principles define leaders as being expected to "exhibit these principles in their own behaviour and treat others with respect". They should "actively promote and robustly support the principles" and "challenge poor behaviour wherever it occurs".
The biblical model of leadership is to serve. That requires difficult situations to be dealt with from a place of humility and grace. Ministers and civil servants might want to take note of theologian Tim Keller's argument that "truth without love is harshness" and "love without truth is sentimentality".
I am sorry that the deputy prime minister has had to resign, but I am pleased that standards and values in public life, rooted so much in the Bible, have been upheld. We can be thankful for this, and pray that a culture which condemns bullying will persist at the highest level of UK politics.