In the days since Argentina lifted the World Cup trophy, much has been made of the spirit of Maradona guiding Messi to victory. But what of the Spirit of God, and his own personal faith? asks Tim Bechervaise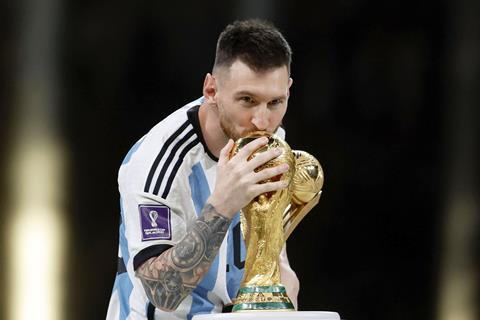 When it comes to football, it takes little to irritate me — and this World Cup has been no different.
Prior to the tournament, I lost count of the times someone said: "Lionel Messi deserves to win this World Cup." It grated on me, because it implied that he had a divine right to walk away with the trophy, just because of his prior achievements in the game.
But then Sunday's final neared and, as people asked who'd I'd like to win, I replied: "Argentina, because Messi deserves it." Yes, I'm big fat hypocrite (and also a bit salty because of France's victory over England).
And so here we are, a few days after the finest ever World Cup final, in which Lionel Messi took centre stage as Argentina drew with France before beating them 4-2 on penalties. This will forever be Messi's World Cup and, even prior to him lifting the trophy, it somehow felt inevitable.
Much has been made of the spirit of Diego Maradona in Messi's victory, but little of the Spirit of God
Since losing their opening game to Saudi Arabia, Argentina rode on a Messi-inspired wave that even France's mesmerising Kylian Mbappé couldn't stop. Behind them was the fervour of a football-mad nation and the goodwill of soccer fans the globe over.
But was that all it was? Was there — dare I say — something divine going on?
A gift from God
In the myriad of articles written of this moment, much has been made of the spirit of Diego Maradona (whose own exploits, including the infamous 'hand of God' incident against England, took Argentina to World Cup glory in 1986) but little of the Spirit of God.
But Lionel Messi is a Christian and, although he speaks little of it, he's never hidden his faith. Amid Sunday's celebrations, he sidestepped a question on whether the win made him a greater player than Maradona by saying: "The truth is that I thank God for giving me everything," he said. "He's given me everything."
It's not the first time Messi has made such a statement. "It was God who made me play like this," he said following his move from Barcelona to Paris St Germain (PSG) last year. "Obviously he (God) gave me that gift, I have no doubt about that. He chose me and, obviously, I then did everything possible to try to improve myself and achieve success. But without his help, I would not have gotten anywhere."
This may explain why he's uncomfortable with being treated as a god — which is likely to intensify after lifting the World Cup trophy; to many, he's now the best to ever grace the game. "I'm not worried by it, but it's true that I don't like it," he said during an interview. "I think it's very exaggerated to call me that."
Faithful humility
Delusions of grandeur can easily befall icons like Messi, but a recent article in The Times felt telling. It reported that Mauricio Pochettino, his former manager at PSG, particularly admired the way he, as a superstar, would still wait for a physio or masseur to become free in the treatment room, and wait in line in the canteen. "He is an amazing player, behaving like a normal player," Pochettino said.
Around 90 per cent of Argentina's 46.2 million population are Christian, with the majority denomination being Catholic (62.9 per cent). This is the background to Messi's upbringing and it clearly still means a great deal to him.
A close look at his tattoos further bears this out. He has one on his right arm of Jesus wearing a crown of thorns, while on his right elbow he has a rose window inspired by La Sagrada Familia church in Barcelona, where Messi has spent most of his career.
The truth is I didn't do anything, it was God who made me play like this
The coming weeks may even see the spotlight turn on his faith. In 2017, he said that if Argentina won the 2018 World Cup, he would run the 30 miles from Rosario, his boyhood town, to the Sanctuary of Our Lady of the Rosary of San Nicolas, a famous site of Catholic pilgrimage. That didn't happen (France won), but now it has, will he make good on his promise?
Wedding controversy, tax evasion and the hand of God
But links to his faith have not been without controversy. Five years ago, he and his now wife, Antonella, requested a chapel be built in the casino where they were to have their wedding so that a priest could marry them. This was denied by the local archbishop, given the location, but a priest was allowed to facilitate the ceremony.
It should also be noted that, although almost perfect on the pitch, he's certainly not perfect off it. In 2017, Messi and his father were found guilty of tax fraud after concealing earnings using tax havens in Belize and Uruguay. Following Argentina's hot-tempered victory over the Netherlands in the quarter-final of this year's World Cup, he taunted a Dutch player who appeared to be looking at him during a TV interview.
What does this say to the veracity of Messi's faith? We shouldn't rush to judgment, particularly when we're so many steps removed from his personal life and what's going on his heart, including any personal contrition. Neither should we rush to overlook how this is a man who truly has the world at his feet. For many, God would be a million miles away, but for Messi, God gets the glory — and that rarely wins you sponsorship deals or acclaim.
And given that the football team's success comes as Argentina — a country more crazy about the game than most — is experiencing political and economic turmoil, could it be that Sunday's thrilling win might well have had something to do with the hand of God? Blessings come in many forms, and for millions of Argentinians — including Messi — this certainly looks like one.