Jesus drank with sinners and outcasts. The image of our Prime Minister raising a glass at a Number 10 party during the pandemic reeks of self-entitlement and worldly power, says Rev George Pitcher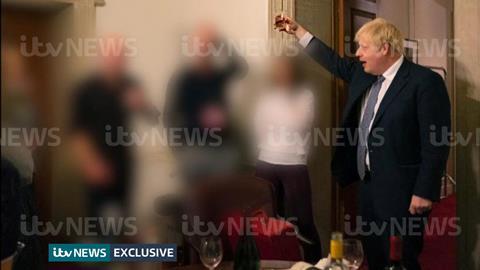 It ill-behoves an old-fashioned Fleet Street journalist like me to be censorious about over-indulging oneself with the demon drink. But I admit to a degree of shock at seeing the photos that emerged ahead of the publication this week of civil servant Sue Gray's report into lockdown drinking parties in Number 10.
There was our prime minister, Boris Johnson, looking like he was knee-deep in a bottle bank, raising a glass to a departing flack, like the triumphant manager of a middle-ranking provincial rugby team toasting a cup-final win.
The fact that the other figures were blurred to avoid identification only served to deepen the impression that they were just out of the shower – surely helpful when Johnson inevitably fields his "locker-room banter" defence for something stupid he was saying.
Yes, I was shocked. But not remotely surprised. Not so much because, like much of the rest of the population, I had long presumed that life in Johnson's bunker was one protracted booze-up. But because, after a long career in journalism, spin and politics, I have been to countless such parties and recognised the routine instantly. I could almost hear the boss's inept speech, the embarrassing attempt to combine sincere thanks with some satirical ribaldry. I have, in every sense, been there.
So, why shocked? It was surely not because the people who made the lockdown laws were shown breaking them. We already knew that. And, as I say, I'm no Seventh-day Adventist abstainer myself. So it's not the drinking that's the problem – it's the people who are doing it. Perhaps it's not shock so much as offence.
Alcohol in the Bible
From Noah being off his face after he plants his own vineyard (Genesis 9: 20-21) to St Paul's condemnations of drunkenness in his epistles (eg Ephesians 5:18), there are arguments for and against celebration with wine. Simply deciding whether the Bible is in favour of drinking or not isn't a very rewarding exercise and, whisper it, is actually rather boring.
Altogether more (pun intended) fruitful is to unpack how drinking is done – and especially in the gospels. "Do this, as oft as ye shall drink it, in remembrance of me," (1 Corinthians 11: 25) is the divine injunction at the Eucharist that is worth endlessly unpacking. But note whom Jesus of Nazareth is with when he says it – his rag-bag collection of friends.
And when? At the final Passover supper before enacting an entirely new covenant for them and for everyone else. It's a universal toast, not a private one.
That's highly significant. When the Nazarene observes that the Pharisees call him a "glutton and a wine-bibber" (Luke 7: 34) for eating and drinking with "sinners" he is only partially contrasting himself with the austerity and asceticism of John the Baptist – he is also marking that he socialises and celebrates with outcasts and the "unclean".
When he miraculously provides almost unlimited wine (and the finest) at a wedding at Cana (John 2: 1-11), it's for ordinary guests. When he tells his friends before he dies that he won't drink wine again until the feast of the kingdom of heaven (Mark 14:25), he looks forward to sharing that feast with the likes of the robbers with whom he's crucified.
When he speaks of his new wine being put into new wine-skins (Mark 2: 22), he means into anyone who encounters him, including you and me.
It speaks of the intoxication of earthly power, not wine out-poured generously, for all to share
Now contrast that inclusive universality with the images of drinking in Number 10. That speaks of self-entitlement and worldly power, of complacency, of smug separation from ordinary people and their suffering, of raising a glass to one's own cleverness and privilege.
It's the wine-drinking of Pontius Pilate. As Ann Wroe writes in her excellent, imagined biography of Pilate, on the day he meets the Nazarene insurgent: "Pilate that morning would probably have stood before the shrine…with his head covered and with as many of his household as he could gather, to pour out the wine and make the morning invocations."
That speaks of the intoxication of earthly power, not wine out-poured generously, for all to share. Not the wine that becomes the blood of Christ flowing redemptively into the world; not the wine to fill new skins.
It's not the drinking of wine that ultimately matters, it's the act of who we drink it with and who we share it with, both literally and symbolically. In the gospel, it's offered generously, from a vineyard that belongs to everyone.
In the photographs of those who governed us during the covid-19 lockdowns, it's all about them, their privileges and their assumed, exclusive luxuries, like the household of some self-important little Roman governor. And that, in the end, is what is so offensive.