There's a widespread assumption in our society that all politicians are essentially immoral. But having spent six years researching the personal faith of all of the UK's 20th-century prime ministers, Mark Vickers says that's far from true. Here's his take on the faith of our leaders, including Boris Johnson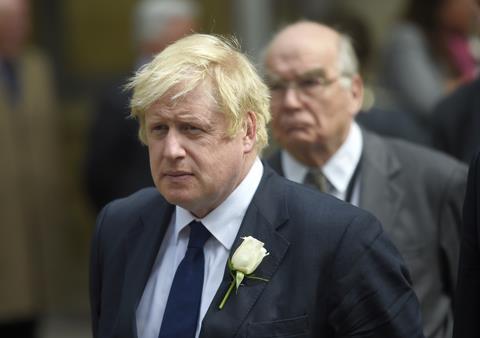 Even before Partygate, a growing political consensus maintained that our prime minister had "no moral compass". Former Conservative attorney-general Dominic Grieve, Tony Blair's former press secretary Alastair Campbell and Liberal Democrat MP Christine Jardine all used that phrase very forcefully. Asked to rebut the accusation, Jacob Rees-Mogg pointedly avoided the question. So, what is the truth about Boris when it comes to faith and morals?
With Christian, Muslim and Jewish great-grandparents, Boris Johnson has the most diverse religious pedigree of any British prime minister. One of his aunts was a nun. Boris himself was baptised a Catholic and confirmed an Anglican at Eton. Controversially, although twice divorced, he married Carrie Symonds in Westminster Cathedral last year. Their son, Wilfred, was baptised there.
The UK's prime ministers have bucked the national trend, becoming much more Christian as the century has progressed
But what of his personal faith? Many people have assumed that Boris is a sceptic or agnostic. He has tended to avoid issues of religion and morality, possibly fearing himself to be on thin ice. In a 2006 article, he claimed religion was a useful deterrent for delinquent youths, holding before them the threat of divine punishment. Religion was less necessary for those of his own ilk, given that they did "not face many moral challenges." Really, Prime Minister?
Since then, his tone has changed. In his Easter message last year, Boris declared: "Jesus Christ is the way, the truth and the life, not just today but every day. His teaching and the message of his death and resurrection permeates through every aspect of daily life."
A very bad Christian
Many may interpret this as cynical touting for Christian votes. But, shortly afterwards, he was interviewed by The Times journalist, Tom McTague, who used the opportunity to challenge him on his beliefs. Wasn't he a subscriber "to a pre-Christian morality system, with a multitude of gods and no clear set of rules"? Boris was surprisingly emphatic in his response. He counted himself "a kind of very, very bad Christian", he told the reporter. Christianity "makes a lot of sense" and "is a superb ethical system", he continued.
Boris Johnson makes no claim to be a good Christian. But this does not absolve him from the responsibility of seeking to align his actions to the teaching of Christ in public and private life. We are not in the business of judging, but Christian voters will ask where this effort towards discipleship is apparent.
A mixed bag
Many will say it was ever thus: all politicians are essentially immoral and their claims to faith are largely hypocrisy. Having spent six years researching the personal faith of all of the UK's 20th century prime ministers, I disagree. I was surprised to discover how fundamentally decent they were, generally speaking. I was surprised to discover that they bucked the national trend, becoming much more Christian as the century progressed. In the first 50 years of my study, many were sceptics, dabbling in spiritualism. Stanley Baldwin alone was an uncomplicated, praying Anglican. But from the late 1950s, all (with the exception of James Callaghan) called themselves Christian. In many cases, there was real personal faith; in some cases, an explicit recognition that Christ must be at the centre of everything.
Boris Johnson has the most diverse religious pedigree of any British prime minister
Even those who no longer subscribed to Christian doctrine and practice sought to uphold the Christian morality in which they were raised. Clement Attlee was probably the closest to a self-acknowledged atheist, but his Anglican family took its commitment to social work among the less privileged very seriously. He was an upright man with a clipped turn of phrase: "Believe in the ethics of Christianity. Can't believe the mumbo jumbo." Winston Churchill's personal commitment to Christianity was little stronger, but he proposed the Sermon on the Mount as the blueprint for the reconstruction of the post-war world. John Major wanted the assurance of Christian leaders that the first gulf war satisfied the just war criteria before embarking on the conflict.
Others were more explicitly Christian. There were lay preachers and those who had even considered ordination. Baldwin experienced mystical visions while in Downing Street. Tony Blair was far from unique in praying and reading scripture regularly. Harold Macmillan interpreted the partial test ban treaty between the USA and USSR during the cold war as the answer to the prayers he had prayed, night after night. It is possible to point to instances where the prime minister's Christian faith influenced government policy. A number quietly engaged in charitable work and giving.
No moral compass
An exception from this 'fundamentally decent' list might be made for Lloyd George, for whom the phrase "no moral compass" may have been invented. Implicated in the Marconi insider-trading scandal of 1912-13, his sale of honours was notorious. Most disturbing of all was his relationship with Frances Stevenson, his secretary, mistress and, eventually, second wife. Not only did he come close to bigamy in contracting private vows to Frances while married to his first wife, but it is also alleged that he required her to procure abortions and enter into a suicide pact with him. Simultaneously, he presented himself as the devout Baptist and decent family man.
Throughout this look back at the faith of our leaders, it is also worth taking a long, hard look at ourselves. The Church does not always emerge well from critical analysis of its actions over the past century. Churchill expressed surprise that Most Rev Geoffrey Fisher, then Archbishop of Canterbury, had not read the works of the modernist commentator which had undermined the faith of so many of his contemporaries.
A number of prime ministers made clear their disappointment that the Church had failed to address their intellectual difficulties. Margaret Thatcher had a notoriously tricky relationship with the Anglican bishops, although she did at least invite them to Chequers for dialogue. Rt Rev Richard Harries, former Bishop of Oxford, was among the group, and admitted that they had missed an opportunity in not working harder to build bridges.
It is easy to criticise our political leaders. In charity, let us pray for them and take every opportunity to explain and share our faith.
God in Number 10: The personal faith of the prime ministers, Balfour to Blair (SPCK) is available to pre-order now

Mark Vickers is a Catholic priest in west London and a former lawyer. He studied history at Durham University and theology in Rome. His most recent book, God in Number 10: The Personal Faith of the Prime Ministers, Balfour to Blair, is published by SPCK in October.
View full Profile