Earlier this week, Stormzy was awarded an honorary degree by the University of Exeter. In his acceptance speech, the rapper, who set up the #Merky foundation in 2020 and has pledged millions to tackling racial inequality, encouraged students to use their God-given talents to benefit those around them. Here's the full transcript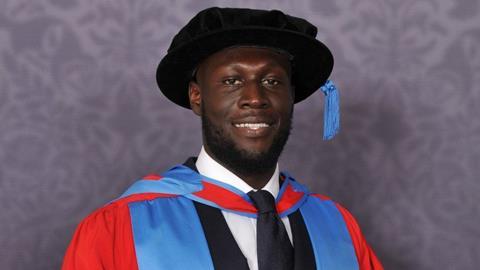 Chancellor, Vice Chancellor, fellow graduates. Firstly, I feel extremely blessed and grateful to be up here receiving this honorary degree. And I'd like to say a big thank you to University of Exeter – and to you guys as well - for allowing me to share this moment with you.
The journey I took to get to this moment has been considerably different to you guys. You guys had the guts, the grit and the dedication to study for years and to finish your degree. Whereas, I got my AS results after my first year of college and said: "See you later…" I didn't have the same minerals that you guys have.
When I asked: "What exactly am I receiving this honour for, I was told - and I quote – "It's in recognition of your outstanding achievements in the field of higher education, philanthropy and widening participation." And I was like: "Yeah. I am going up in the world. I'm a philanthropist now!" (laughs).
To put it simply: I bear fruit, and I share fruit. That's just what we're meant to do
I'm not here to do a big speech about myself and the things that I've done, or the things that I haven't done. But I strongly believe that there's something that God has instilled in all of us. And I just thank him for giving me the courage to act on it. I used to really reject the honour and applause that comes with something that I genuinely believe is just a part of my purpose and my covenant with God.
The famous analogy I've always used is likening it to one of your mates popping to the shop and grabbing a couple of bags of crisps and a few bottles of Lucozade for all the boys. Of course it's a kind gesture. But it doesn't deserve a song and a dance, because that's just what you do for your loved ones.
I've been so richly blessed by God, and I don't just mean financially, I mean with love and life and family and joy and peace and with purpose. So to put it simply: I bear fruit, and I share fruit. And without sounding too fantastical, that's just what we're meant to do in whatever way we can.
I used to reject the applause that comes with something I genuinely believe is just part of my covenant with God
Some of our destinies is to save one life. Some of us are destined to build nations and build schools. Some of us will focus on raising our families and those closest to us. Some of us will help our local community; some of us will help the neighbour next door. Some of us will help the world; some of us will help a friend.
My point being that we should always share and support and uplift and help in whatever capacity we are able to. All of these different sizes and levels of being a helping hand are beautiful. And all of them are just as powerful as each other, just as long as you're doing what you can.
You guys are already world beaters as you have already proved you have what it takes to follow your dreams. I pray that these words give you a bit of encouragement to go and be who you're destined to be, and to share some fruit once you bear some.

Emma Fowle is assistant editor of Premier Christianity and editor of Voice of Hope, Premier's quarterly devotional magazine. Emma is a trustee for Christian festival Creation Fest and lives in Cornwall with her husband and two teenage daughters. She loves to read, swim in the sea, play netball and lift weights with her dad.
View full Profile