Rap superstar Kendrick Lamar closed Glastonbury with a controversial set that saw him wear a crown of thorns and protest against the loss of abortion rights in the US. But what should Christians make of him, and his faith? Tim Bechervaise explores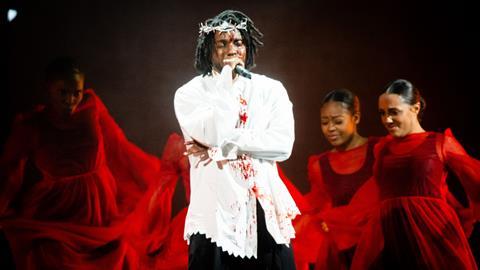 How do you make a statement? One way is to make a good exit. And no matter what you think of him – or that performance - that's exactly what Kendrick Lamar did on Sunday night at Glastonbury Festival. And, in doing so, he put Jesus at the centre of many of yesterday's headlines.
Closing his headline set, the rapper finished the song 'Saviour' with the words: "Godspeed for women's rights. They judge you, they judge Christ". With blood pouring down his face from a crown of thorns, he repeated the line over and over, the intensity building. Then, he threw down the mic and exited the stage. As Glastonbury closers go, this one will not be forgotten in a hurry.
His performance was, in part, a response to last week's decision by the US Supreme Court to overturn Roe v Wade. Protests against the ruling, which ended the constitutional right to abortion in the USA, were a common theme at this year's festival, but Kendrick's stood out - not only for its theatricality but also its spirituality. Given the influence of pro-life Christian groups in last week's decision, the gesture carried an ironic punch.
Where is your faith?
To get a fuller understanding of the rapper's faith, take a look at the lyrics to his song 'Faith'. The opening verse recounts how he returned to Jesus after a crisis of faith, only to lose his way again. But hope emerges once more in the chorus: "Where is your faith? / (Don't you give up, don't you give in) / Faith / All you need is the size of a mustard seed."
Religious belief is a key theme across Lamar's work. In the intro to 'Good kid', he says: "Lord God, I come to you a sinner, and I humbly repent for my sins / I believe that Jesus is Lord / I believe that you raised Him from the dead / I will ask that Jesus will come into my life and be my Lord and Savior."
Nothing reveals the heart of Jesus more than the pain he experienced on the cross
But despite this very explicit expression of Christian faith, Lamar's use of expletives (especially when performing live, wearing a crown of thorns!) causes conflict for many Christians. But for others, they are simply a reflection of the tension of living with faith in a world marred by sin. In an interview with Billboard, Lamar has previously credited God with rescuing him from a life of violent gangs and destitution. He wasn't brought up in a Christian family, although his grandmother shared the Bible with him; his journey to faith started later, and is said to have begun following the death of a friend. As for his lifestyle, a Buzzfeed article writes: "For an incredibly famous rapper, his personal life may border on the ascetic." He has two children by his childhood sweetheart and fiancée, Whitney Alford.
In many ways, Lamar's melancholic songs carry an Old Testament vibe, the lyrics cutting deep to reveal the scars of a broken humanity. It's here that his closing act on Sunday was especially poignant.
The sight of a rap superstar wearing a crown of thorns will leave many of us feeling uneasy, particularly if we sit on the other side of the fence in the Roe v Wade debate. He declares "Godspeed for women's rights", but what about the rights of the unborn baby? Honestly, when I first watched at the act, I was uncomfortable. Is it misguided and insensitive to use the suffering of Jesus to make a point, especially when so many strongly feel the opposite, precisely because of their faith in Jesus?
But on reflection, my stance has changed. What Lamar did was bring us back to the pain of Christ. And it is often precisely this which is lost in the slanging matches and heated debates. In places, it's become more about moral superiority and judgement; consequently, it's the heart of Jesus that has been lost. And nothing reveals the heart of Jesus more than the pain he experienced on the cross.
Christ crucified
Jesus endured that pain for the millions of women grieving last week's decision, as well as the millions of babies who've lost their lives because of abortion. It's a pain that Jesus went through for those who are pro-choice and those who are pro-life. And today, Jesus still feels pain, as he weeps for and with all those for whom the abortion issue is more than a debate.
Kendrick's lyrics cut deep to reveal the scars of a broken humanity
If we can put aside where we stand on the issue for a moment, Lamar's closing act offers a powerful reminder that the cornerstone of our faith is the cross of Jesus Christ. It's where one man took on the weight of a world scarred by sin and suffering because of the immeasurable love he has for each of us. Getting to the heart of this can help us approach the issue — whatever our stance is — with the grace and sensitivity that draws people to Jesus rather than pushes them away from him.
At Glastonbury Festival, Christ crucified was preached to millions of people. The cross has real power, and who knows how God might use Lamar's performance in the lives of people around the world?

Tim Bechervaise lives in Hatfield with his wife, Laura. He is a copywriter for Open Doors UK & Ireland, and freelance writer. Coffee, street photography and Tottenham Hotspur count among his other interests
View full Profile