The Archdiocese of Southwark's decision to cancel a talk by gay author Simon James Green at John Fisher School in Purley, and its subsequent fallout has been one of the more unedifying news stories of recent weeks. The Archdiocese shouldn't have cancelled the visit, says Sebastian Delfs, but neither are they guilty of homophobia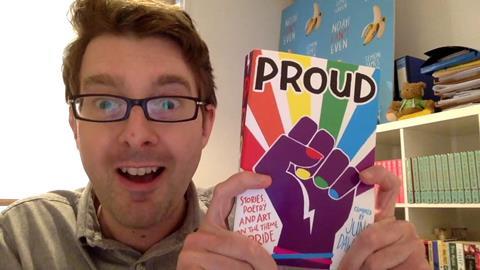 As a Catholic teacher in England, I welcomed the introduction of new requirements for schools to provide an LGBT inclusive programme of relationships and sex education (RSE) in September 2020. It is a thoughtful piece of legislation which reflects the diversity of identities and relationships that make up modern Britain, while safeguarding the right of schools with a religious character to teach their own distinctive faith perspectives. The majority of the new RSE requirements had already become commonplace in most Catholic settings, with schools often exceeding their legal obligations without compromising on the teachings of the Magisterium.
The topic of faith schools and LGBT education has dominated headlines in recent weeks. The story began back in March when it emerged that the Archdiocese of Southwark had stepped in to cancel John Fisher School's booking of the gay author Simon James Green. Campaigners were clear they objected to the content of the author's books, rather than his sexual orientation, and the archdiocese confirmed the cancellation "was never to do with the sexual orientation of the author but simply the blasphemous and highly sexualised nature of the author's books".
Staff protested the ban and the archdiocese's imposition of an emergency board of governors, by going on strike. Then, earlier this week it was reported an agreement had been reached. Children can return to school, and an "alternative visit" by an LGBT author will take place "in the upcoming academic year within a series of events about the celebration of diversity within literature."
Now that the dust is beginning to settle following an Ofsted report which found that the Archdiocese did not follow due process when they replaced the school's governing body, it seems an apposite time to reflect on what has taken place.
This baseless accusation is only the latest demonstration of an anti-Catholic bigotry which has long been endemic in our society
Clear guidelines
Firstly, I believe the decision taken by the Archdiocese to intervene was misjudged. Given that the event was already scheduled to go ahead, and with an acute awareness of how unpalatable even many Catholics find the Church's sexual teachings, one needn't be an expert in public relations to see that this decision to cancel Mr Green's visit was only ever going to go down like a lead balloon. I was also sympathetic to Mr Green, who must have felt fairly indignant about being disinvited from the event and made the unwitting subject of this internecine dispute.
The Department for Education's Statutory Guidance on RSE is unambiguous about what is required of school leaders. There is a clear expectation for "all pupils to have been taught LGBT content at a timely point". Furthermore, that content should be "fully integrated into their programmes of study…rather than delivered as a stand-alone unit". Crucially, the guidance states that "schools are free to determine how they do this". The document also contains advice to faith schools: "schools with a religious character may teach the distinctive faith perspective on relationships, and balanced debate may take place about issues that are seen as contentious."
Dumbing down
Bishop Robert Barron, Chairman of the USCCB Committee on Evangelisation and Catechesis has often drawn attention to the problem of Catholics 'dumbing down the faith' in the years following the Second Vatican Council. The embarrassing truth is that a significant number do not have a sound grasp on the teachings of the Church. Many who now find themselves working in Catholic education are ill-equipped to present the faith in an intellectually compelling way, let alone defend it from criticism.
Many Catholics now working in education are ill-equipped to present the faith in an intellectually compelling way
The Archdiocese of Southwark has shown itself to be so staggeringly inept in its encounters with secular culture that, each time I've had the misfortune of reading one of their recent statements, I've been minded to gift them the collected works of John Henry Newman as a matter of urgency. Be that as it may, the main contention - that the Archdiocese acted as it did because of Mr Green's sexuality - is patently untrue. The unwillingness of John Fisher School's leadership team to recognise this has brought the problem of formation into sharp focus.
The right balance
In all of the recent culture war tussles over free speech and minority rights, you'll find no shortage of voices bemoaning the status quo. However, it seems to me that the law as it currently stands strikes the right balance. The Equality Act of 2010 protects the right of all people to live according to their beliefs, while providing a legal safeguard for anyone who faces unfair discrimination. The baseless accusations of homophobia levelled against the Archdiocese of Southwark is only the latest demonstration of an anti-Catholic bigotry which has long been endemic in our society.
In 2019, the University of Nottingham subjected midwifery student Julia Rynkiewicz to a four-month suspension due to concerns about her pro-life advocacy. This was followed by numerous campaigns to deny student union affiliation to pro-life societies at several UK universities. Perhaps the most alarming instance of this was at the University of Exeter, where members were reported to have received death threats. Not wishing to be outdone, the University of Nottingham then attempted to block Father David Palmer's appointment to the university's chaplaincy team. It would appear that, in reflecting the authentic teachings of the Church, his vocal opposition to abortion and assisted dying made him somehow unsuitable for the role.
Our society has grown slightly weary of those who make universal claims about objective truth, goodness or beauty. None of us can reasonably expect to be shielded from robust criticism, but Catholicism is an evangelical religion and its adherents shouldn't be uniquely expected to privatise their beliefs. It's not impossible to challenge the idea that faith perspectives are both antithetical to reason and born out of hatred. It is, however, essential that as Catholics we equip ourselves with a deeper knowledge of our own rich spiritual and intellectual tradition if we are to confidently engage an increasingly hostile culture.

Sebastian Delfs is a Catholic educator in England with an interest in how the Church can engage with contemporary issues without devolving into culture wars