Despite near-universal opposition from Christian charities and politicians, the Chancellor confirmed the Government would be cutting foreign aid by £4.4bn. After a heated debate, during which Sunak appeared to quote from the Bible, Stephen Timms MP asks why the government didn't listen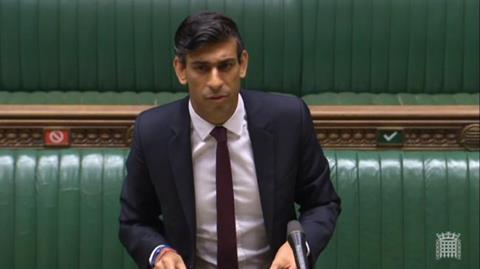 This week, Parliament voted to cut overseas aid by £4bn per year, breaking commitments made by all the parties in the 2019 General Election.
I, and many of my colleagues, fought to oppose the cut and reinstate the aid budget to 0.7 per cent of Gross National Income. Sir Keir Starmer, Leader of the Opposition, set out what the cuts would mean: "1 million girls losing out on schooling; nearly 3 million women and children going without life-saving nutrition; 5.6 million children left unvaccinated; an estimated 100,000 deaths worldwide."
A blistering attack
The debate was marked by a blistering attack on the Prime Minister from his predecessor, Theresa May. He sat glowering as she reminded him that his manifesto had claimed that the 0.7 per cent commitment was at the heart of the Government's vision for global Britain: "Where is that vision now," she asked, "as the Government turn their back on some of the poorest in the world?" She went on to accuse the Government of breaking their promise to the world's poorest people, saying that she feared the motion would mean "that promise may be broken for years to come."
In one of the largest rebellions of this Parliament, 24 Conservative MPs defied the three line whip to vote against the Government. The rebellion was led by former International Development Secretary Andrew Mitchell, who said that it was only the third time since he was first elected in 1987 that he had voted against the whip. He said the cuts would result in a 25 per cent reduction in funding for girl's education, "a top priority of this administration" and a 60 per cent reduction in funding for Yemen, which he described as "literally the equivalent of taking food away from starving people" Spending on neglected tropical diseases would be reduced by 90 per cent, with philanthropists stepping in to replace funding in this area for one year only.
British aid saves and changes lives, now more than ever.
Mitchell accused the government of "trashing our international reputation", saying: "we are the only country in the G7 that is cutting in the middle of a pandemic." He also pointed out that their recent defeat in Chesham and Amersham took place in a constituency with the largest Christian Aid group in the country.
Church brings pressure
The target of spending 0.7 per cent of national income on aid was established as a UN development spending goal in 1970. Since 2002, largely under pressure from Britain's churches, successive Governments have committed to it. In 2015, with all party support, the UK became the first G7 country to enshrine it in law.
From 2010-15, British aid supported 11 million children through school, bought 47 million bed nets – which have contributed to malaria deaths falling by 60 per cent over the last 15 years – and supported over 60 million people to access clean water, better sanitation, or improved hygiene conditions.
During my role as a Treasury Minister in the late 1990s, I saw first-hand the role that churches played in securing that cross-party consensus. Ahead of the millennium, they were the instigators of the Jubilee 2000 campaign and key supporters of the Make Poverty History campaign that came afterwards. Those campaigns paved the way for the historic 2005 Gleneagles deal, which saw $40bn of debt, owed by 18 highly indebted poor countries, written off. The idea of cancelling unpayable debts inspired people and drew them together. Rooted in teaching in the Bible, it had a dramatic impact on Government policy and on the lives of millions. The moral imagination and effective campaigning of churches delivered the political consensus that UK aid should be increased.
Aid in action
Last month, I joined MPs on a virtual trip to Togo organised by the Christian charity Compassion UK. We 'visited' its UK aid-funded child survival project. The situation in Togo is desperate. Under-five mortality is among the worst in the world, one in 25 babies does not reach the age of one, and women have a one-in-58 chance of dying in pregnancy or childbirth. Compassion UK's work, supported by UK aid, is starting to change things: in the first year, the project reached more than 4,000 people in extreme poverty and the number of full-term healthy babies delivered was 24 per cent above target. UK development aid helps to save lives among the world's poorest people.
We met somebody called Ama, who registered in the programme when she was seven months pregnant. She was struggling to feed her children. When she reached full term, her husband left suddenly. She also had malaria. Her baby and her own life were at risk. The child survival project provided food and hygiene support. Her expenses were paid, she gave birth to a son and she has since been able to set up a business of her own.
Even a small amount of aid saves lives. The cuts to UK aid put thousands of projects like those run by Compassion UK in Togo at risk. Of course, when GDP goes down, our aid budget will go down, but the pandemic is no justification for reducing the proportion of national income committed to international aid. British aid saves and changes lives, now more than ever.

The Rt Hon Stephen Timms has been Member of Parliament for East Ham since 1994. He is the Labour Party's Faith Envoy. He was a Minister from 1998 to 2010, including sitting in the Cabinet as Chief Secretary to the Treasury in 2006-7, and was the Shadow Minister for Employment from 2010 until 2015. In January 2020 he was elected to chair the Work and Pensions Select Committee. Stephen is the former Chair of Christians on the Left.
View full Profile