We remember the life and faith of Her Majesty Queen Elizabeth II
Words: Judah Cole
1. A Queen is born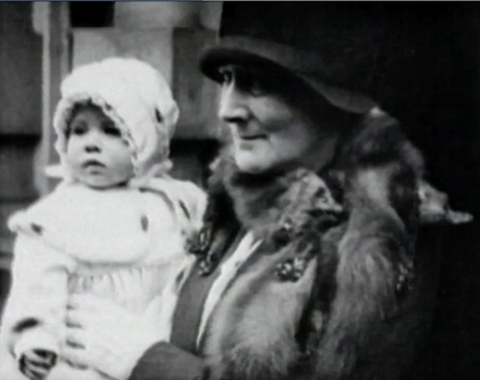 Source: Reuters/Reuters archive
From the moment of her birth there was a sense that the Queen was special. The Prime Minster Winston Churchill said that as a toddler, she showed an 'air of authority' and that her Majesty had a mature nature that was 'astonishing' for her age. As we look back on her life, we can see that from birth that the Queen had been set apart by God and marked for his service.
2. The coronation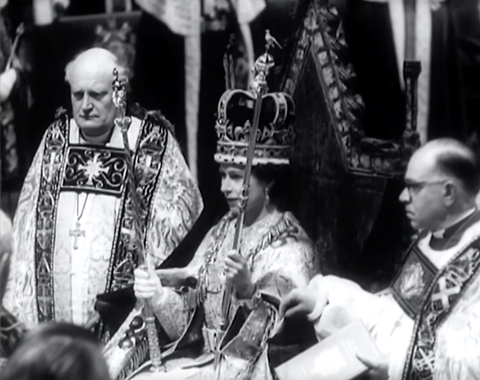 Source: Reuters/Reuters archive
On 2 June 1953 Elizabeth was crowned Queen. The Queen spoke her vows to God, to those watching in Westminster Abbey and to millions around the world who were watching on TV. At the heart of this was one extraordinary moment. It was not when the solid gold St Edwards Crown was laid on her head and she officially became Queen, but the moment that was not televised because it was deemed to be too holy for mass broadcast. It was the moment when, stripped of all her flowing robes, she knelt in a simple white dress and was anointed with holy oil.
3. Meeting Billy Graham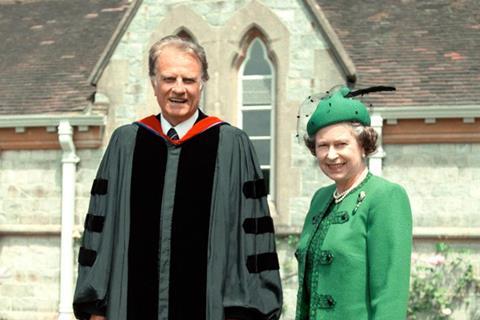 Source: BGEA
As a passionate evangelist, Billy Graham was able to share the gospel of Jesus with the Queen on a number of occassions. Read more about their friendship here.
4. Head of the Church of England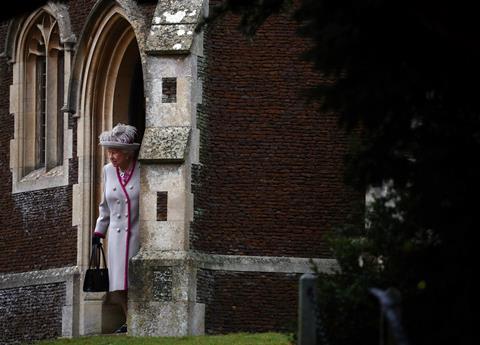 Source: Reuters/Hannah McKay
The Queen faithfully attended Church throughout her reign. Here she is leaving St Mary Magdalene's church on the Sandringham estate.
5. Meeting the Pope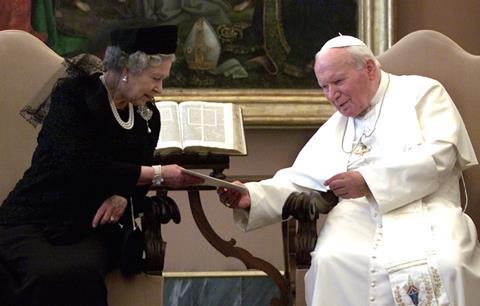 Source: Reuters
The Queen met with five popes during her reign. Her meetings with each pope were a sign of Christian unity as she was supreme govenor of the Church of England. In 2010, after meeting the Queen, Pope Benedict said it was a "very cordial meeting, characterised by the sharing of several profound concerns for the well-being of the world's peoples and for the role of Christian values in society."
6. The Queen and Scripture Union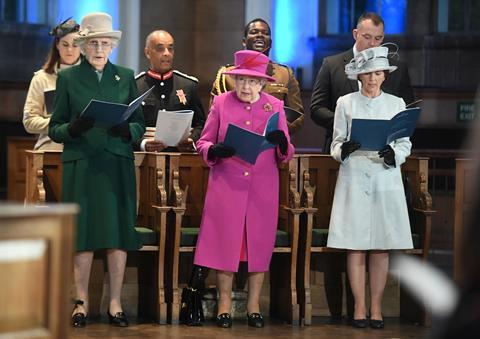 Source: Reuters/Victoria Jones
The Queen was patron of a number of Christian organisations, including Bible Society, Church Army and the publisher SPCK. Here, the Queen attends Scripture Union's 150th anniversary service of celebration at St Mary's Church, in London.
7. The Queen and the Archbishop of Canterbury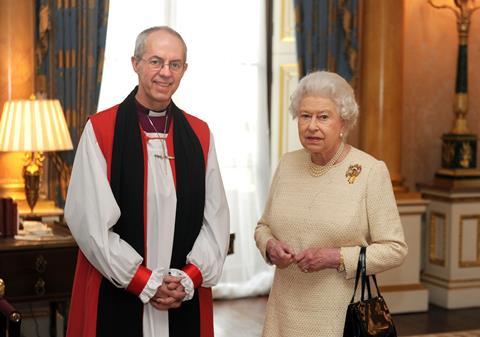 Source: Reuters/Anthony Devlin
The Queen met many times with archbishops of Canterbury. Commenting after her death, Most Rev Justin Welby said: "As a faithful Christian disciple, and also Supreme Governor of the Church of England, she lived out her faith every day of her life. It was my great privilege to meet Her Late Majesty on many occasions. Her clarity of thinking, capacity for careful listening, inquiring mind, humour, remarkable memory and extraordinary kindness invariably left me conscious of the blessing that she has been to us all."
8. Christmas speeches
The Queen was known for sharing her love of Jesus during her Christmas speeches. The above photo is taken from her 2016 speech where she gave perhaps her clearest message on her relationship with Jesus: "Billions of people now follow his teaching and find in him the guiding light for their lives. I am one of them because Christ's example helps me see the value of doing small things with great love."
9. Tears at her Diamond Jubilee service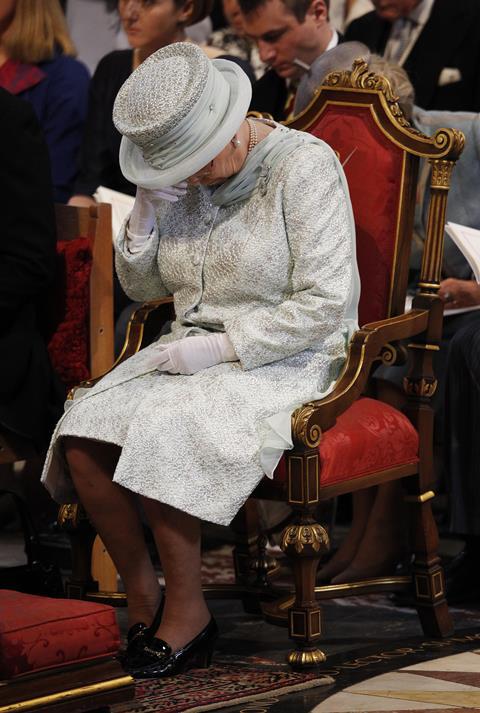 Source: Reuters/Suzanne Plunkett
The Queen could be seen shedding a tear during a thanksgiving service to mark her Diamond Jubilee at St Paul's Cathedral in London in 2012.
10. Attending the funeral of Prince Philip
Source: Reuters/Jonathan Brady
The funeral of Prince Philip in Windsor was a moment that moved a nation. The Queen was able to remember the provision from God of the man that stood alongside her for 73 years. The public was touched by the integrity shown by Her Majesty as she sat alone and masked in mourning.
11. Remembering Her Majesty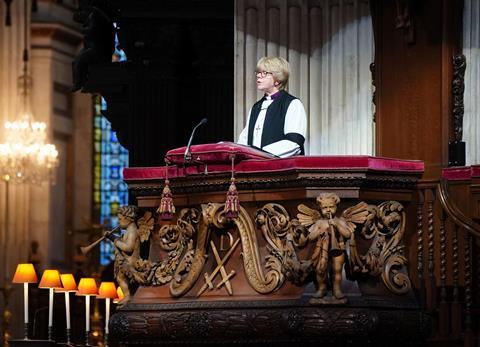 Source: Reuters/Ian West
The Bishop of London Sarah Mullally speaks during the Service of Prayer and Reflection for Her Majesty the Queen at St Paul's Cathedral. This moment was the first opportunity the nation had to come together in prayer and thanks following the death of the Queen.
12. St Giles' Cathedral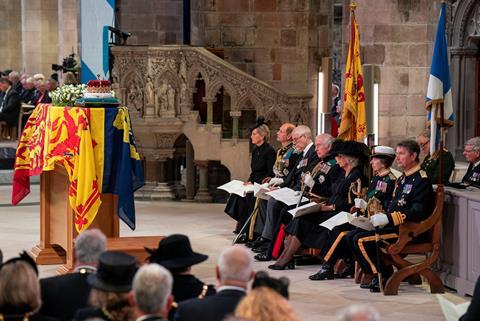 Source: Reuters/Jane Barlow
The King and members of the Royal Family attend a service at St Giles' Cathedral, Edinburgh yesterday, to receive the coffin. May she rest in peace and rise in glory.